VALLETTA, Malta and DALLAS, Texas, August 22, 2014 — Parallels, a global leader in virtual application and mobile device management solutions, today announced the release of a new version of the Parallels RAS Portal. Cloud-enable virtual desktops and applications through Parallels RAS Portal, making it possible for users to access them from anywhere.
The Parallels RAS Portal provides you with a simple and secure way to launch published applications and desktops from multiple farms. The applications and desktops are then accessed through a web portal according to their filter settings..
"Parallels RAS Portal is already a valuable asset for many companies. Parallels engineered this software to create a solution that is highly available from any location through a web browser. By reviewing this component of Parallels Remote Application Server, Parallels has made it easy for customers to deploy business services rapidly, providing them with the agility and flexibility they need to grow." Giorgio Bonuccelli – Marketing Director – Parallels

Parallels

RAS Portal features:
Unlimited connections
Full keyboard with US and UK on-screen support
Full screen experience
Minimal bandwidth usage
SSL security and two-factor authentication
Autoconfiguration of the client
Parallels RAS Portal simplifies deployment of the Parallels RDP client. When a user logs in to the RAS portal, it automatically checks for the presence of the Parallels RDP Client and prompts the user to install it on first access. Subsequently, no additional configuration is needed: the user simply clicks on the published resource to invoke it.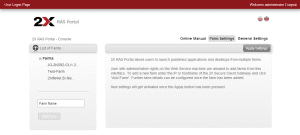 About
Parallels
Parallels, formerly 2X Software is a global leader in virtual desktop, application delivery and mobile device management solutions. Thousands of organisations worldwide trust in the reliability and scalability of Parallels products. Parallels offers a range of solutions to make every organisation's shift to cloud computing simple and affordable.The company's product line includes the award-winning Parallels Remote Application Server (Parallels RAS), providing platform-independent virtual desktop, application delivery and integrated thin client management from a single software package to any modern operating system, as well as to mobile devices including smartphones and tablets.Parallels Mobile Device Manager (Parallels MDM) offers a complementary (or stand-alone) solution that enables Parallels's customers to monitor and manage corporate and employee-owned mobile devices. With Parallels MDM, customers will be able to track their devices and remotely lock or delete data if a device is lost or stolen. In addition, organisations will be able to monitor mobile devices for malware and remove inappropriate apps. For additional information, visit www.2x.com or contact Giorgio Bonuccelli by email (Giorgio.Bonuccelli@2x.com) or phone (+356 2258 3800).