How to Control Applications Installed on your Android and iOS Devices By Sean Bianco on | 0
Control which applications are downloaded on your devices with Parallels MDM by creating an application Whitelist or Blacklist. An application Whitelist will specify applications which are allowed, whilst an application Blacklist will specify applications which should not be installed.
Application control is enforced through group policies. Devices belonging to a group policy, therefore abide by the application blacklist or whitelist defined within that group.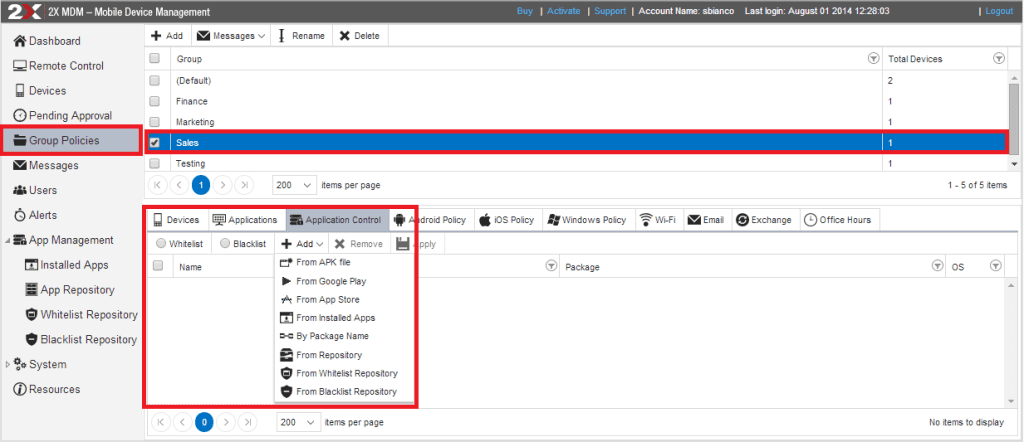 Enforce an application control policy according to the next steps:
Log in to the

Parallels

MDM Portal.
Navigate to the 'Group Policies' node.
Select a group policy.
Click 'Application Control'.
Click the 'Add' drop down
Select which source to add the application from and click 'Add'.
Repeat steps 5-6 to add multiple applications
Enable the 'Whitelist' radio button to apply these applications as a whitelist or  'Blacklist' radio button to apply the added applications as a blacklist.
Click 'Apply' to confirm the set control policy.
Note: Each group policy could either enforce an application whitelist or blacklist, but not both.
Caution: Enabling the 'Whitelist' radio button with no applications added to the list will not allow ANY applications to be installed on devices added to that group without creating an application control violation.