RDP supports compression; third-party products exist on the market  that are designed to enable RDP compression, but require original transmission streams to remain uncompressed.
For Version 8, RDP compression can be disabled using the "Enable Compression" option within the 2X Client: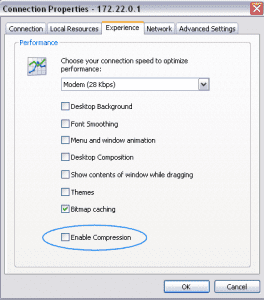 The Enable Compression option within the 2X Client
This setting is not directly related to the 2X Client, but refers to a given connection.
With this setting in place, RDP communication is uncompressed,  allowing third-party compressors to work well, which should help if the connections are in Gateway or Direct mode (SSL encryption would obscure the RDP protocol, voiding compressor heuristics).
Refer to the compression product's documentation for ensuring the transmission is secure.