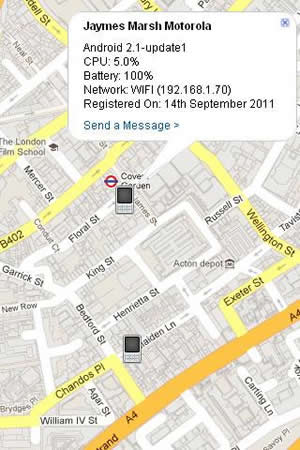 I've gone and done it again, I've lost my Android phone! Stop what you're doing and help me find my Android! Have you ever felt like that? I know Manish from the BBC has. He tweeted this yesterday "Everybody shut up and help me find my phone." I know exactly how he feels.
Call it Murphy's Law, but you always seem to lose your phone when you need it most. And the thing is, we've become so dependent on our little treasured devices that a state of panic sets in if they're out of our sight for only a minute. As businesses turn to smartphones, losing them is out of the question. Can you imagine losing your clients details?
If only they could make an app that connects to a website that shows me exactly where my phone is. If such a thing existed, I wouldn't be asking every Tom, Dick and Harry to help me find my Android. Oh wait, there is such a website! 2X MDM is helping people find their lost Android smartphones and tablets daily.
How does 2X MDM help you find your phone? Simple really. It uses Google Maps to show you where your device is. You don't need to jump through hoops or ring any bells, as this service is so simple to use. All you need to do is download the free Android 2X MDM app from here and then set up your 2X MDM account by going here. In fact, the 2X MDM Team have put together this great getting started tutorial.
Not only does 2X MDM help me find my Android smartphone or tablet, but it comes fully loaded with an entire host of features that are extremely useful to individuals like me and also to businesses. You can remotely lock and remotely wipe your mobile devices, meaning that you'll have peace of mind until you can recover your lost or stolen device. You really don't want the info that's on your phone falling into the wrong hands, do you?
Then there's the deploying of apps. Can you imagine the nightmare of having to install the same app to 50 different Android phones? I'd rather not think about how time consuming that would be. 2X MDM can send the app file to all devices that are connected with your 2X MDM account. By directly sending the app to all your smartphones and/or tablets, there's the added benefit of not having to upload your app to the Android Market. If you've just released a private beta, or have an internal custom app, you don't want everyone seeing it, do you?
Anyway, that's enough of me for now. Go and give 2X MDM a try. You'll be happy you did!