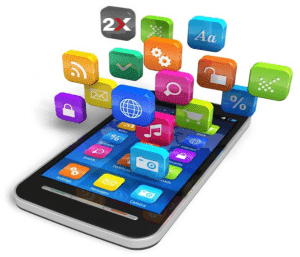 After several months of speculation, iPhone 6 was released on 19th September 2014 to the delight of Apple lovers. iPhone is not the smallest or the largest cell phone, nor the most powerful, but the popularity of the device is remarkable. Today, iPhone holds a market share of more than 40%. According to Statista, Apple sold 39.27 million iPhone units in Q4, 2014. With retina HD display and sleek finish, the device showcases a stunning look. The 2nd generation A8 chip processor increases the processing speed by 25%, with graphics loaded 50% faster. With a reasonable battery life and reliable performance, iPhone offers great value for money.
iPhone Business Apps
For professionals, iPhone is a great productivity tool. While the Apple store offers built-in iPhone business apps for basic business procedures, a wide range of third party apps can also be installed on the device. Whether you want to scan short documents, transcribe your voice into text memos, store your data and files in the cloud, or organize your personal and professional data, there are thousands of iPhone apps for every line of business. However, the downside of iPhone is that MS Office Suite – the most popular office automation tool – is not fully compatible with the device. Microsoft has recently released an iPhone app for Microsoft Word, Microsoft Excel and Microsoft PowerPoint at $99.99, enabling users to work with these applications online (after buying licences twice to use MS Office on both their PC and smartphone!), but functionality is basic and the real potential of the Suite is not unleashed. 2X RAS effectively resolves this issue.
2X RAS for iPhone business apps
2X Remote Application Server is a powerful RDS tool that provides seamless delivery of virtual desktops, applications and data from a centralized location. 2X RAS delivers any application to a remote device, regardless of its operating system, platform or hypervisor.
Using the functionality of 2X RAS, you can deliver MS Office Suite to iPhone devices with excellent performance. As the applications are virtualized at the server end, iPhone users can seamlessly work on Office documents, sync files and data among users, and store them with ease. 2X RDP client for iOS enables you to print Office documents from your iPhone using any printer in the network. With 2X RAS, you can work on your iPhone with no limits.
---
References
iPhone Business Apps: iPhone 6: Release date, price, pre-orders features and specifications of Apple's new smartphone | Mirror.co.uk
http://www.mirror.co.uk/news/technology-science/technology/iphone-6-uk-release-date-4266973
iPhone Business Apps: Global Apple iPhone sales from 3rd quarter 2007 to 4th quarter 2014 (in million units) | Statista.com
http://www.statista.com/statistics/263401/global-apple-iphone-sales-since-3rd-quarter-2007/
iPhone Business Apps: iPhone 6 | Apple.com
http://www.apple.com/iphone-6/
iPhone Business Apps: Office Online | Microsoft.com
http://office.microsoft.com/en-in/online/
 iPhone printing with 2X RAS | 2X.com
http://www.2x.com/ras/iphone-printing/
iPhone Business Apps: 20 essential business apps for iPhone and iPad | networkworld.com 2X.com http://www.networkworld.com/article/2289936/mobile-apps/119362-20-essential-business-apps-for-iPhone-and-iPad.html