Have you ever had an emergency where you had to redirect one of your employees to another location for an urgent request but you weren't able to reach him only to find out that he had returned to the main office and had to be send out immediately again with even less time to spare?
By using the 2X MDM you are now in a position to know not only where an employee is but where he has been and at what time, using Location History.
Location History Benefits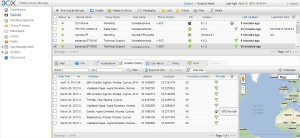 Provides you with the time, date, address and map positions on where your devices have been and currently are via Wi-Fi, GPS or mobile networks.
Location History can be configured to work differently between groups using Group Policies. For instance, you can track the whereabouts of all devices, or just the devices of your maintenance and sales staff.
Improve your customer service and response time by knowing your employees' whereabouts to easily redirect them to customers quickly and efficiently.
Turning Location History On and Off
To configure the location history of a device, select the device from the Devices node and click on the Policy tab.
To configure groups of devices click on the Group Policies node and select the group you want to configure. Click on the Android or iOS Policy tab.
If you are configuring separate devices or groups that will not follow the Global Policy, check the Override Global Policy checkbox and scroll down to the Location Settings.
If you would like the same settings for all groups and devices, click on the System node, then Global Settings, and configure your desired policies.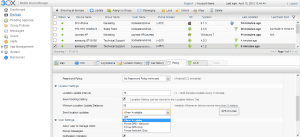 From the Android or iOS Policy tabs you can configure the following options:

Location Update Interval - sets the time interval in minutes before 2X MDM logs a location update.
Save Tracking History - turns location history on and off.
Minimum Location Update Distance - sets the minimum location a device has to move to trigger a location update.
Send Location Updates - determines when and how the device will send a location update.
For more information on other 2X MDM features, take a look at the 2X MDM manual.