How to Parallels MDM Manage Account Administrators By Sean Bianco on |

0
When a Parallels MDM account is created, the email address and password selected produce the Master administrator for that account. Administrator credentials are used to log into a Parallels MDM account. Additional administrators can be added to this account from the administrator's node which may be accessed according to the next steps:
Log in to the

Parallels

MDM Portal
Navigate to the 'System' group
Click the 'Administrators' node
From here you can add and delete administrators; adjust administrator rights and even transfer master privileges to another administrator.
Manage Account Administrators : Add Administrator
Add an administrator according to the next steps:
Click 'Add Administrator'
You will be prompted to fill in the below details: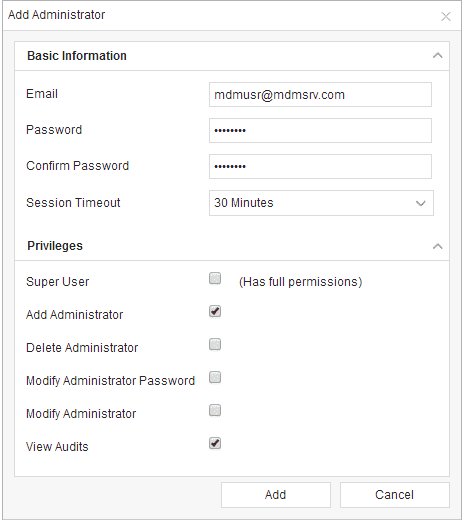 Basic Information:
Email: Administrator's email account
Password: The password that this admin will use to log into the account
Confirm Password: Same as above
Session Timeout: Define amount of time whereby no activity will log out the admin
Privileges:
Configure actions the new admin can and cannot perform
Super User: Full permission to do anything
Add Administrator: Add another administrator
Delete Administrator: Delete administrators
Modify Administrator Password: Change administrator passwords
Modify Administrator: Modify administrators settings
View Audits: View the Audits from the audit node.
3. Click 'Add'.
The new administrator shall be added to the list and log in credentials sent via email.
Manage Account Administrators: Delete Administrator and Set Master User
Furthermore, provided the currently logged administrator has sufficient rights, delete an administrator according to the following steps:
Select an administrator
Click 'Delete'
Confirm deletion
When logged in to the Parallels MDM account as the master user, select another administrator and click 'Set as Master' to assign master privileges to that administrator.
Note that you will be prompted to enter the current master administrator password to complete this action.