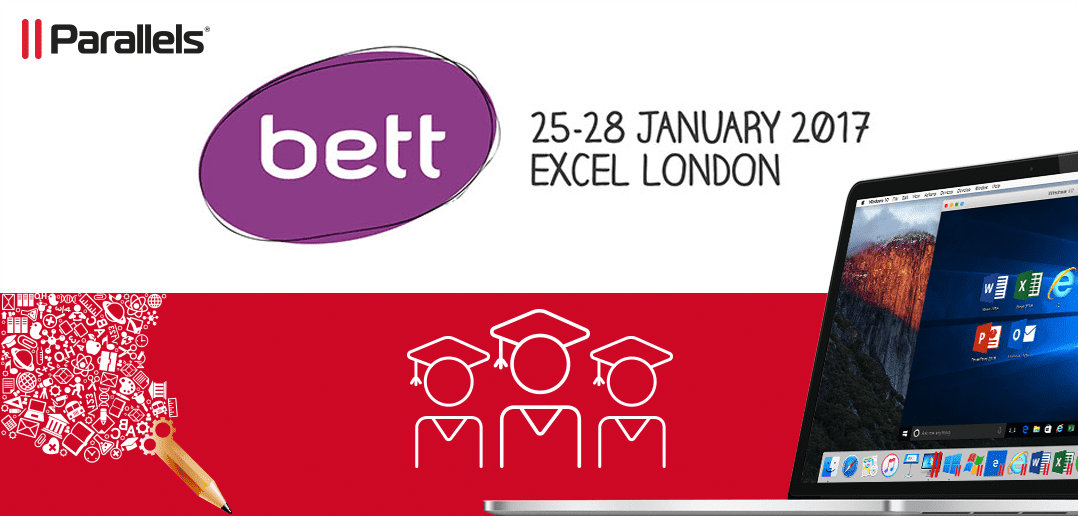 Parallels with Douglas Stewart EDU at Bett Show in London
---
Together with our partner Douglas Stewart EDU Ltd we will be at Bett Show in London this year:
When? 25 -28 January 2017
Where? ExCeL London, Royal Victoria Dock, 1 Western Gateway, London E16 1XL, United Kingdom
Stand? B425
What is Bett Show?
The Bett Show (British Educational Training and Technology Show) is an annual trade show in London, United Kingdom, that presents technology in the education sector. This year is the 32nd time that the show is held. Register here for your pass to Bett 2017!
What will Parallels present at Bett Show?
Together with our partner Douglas Stewart EDU Ltd we will present our three business solutions Parallels Remote Application Server, Parallels Mac Management for Microsoft SCCM, and Parallels Desktop for Mac Business Edition. Parallels Remote Application Server is a leading solution for virtual application and desktop delivery to any device or OS, Parallels Desktop for Mac Business Edition is built on the world's best desktop virtualization solution, but also incorporates centralized administration capabilities to keep IT in control of virtual machines and with Parallels Mac Management you can seamlessly extend your existing Microsoft SCCM infrastructure to discover, enroll and manage Mac computers through a single pane of glass.
What do our customers from the education sector say about our solutions?
"Parallels Remote Application Server is a good solution. It has simplified IT management and significantly reduced admin tasks. Now admins get less work." Raymond Van Den Berg / Head Systems Administrator, Tabor College
"A seamless management solution for Mac and Windows was very important to us," said Ian North, Luton Sixth Form College. In the end, the college decided to deploy the Parallels Mac Management plug-in for Microsoft SCCM. This solution integrated seamlessly into their existing SCCM system and policies. "The rollout of the Parallels solution was no problem," he said.
"With Parallels Desktop Business Edition, teachers at St Peter's Girls' School have never been more flexible in creating teaching aids that make teaching more fun, interesting, and effective. In addition to its reliable performance, the solution is easy to use, allowing files to be dragged and dropped across different operating systems." St Peter's Collegiate Girls' School
Meet us at Bett Show
Our team hopes to meet you at Bett Show in London to give you a demo of our solutions. Don't hesitate to contact us to arrange a meeting during the conference, or drop by Douglas Stewart EDU booth' B425!
Follow our Twitter Account @ParallelsMac where we will tweet news about #Bett2017.