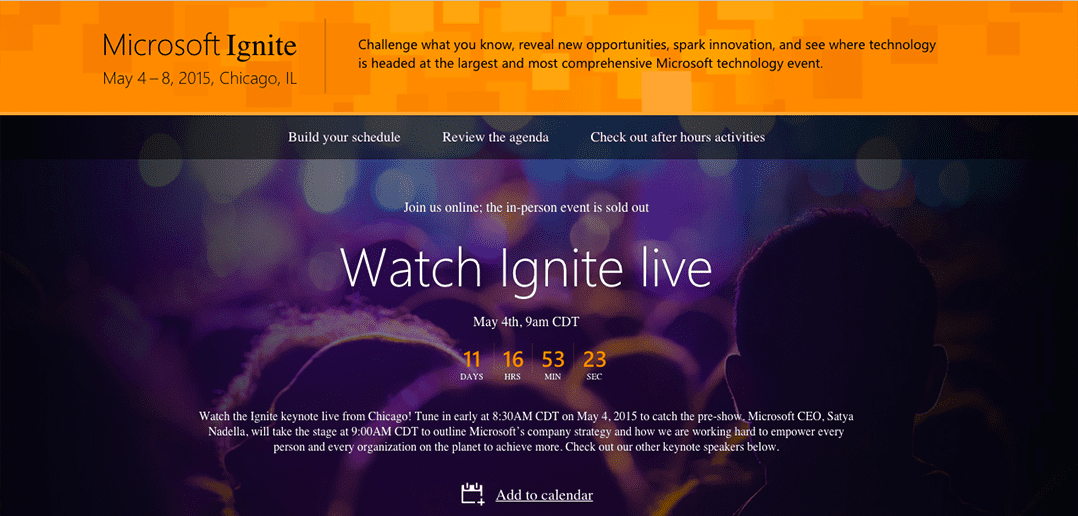 Join Parallels at the Microsoft Ignite Conference in Chicago!
---
Parallels®, a global leader in cross-platform solutions (parallels.com/about), will exhibit at the Microsoft Ignite conference in Chicago, IL, May 4-8 (Booth 111) and demo its new Parallels® 2X Remote Application Server (RAS), Parallels® Mac Management for Microsoft System Center Configuration Manager (SCCM), and Parallels Desktop® for Mac Business Edition, a product suite that addresses cross-platform application delivery and Mac® device management for IT managers while lowering costs and increasing employee efficiency.
The explosive growth of mobile devices of varying forms, coupled with the increased use of cloud storage platforms for both personal and corporate data, makes it more challenging for IT pros to ensure their workforce has access to mission-critical apps and files. Giving a large and often disparate group of employees access to multiple applications from multiple devices can create tremendous headaches for the IT department. Parallels solves these problems with an industry-leading set of products that enable IT to simply and cost-effectively deliver a consistent, seamless experience to their employees anytime, anywhere, regardless of the device or platform.
We hope to see you at the conference!
About Parallels 2X Remote Application Server
Parallels 2X RAS is a leading solution for delivering applications and virtual desktops to any device and operating system (OS). It enables platform-independent virtual desktops and applications from a single software package to work with any modern OS or device, including smartphones and tablets. This offers IT administrators across various industries, from manufacturing to healthcare to education, the ability to take advantage of low-cost clients without sacrificing the richness of the applications. Demos at the Microsoft Ignite conference will include Parallels 2X RAS working with Raspberry Pi as a low-cost complete workstation. Parallels 2X RAS was recently selected as the 2015 winner in the Hosted Service category of the Govies Government Security Awards, which acknowledge the efforts of the IT industry in data protection. Parallels 2X RAS was originally a 2X product, and Parallels acquired 2X Software in February 2015. Visit parallels.com/ras for more information and to download a free trial.
About Parallels Mac Management for Microsoft SCCM
Parallels Mac Management for Microsoft SCCM enables IT departments to use their existing infrastructure to simply discover, enroll, and manage Mac computers just as they would existing Windows® PCs. It is a fast and simple way to control unmanaged Mac machines, eliminating network attack vectors. Parallels Mac Management saves businesses and IT pros the expense and time of purchasing and implementing a separate infrastructure. It also eliminates the need for additional headcount to manage a new infrastructure. Details are available at parallels.com/sccm.
About Parallels Desktop Business Edition
Built on the best-selling solution for running Windows applications on Mac, Parallels Desktop for Mac Business Edition helps IT administrators and purchasing agents save time and money while making employees more productive. Business users can seamlessly and simultaneously run a variety of Windows and OS X® operating systems and applications with speed, control, and ease, while IT administration can secure and manage important settings. Details are available at parallels.com/business.