Why Is My Mac Running Slow? 5 Quick Tips to Speed Up Your Mac!
---
Trying to figure out why your precious Mac is running slow and want to learn how to make it run faster? Mac troubleshooting can lead you down a rabbit hole of problem-solving that takes hours to diagnose and even days to resolve. However, the process of speeding up that slow Mac can be a lot easier with Parallels® Toolbox utilities for Mac and Parallels Toolbox for Windows.
We're here to help address the top five issues that cause Mac performance to slow down. These are the following topics we'll go over for slow Mac tips:
You have resource-heavy applications running in the background.
You're in dire need of a hardware upgrade.
A slow power-up/boot.
Out-of-date software.
As a bonus, we'll also cover helpful one-click tools that can save time, money, and quickly free up your precious disk space—without annoying micromanagement of your system.
Resource-Heavy Applications Running in Background
Any MacBook slows down over time thanks to… developers.
Their applications stay in the processes and drain your system, even when you don't use them.
Luckily, you can substantially increase battery life, bandwidth, and system resources by simply quitting the applications that you may not even know exist.
Activity Monitor is a built-in utility that comes with the macOS. It's an invaluable resource that helps users understand where their system's resources are being allocated in real time. Users can view their CPU, memory, network, disk activity, and usage, as well as individual tasks.
You can easily troubleshoot your Mac with the Activity Monitor by understanding what is happening "behind the scenes" or "under the hood," but many casual users don't even know that Activity Monitor exists. It's valuable to think of the Activity Monitor as the Mac equivalent to PCs' Task Manager—aka the CTRL+Alt+Delete on a Mac. I'll walk you through how to use the Activity Monitor to manually micromanage resource-heavy applications running in the background.
Start on the macOS Desktop to get to the Activity Monitor. Follow this pathway:
Finder > Go > Utilities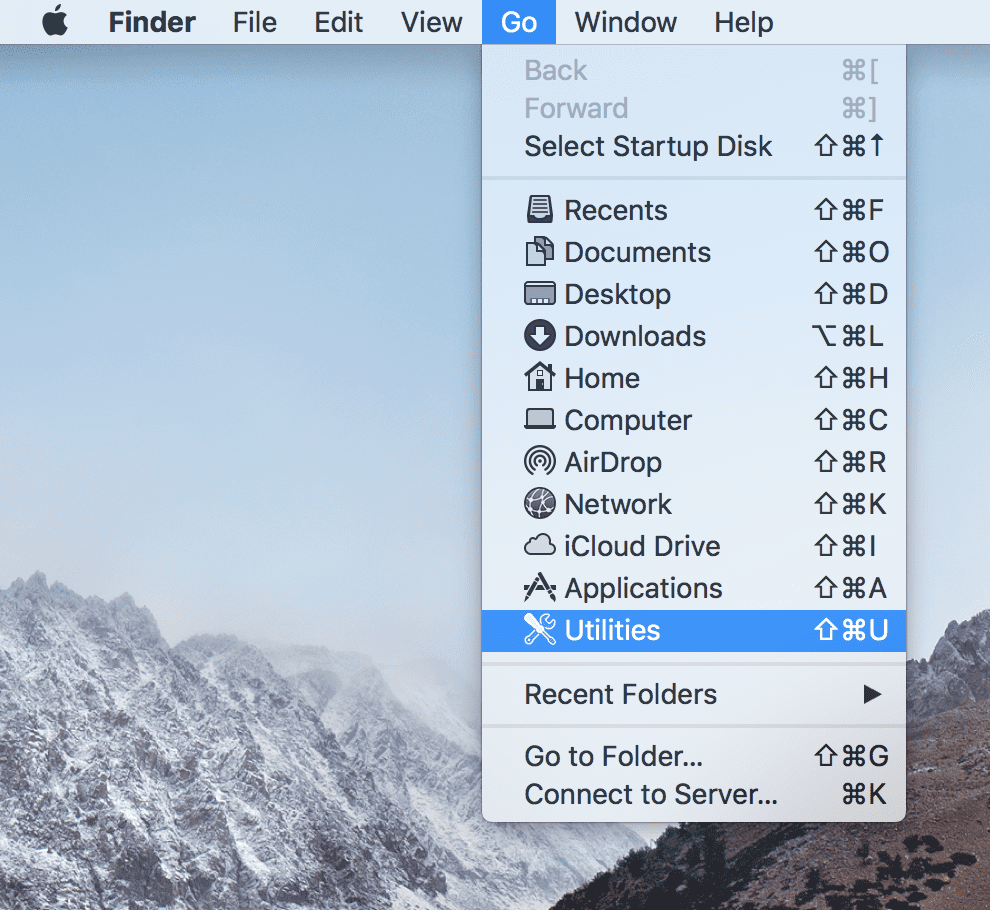 Once you launch your Utilities folder, it should look like this: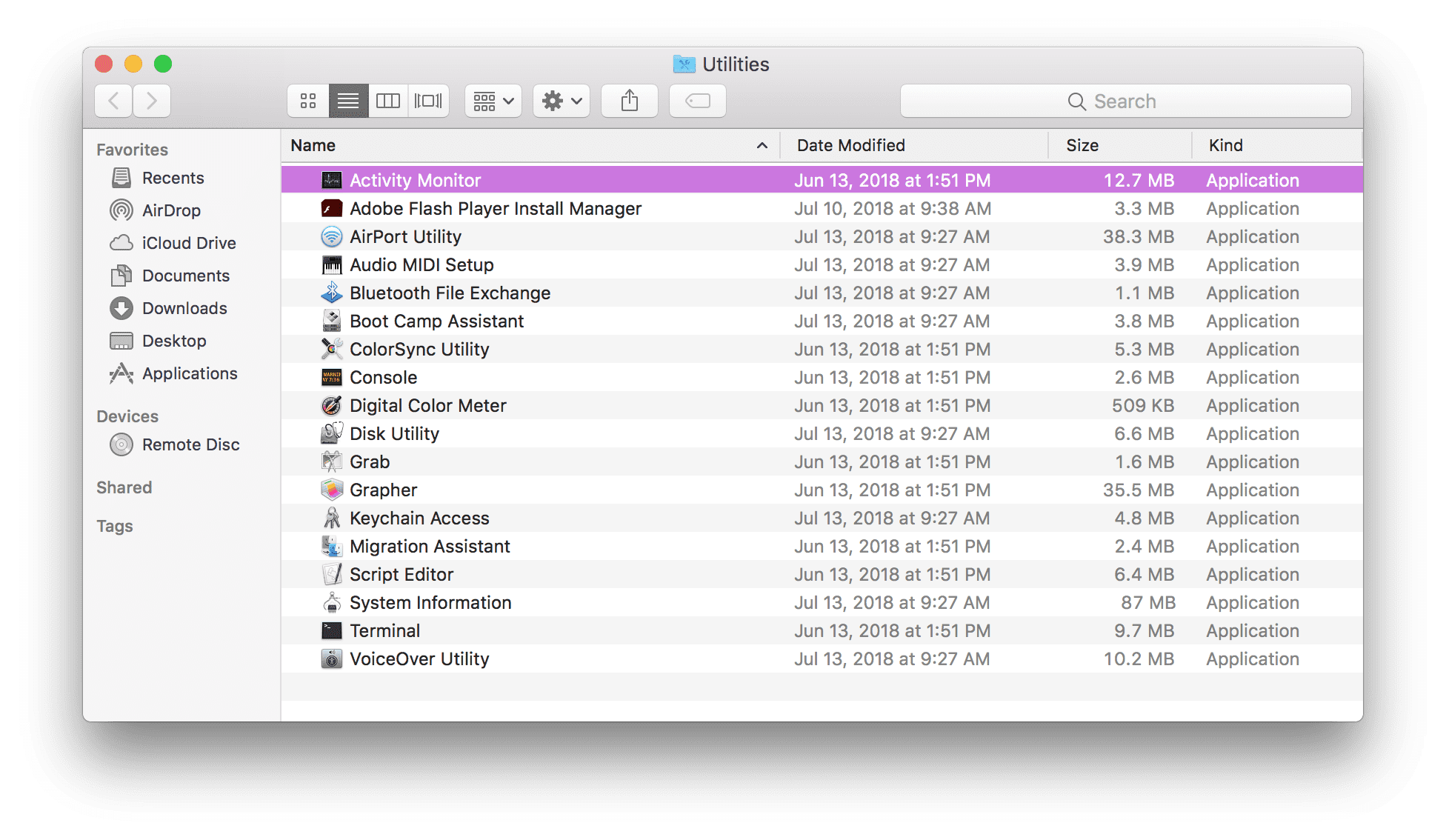 Select Activity Monitor, and it will show you the top applications in the last 12 hours, with real-time data regarding energy impact, battery info, and more.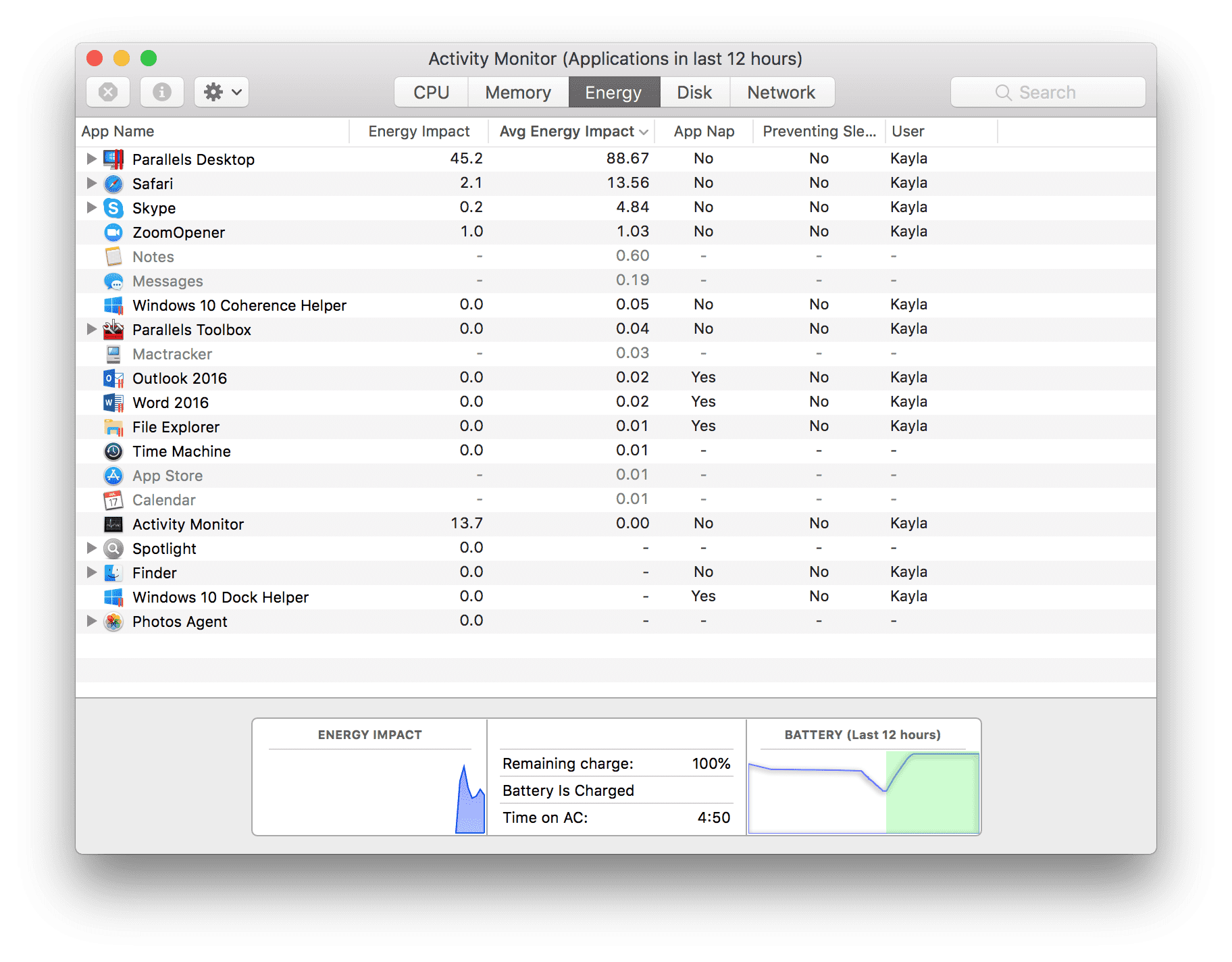 Feel free to explore the top five tabs, organized by CPU, Memory, Energy, Disk, and Network. Pay close attention to what programs are causing large impacts to these tabs. If these are running in the background and you had no idea they were even open, go ahead and double-click the Process Name or App Name to find out more details about memory, statistics, open files, and ports.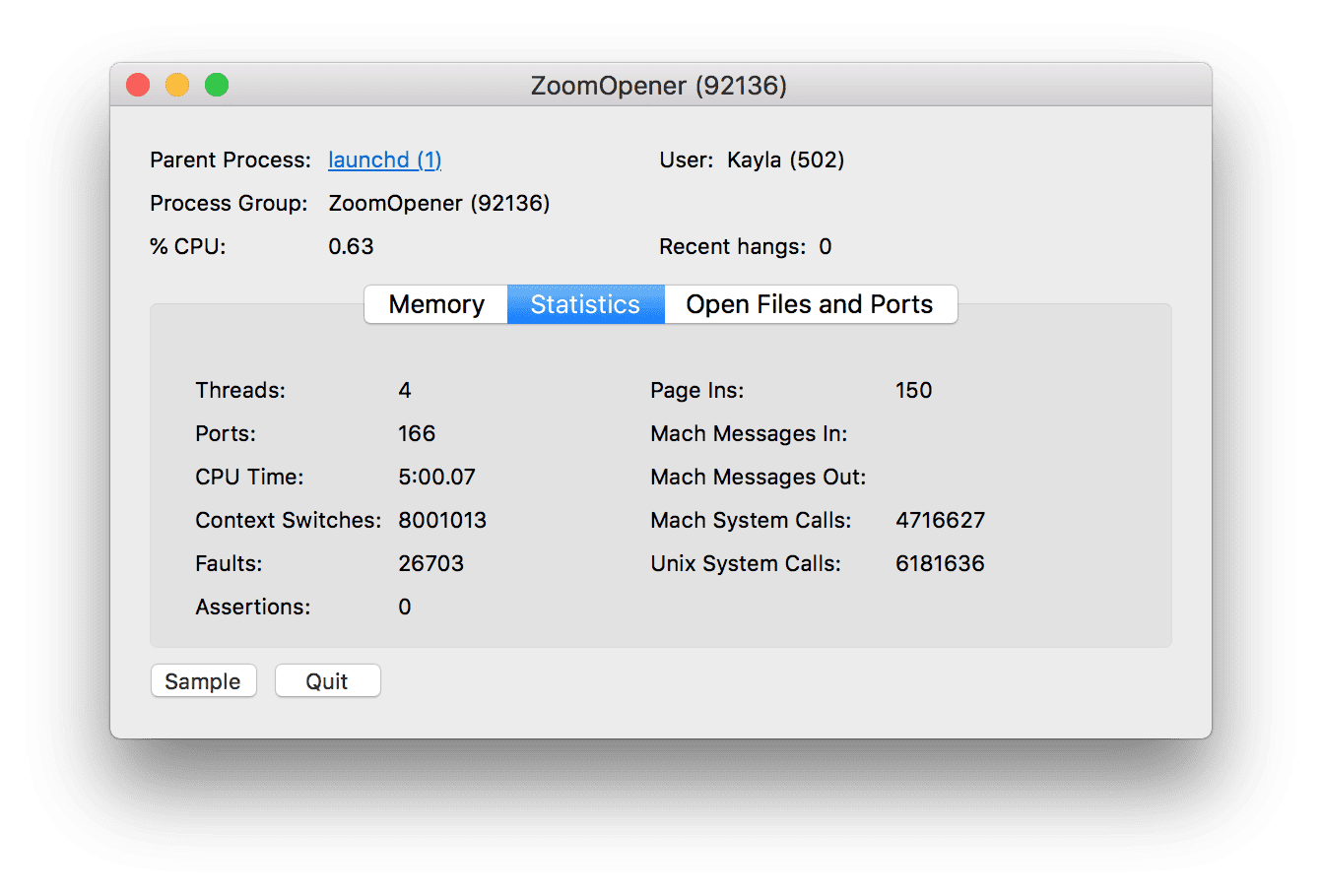 You can then force the application to quit as desired in the above window.
Mac is Running Slow due to Lack of Hard Drive Space
Running out of space may not just ruin your system performance—it can also cause the applications you're working with to crash. That happens because macOS is constantly swapping memory to disk, especially for setups with low initial RAM.
We start addressing this problem by understanding exactly what our Mac is capable of. Begin by exploring the hard drive and disk space available. Go ahead and follow this pathway:
Apple Logo > About This Mac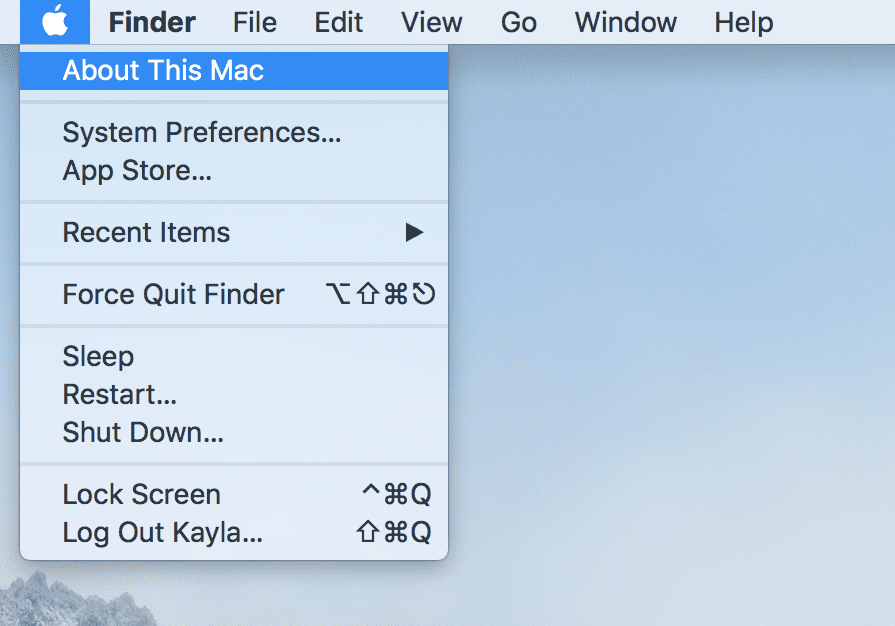 Clicking "About This Mac" will bring up an Overview of your Mac, processor, memory, startup disk, graphics, and serial number: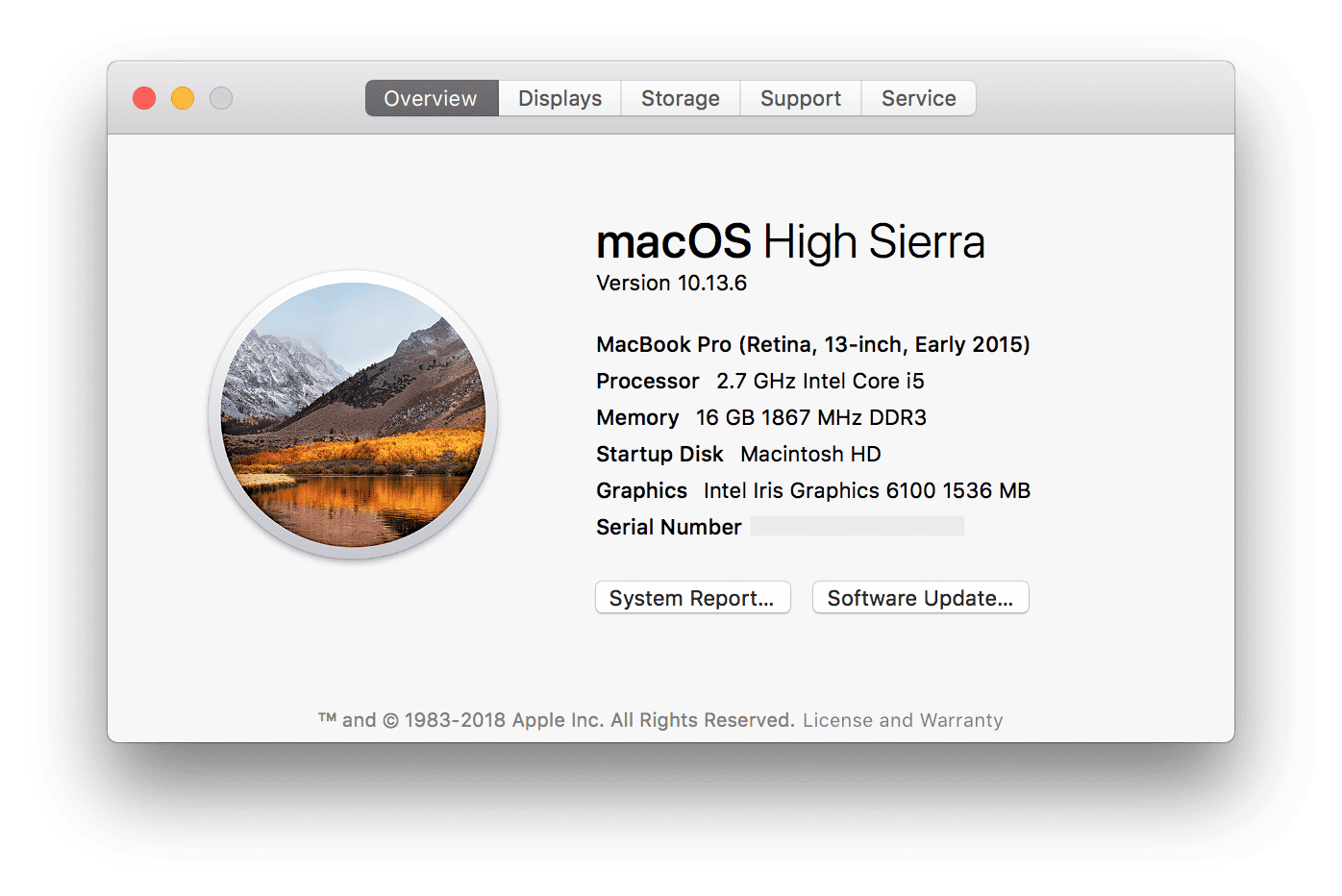 At the top of this window, there will be a five tabs to help users navigate through their Mac system information. Select the "Storage" tab to see a helpful but generalized breakdown of your Macintosh HD storage usage, similar to this image: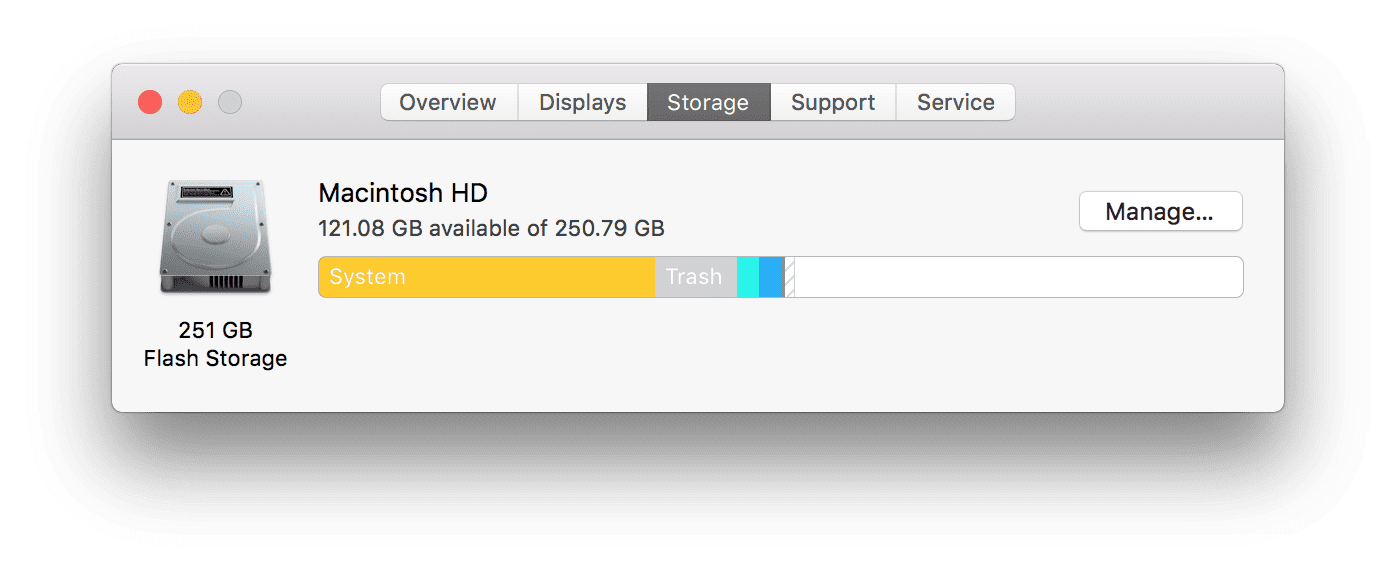 In this window, you will see the "Manage…" button located on the right-hand side. This is where the magic happens. Click that button to see macOS System Information and a detailed breakdown of your storage usage.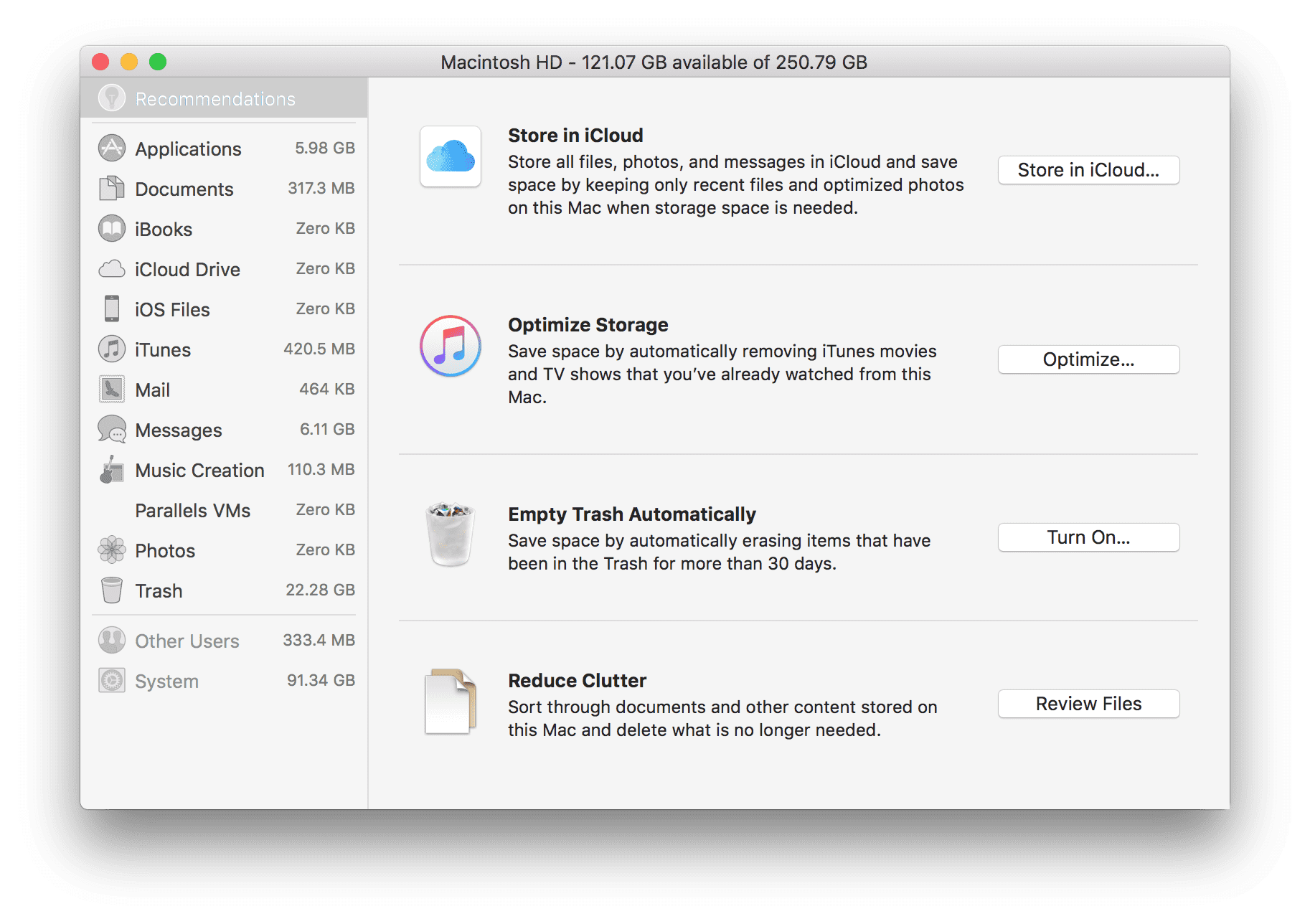 Here you have four automatic recommendations for saving space on your hard drive. Before you choose which one to use, I'll walk you through each option.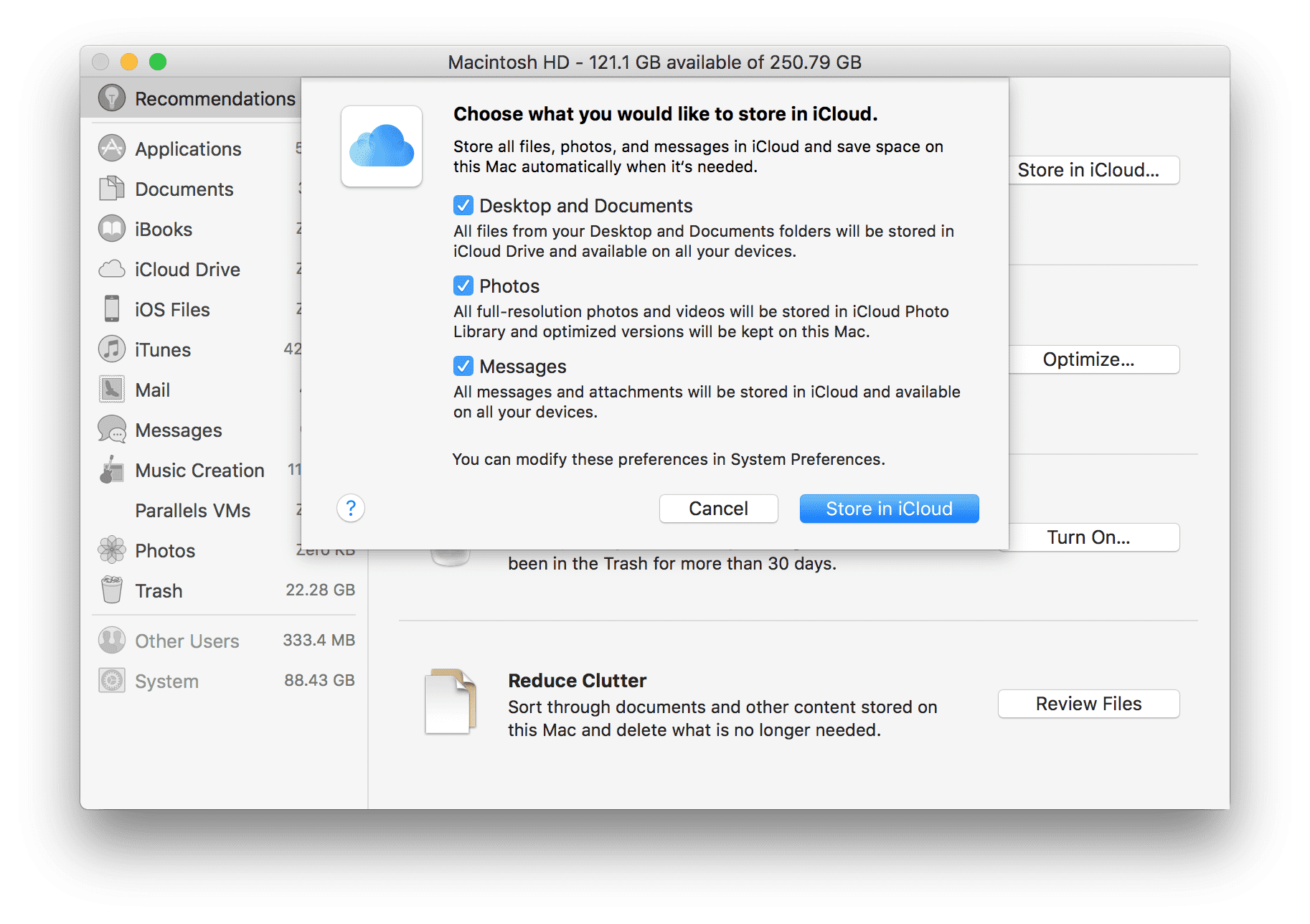 • Store in iCloud – This feature allows users to store their desktop, documents, photos, and videos in iCloud; macOS will automatically free up local disk space as needed. This is a wonderful solution to saving some space on your local disk/hard drive, but it also can become expensive. iCloud storage gives you 5 GB of free storage when you sign up. If you need more space, you can always upgrade to a larger storage plan. The average cost is US$0.99 for 50 GB, $2.99 for 200 GB, or a cost-saving alternative of $9.99 for 2 TB. You can find an Apple® support page listing the pricing, as well as family pricing. However, this is billed monthly and can quickly add up over time.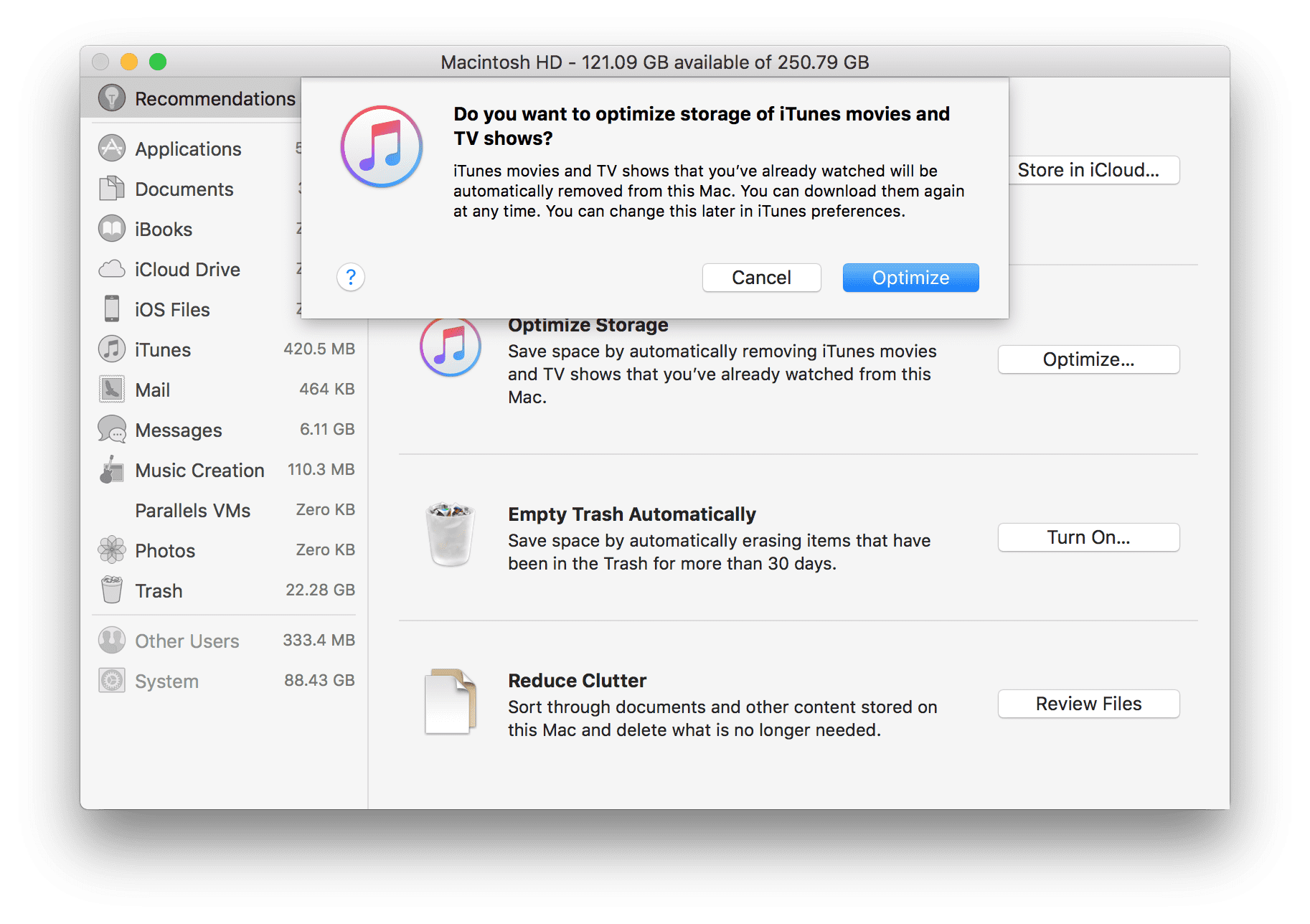 • Optimize Storage – The vague name doesn't quite match the feature, but it basically deletes your purchased iTunes movies and TV shows after you've watched them to keep them from cluttering up your hard drive. Since HD movies, especially in 4k format, are extremely large files, this can help keep your Mac from running out of space without thinking about it. You can, of course, download them again any time if you've purchased them from your Apple account.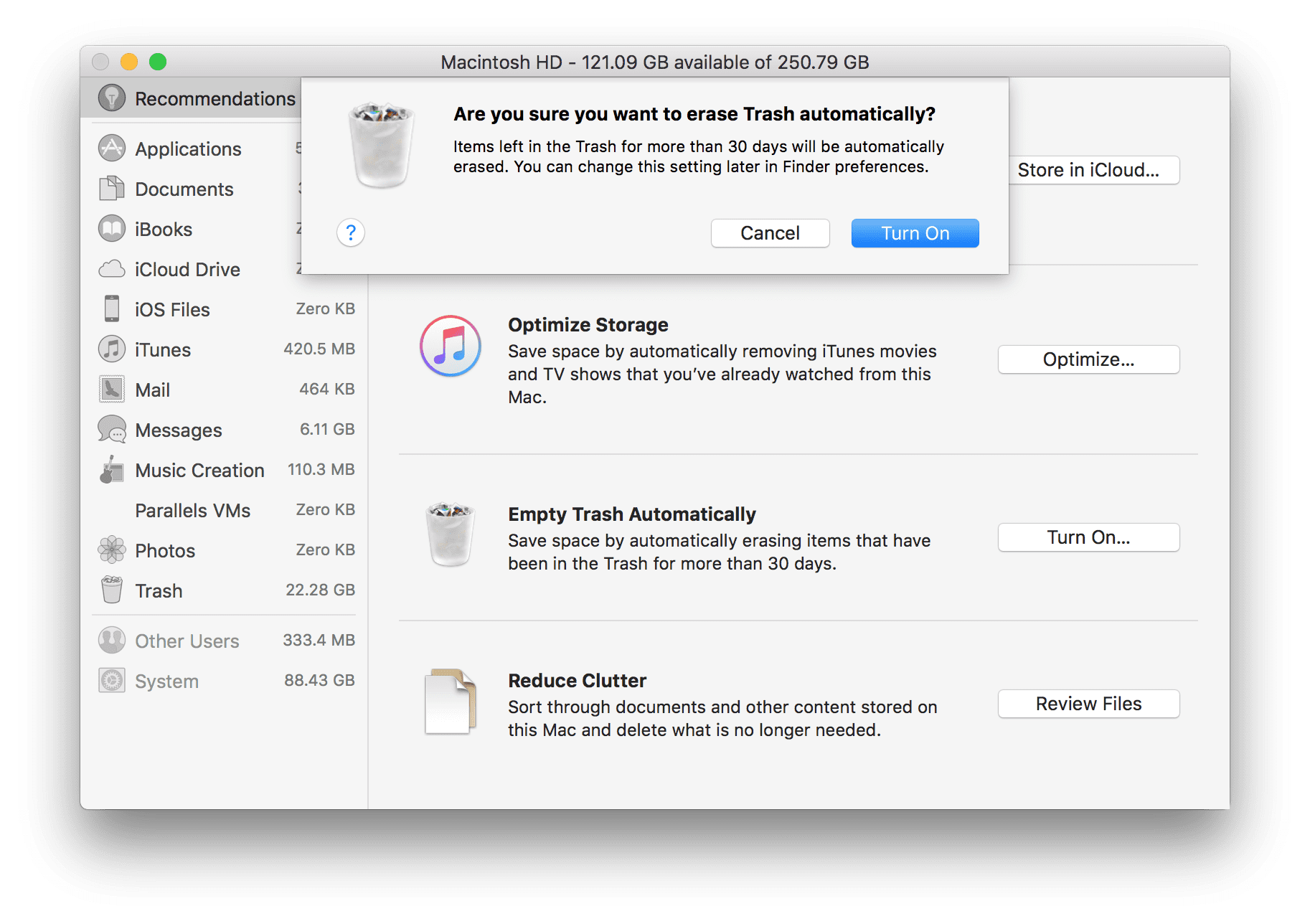 • Empty Trash Automatically – This is fairly simple and easy to do. If you turn this on, macOS will automatically delete old items out of the trash after 30 days. The downside to this is if you often delete files and then go back and attempt to find them—they're gone. Can't get them back.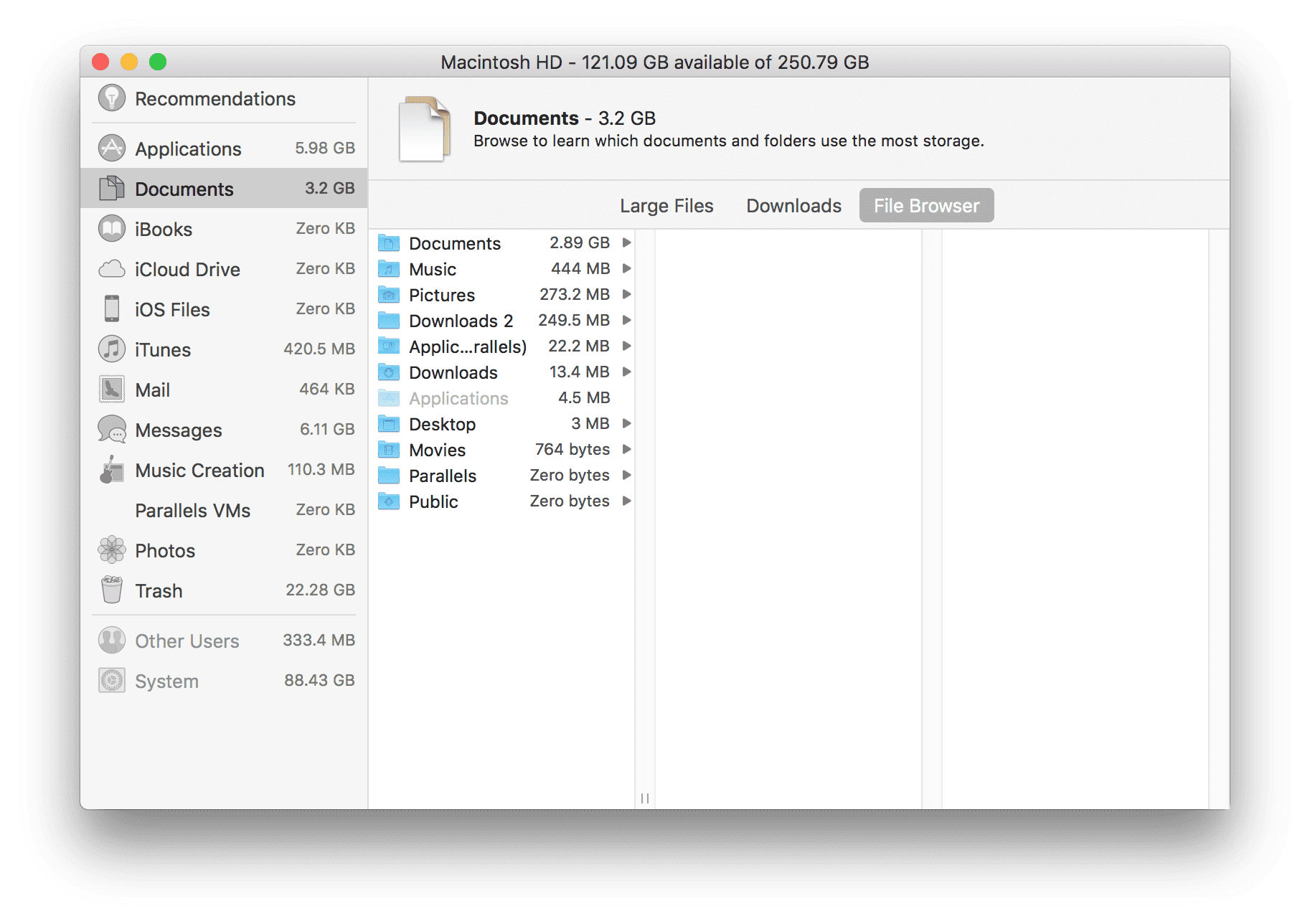 • Reduce Clutter – With this straightforward tool, you can find the biggest files on your hard drive and delete them. Organizing by "File Browser" seems to be the most helpful to browse the documents and folders that use the most storage. Then you can easily delete as desired.
Note: There are a lot of options to free up extra disk space on your hard drive. However, some of these options are timely and take away from other projects you could be working on. The Clean Drive tool in Parallels® Toolbox keeps your Mac clutter-free and running at max speed. It automatically scans, detects, and lets you choose what to delete—all with one click. No micromanagement to optimize your disk space—Parallels Toolbox does the dirty work for you.
 Overdue for Hardware Upgrades
This is just a no-brainer to make MacBook Pro® faster. Maintaining your computer's hardware health is imperative to getting the most out of your Mac for the longest amount of time possible. The most popular and best hardware upgrade for a solid performance boost is an upgrade to your hard drive and RAM.
Before making an expensive purchase and upgrading your hardware and replacing your hard drive or RAM, you can try an additional process by simply resetting your parameter random access memory (PRAM). Because PRAM is used in Macintosh environments with a battery to retain system information, it can be a helpful tip.
Note: Intel-based Mac computers also have a system management controller (SMC) that manages fans, lights, power, and system performance. You can reset your PRAM with the following steps:
1. Shut down your Mac. Yes, shut it all the way down. Putting your Mac to sleep or logging out will not work.
2. Find the following keys: Command+Option+P+R. You will need to hold these keys down in step 4.
3. Turn on your Mac.
4. Immediately press and hold Command+Option+P+R. You must press this key combination before the gray boot screen appears.
5. Continue holding the keys down until the computer restarts and you hear the startup chime for the second time.
6. Release the key combination.
Resetting PRAM and SMC may change some system settings such as alarm clock, fans, lights, mouse speed, power actions, startup disk, virtual memory, disk cache, and more preferences. Don't worry—simply go into your Apple System Preferences and change your desired settings. Apple will always suggest resetting the PRAM first before resetting the SMC or doing a hardware upgrade.
Your computer operating with a lack of RAM is a tricky situation to be in, but it has a relatively easy solution. Think of your RAM like a workbench; the more space you have on your workbench, the more projects you can have out and be actively working on. The most recent macOS releases such as El Capitan, Sierra, and High Sierra will only operate with a minimum 4 GB of RAM. This means that if you have a total of 8 GB of RAM, you only have 4 GB to use for applications or multitasking. Most Mac computers ship from production with 4 GB of RAM; the latest iMac Pro® can be customized up to 128 GB of 2666MHz DDR4 ECC memory. However, not all RAM is the same. If your system is low on RAM, you'll be able to see small indicators such as a slow load time or a spinning pinwheel of death, aka the spinning beach ball, aka the Apple spinning "load" wheel.
When it comes to doing a physical hardware upgrade of your RAM, you'll need to figure out what type of RAM your Mac uses and the maximum installation it will take.
To figure out what type of RAM your Mac uses, follow this pathway:
Apple Logo > About this Mac > Overview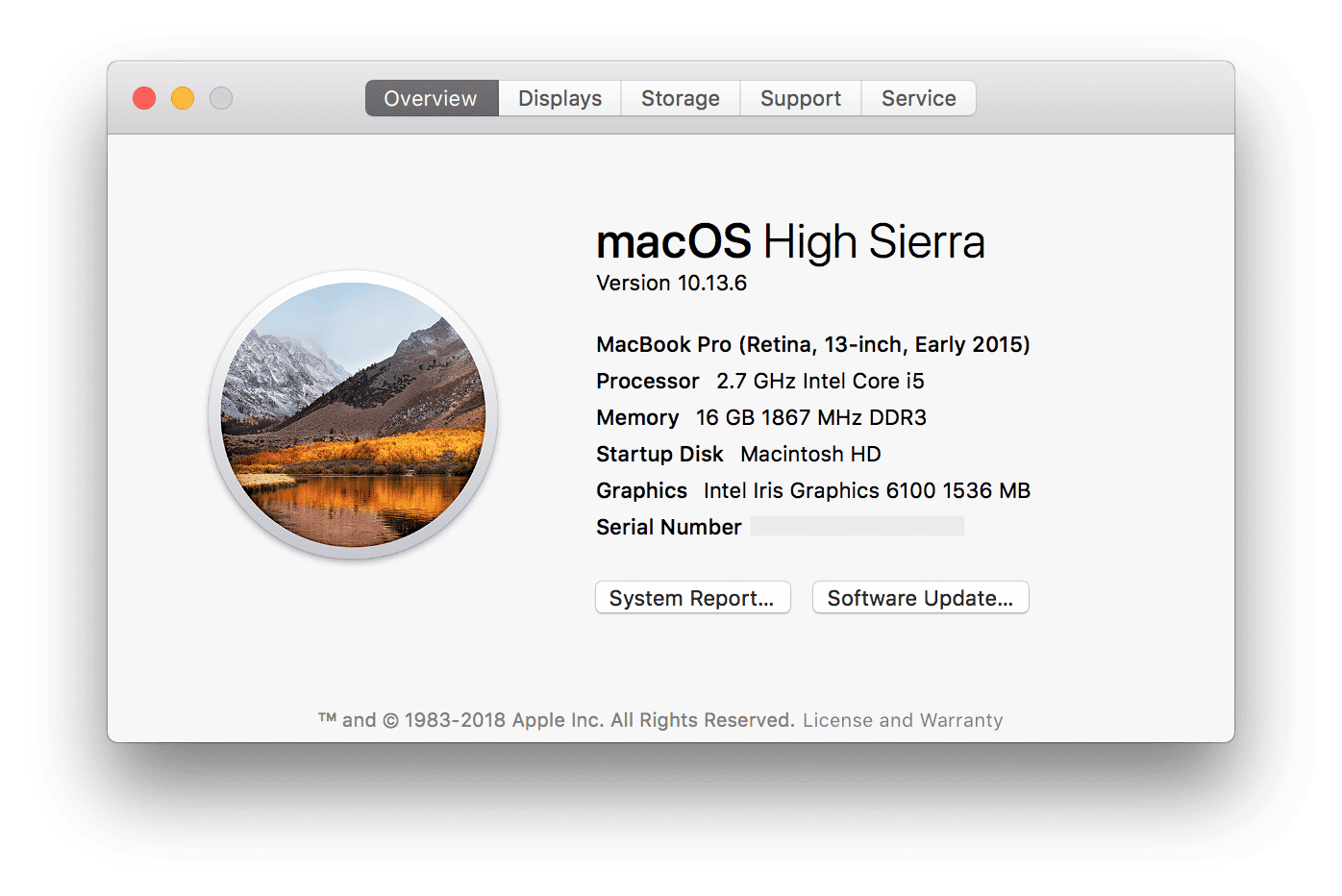 On this window, you can see the memory in this Mac is 16 GB of DDR3 RAM. To get a deeper understanding of your computer's hardware, click the "System Report" button to pull up the System Information Window.
This is where you'll see your internal hardware listed on the left-hand side. When looking at the screenshot, it's now clear that there are two slots (also known as banks) with 8 GB of DDr3 RAM in each slot. This adds up to a total of 16 GB of RAM in this MacBook.
If you're unsure how much memory your Mac can be updated to, then the Apple knowledge-base documents should show you the maximum allocation of your system:
Replacing RAM is as easy as click out, click in, screw on the plate, and boot your Mac to see a difference in everyday performance—but some Mac models cannot be upgraded since the RAM is glued and soldered into place. While replacing the RAM can be an easy fix, it can also become a costly solution. RAM generally ranges between $20–$200 per stick, depending on the size and type.
A solid-state hard drive upgrade can make a huge difference in your everyday experience, regardless of what you may be using your computer for. Upgrading an older Mac computer's traditional rotating hard drive to a solid-state drive (SSD) is like breathing new life into a "dying" computer. Benefits of an SSD include better efficiency for energy consumption, more reliable, and quieter operation. Over the last few years, the pricing for SSDs has come down enough to be considered a reasonable investment for an older Mac.
How do you start the process of replacing your Mac computer's internal hard drive with a new solid-state drive? It's quite an easy task and not as challenging as you may think.
What Models of Mac Can Have the Internal Hard Drive Upgraded?
iMac – Older to 2017 (current) models
Mac mini – Older to late 2014 (current) models
Mac Pro – Older to late 2013 (current) models
MacBook – Older to mid-2010 models
MacBook Air – Older to 2017 (current) models
MacBook Pro – Older to mid-2015 models
Note: if your Mac has a SuperDrive®, aka a disk drive, you can replace the SuperDrive with the solid-state drive, but your SSD upgrade may not run as fast due to the internal Mac connections to the SuperDrive.
What You'll Need:
• A 2.5" SATA SSD
• SATA-to-USB cable or dock
• Tiny screwdriver to open your laptop (when we say tiny, we mean tiny. Phillips #00)
• Torx head screwdriver for disassembling the hard drive
• Strong cup of coffee to keep you motivated
Apple doesn't (and has never) encouraged users to open their Mac, let alone do hardware upgrades themselves. Because of this, it's impossible to find any documentation directly from Apple regarding an SSD upgrade. However, there are tons of wonderful third-party resources such as iFixIt.com. A helpful bundle to purchase is the upgrade kit specifically created by iFixIt.com. It ranges from US$135 for a 25 6GB SSD up to $370 for a 1 TB SSD. It's highly encouraged to research your Mac computer's model type and make sure it can be upgraded prior to buying any replacement kits.
Note: Don't forget to back up your Mac! Your data is imperative to ensure you keep working in a way you're used to. You can also move your existing hard drive onto an external drive case and use it as a portable drive. However, this is a great opportunity to start fresh, too! Once you install a new hard drive, you'll need to install the macOS.
Slow Power-Up
There are endless variables in a Mac, the macOS, or a user's behavior that could be a direct cause for a slow power-up. To ensure that we cover the most influential variables, we'll directly move into the top three reasons your Mac might be slowing down. Our top tips include removing unused applications, turning off any Login Items, and deleting old cache/logs.
Remove Unused Applications
Deleting or removing unused applications is quite easy and a quick way to save a ton of space. You can uninstall applications you got from the Mac App Store, from third-party websites, or from physical discs/USB drives. You can't uninstall applications that are native to the macOS, such as Safari, Mail, and System Preferences.
To get started with deleting unused applications, go ahead and take the following pathway:
Finder > Go > Applications (or keyboard combo Shift + Command + A)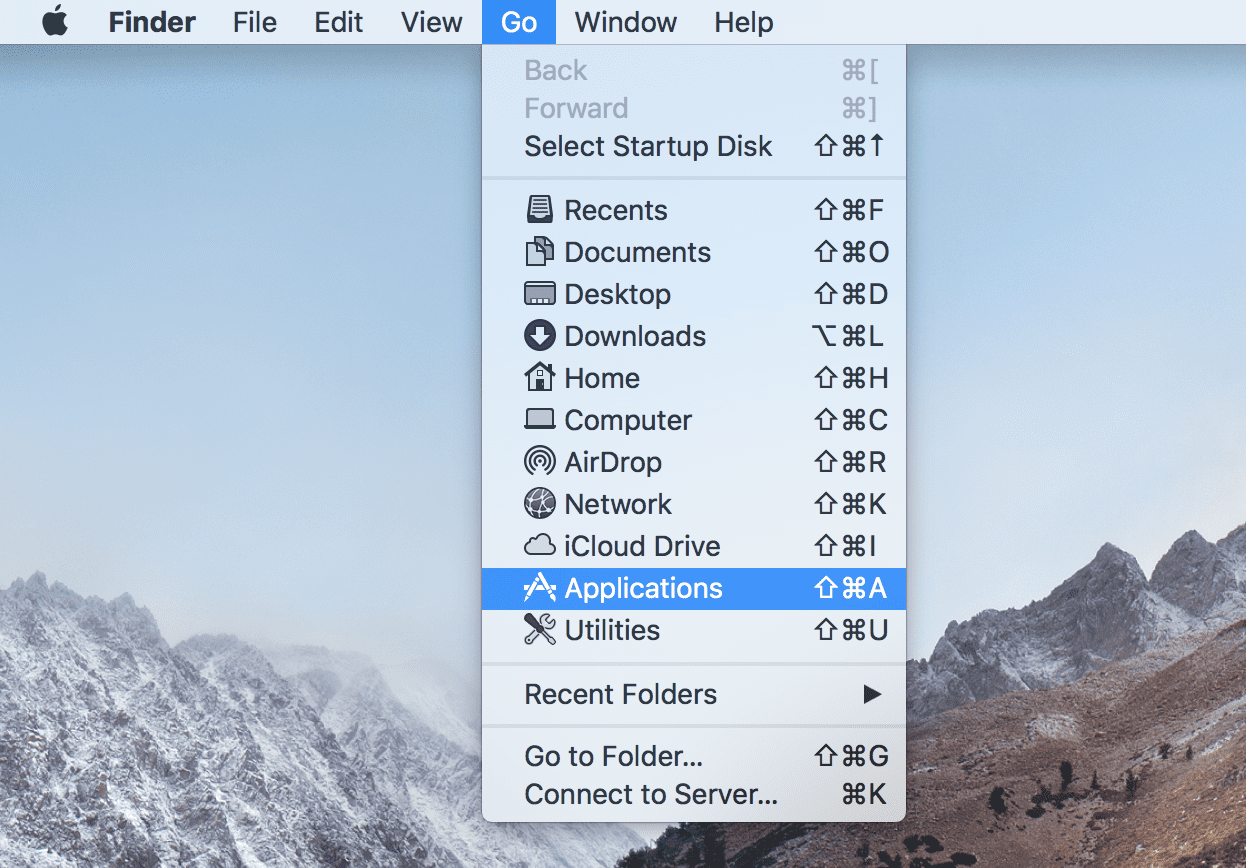 This will bring up your entire Applications Folder with all applications that are installed on your Mac hard drive. I would suggest changing the View of this folder to "List" style and then organizing the list by size to easily see which applications are taking up the most space.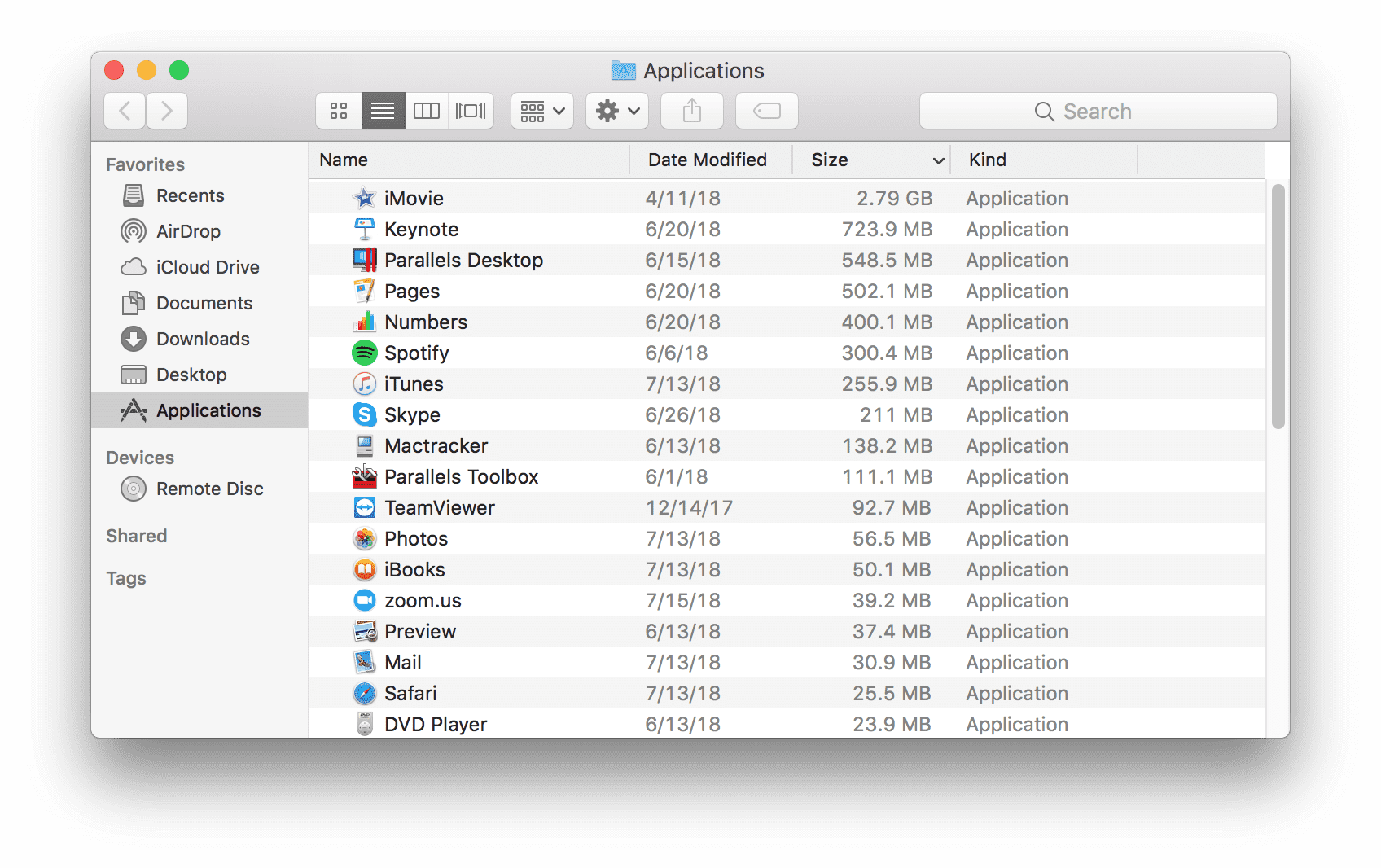 You can then delete your desired application by right-clicking and selecting "Move to Trash."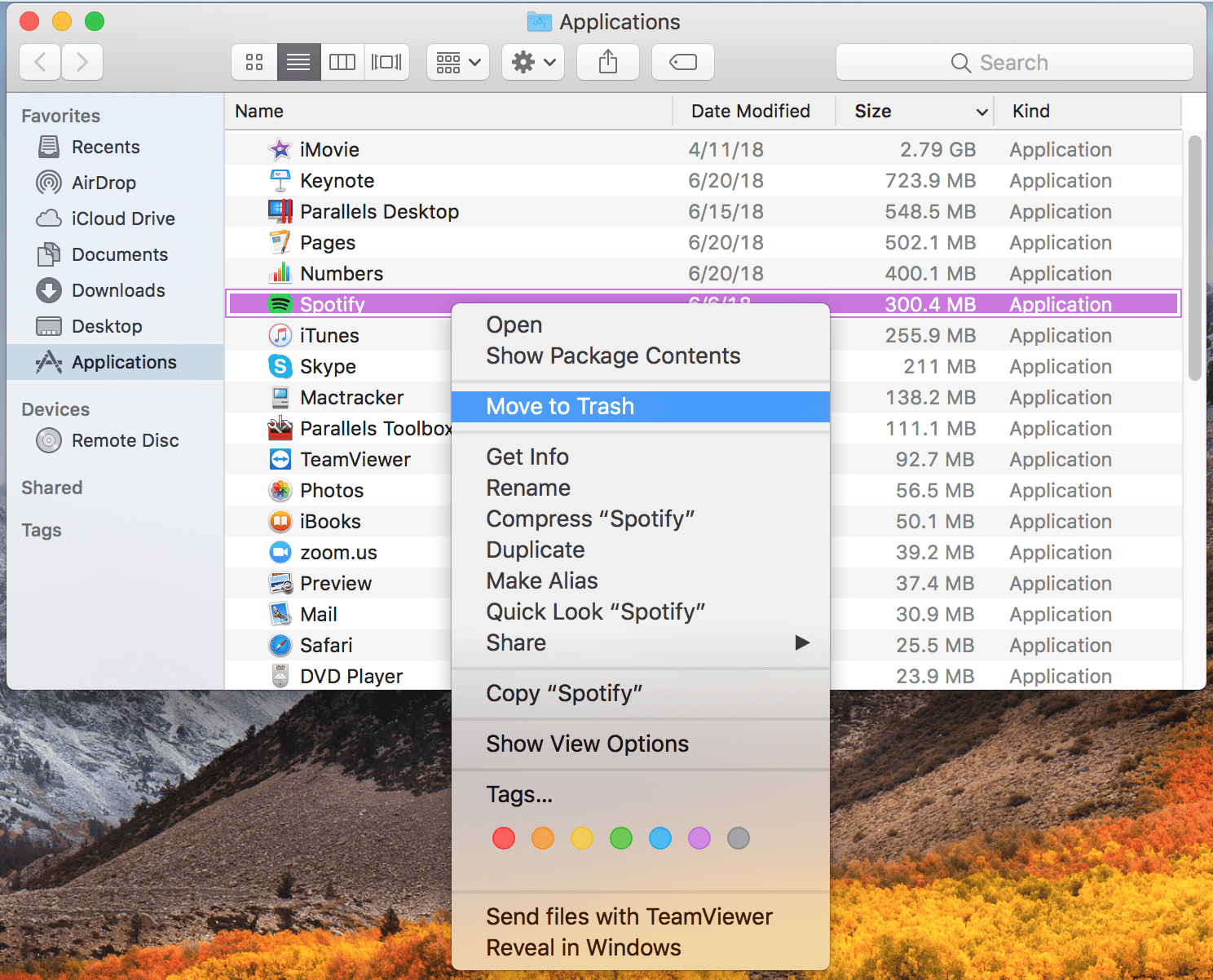 …or by dragging your desired application directly to the Trash icon in your macOS Dock.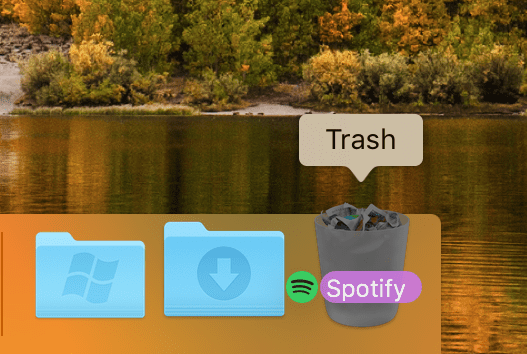 There is one last step: you must empty the Trash to remove the data from your hard drive to free up that disk space. Check the Trash to see if there is anything you want to save. To move forward, simply right-click your Trash icon in the macOS dock and click "Empty Trash."
Note: When you empty the Trash, the application is permanently removed from your Mac, and you cannot get it back without re-downloading it from an external source such as a website, disk, USB drive, or carrier pigeon.
Turn Off Login Items
The second tip for speeding up a slow power-up or boot is to turn off any Login Items when you power up your Mac. To do this, follow the steps below:
Settings > Users & Groups > Current User > Login Items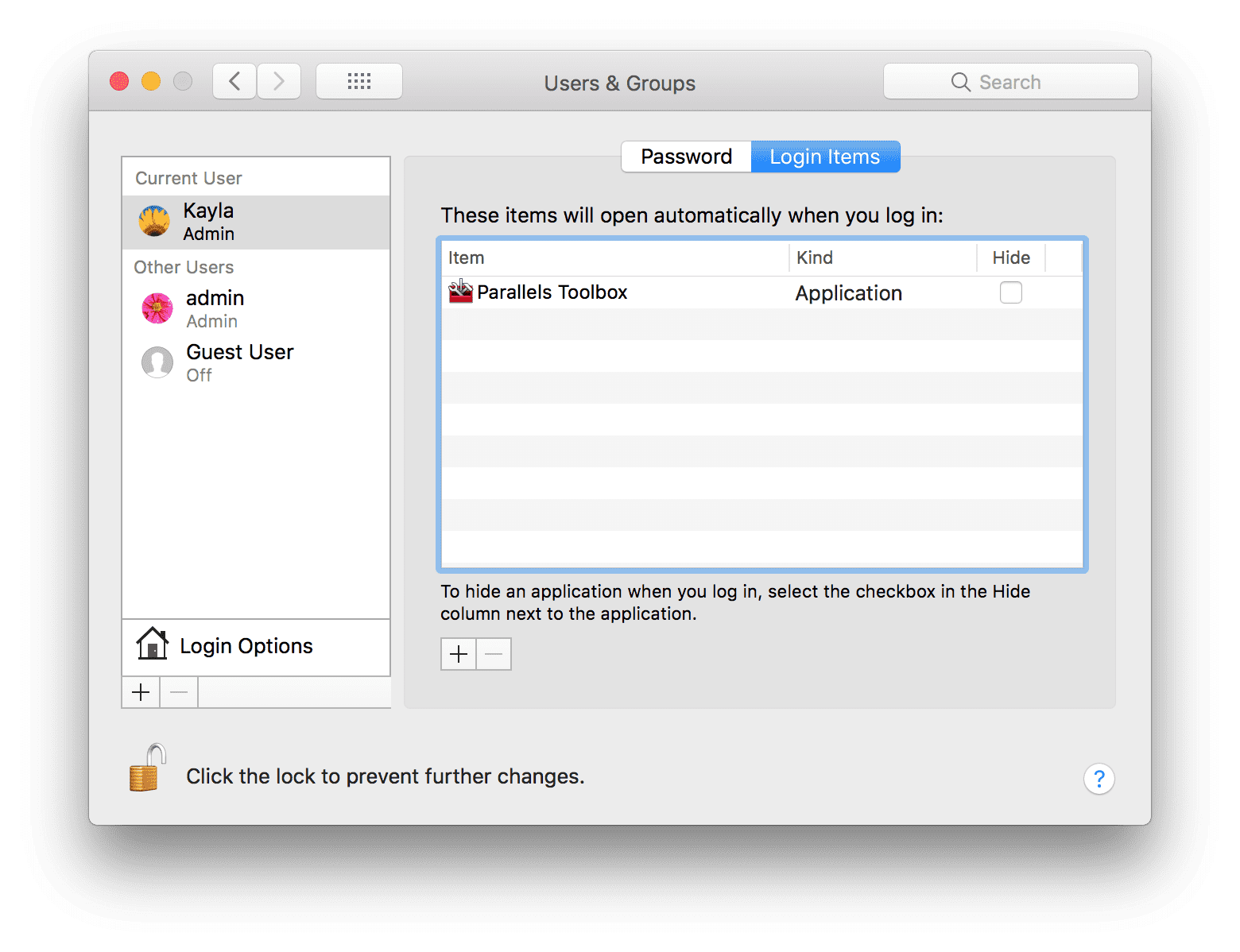 Select the items you want to remove > Click the "-" button.
Note: When you install some applications, they might be automatically added to your Login Items, and they will launch when you start your Mac. Over time, if you're not paying attention to what you download, and you rarely restart your Mac, this can cause some serious slowdown. You'll end up feeling very familiar with that spinning beachball of death.
Delete Cache and Temporary Files
The last tip that will quickly speed up your slow start up is to delete user cache and temporary files.
Cache files can be described as temporary data stored on your hard drive to speed up known processes that the user performs. For example, cache is often used in web browsers such as Safari. Safari will download website images as cache to ensure that the next time you visit that website, you don't have to re-download the images and you can start interacting with the webpage quicker. However, over time, cache files build up and take up storage on your hard drive, ultimately slowing down your Mac. Cache and temporary files can include many things other than web browsers—messages, app-specific temporary files, downloads, and so much more.
To clear cache and temporary files from the active user, follow the next steps:
Finder > Go > Library > Hold down the "Option" key on your keyboard > Select "Library"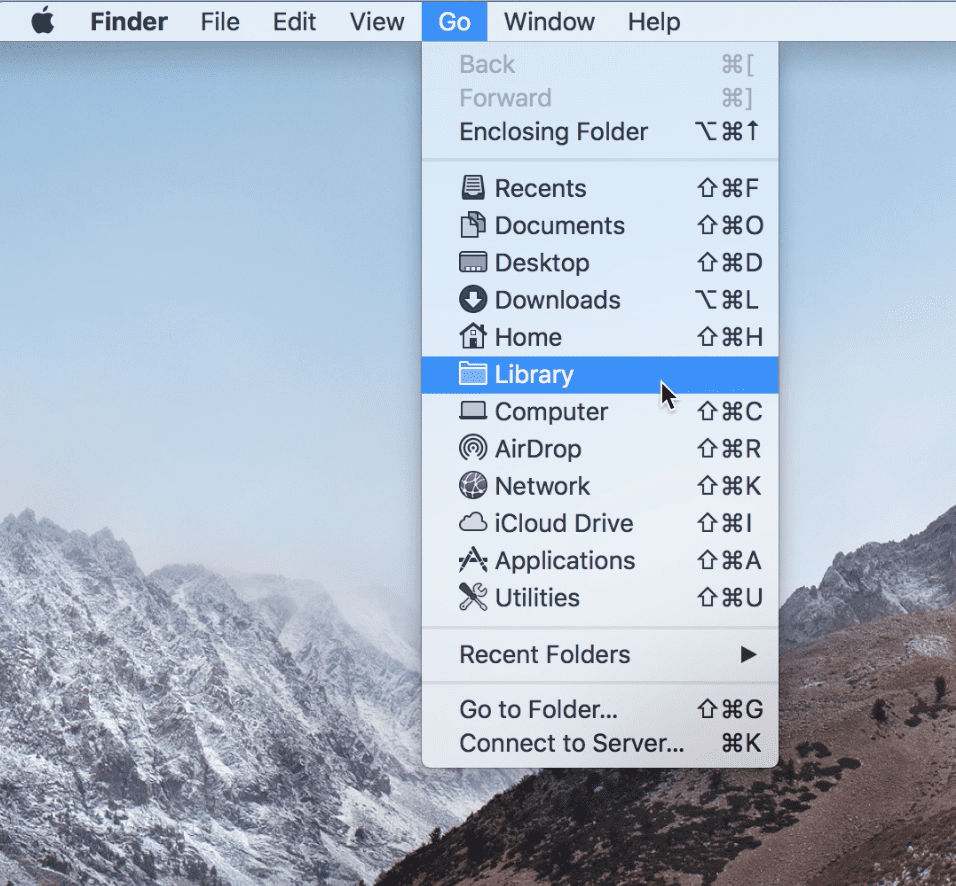 Once you locate and open the Library folder, locate the "Caches" folder and manually choose which caches and temporary files to clear. Alternatively, you can select all, right click, and select "Move to Trash."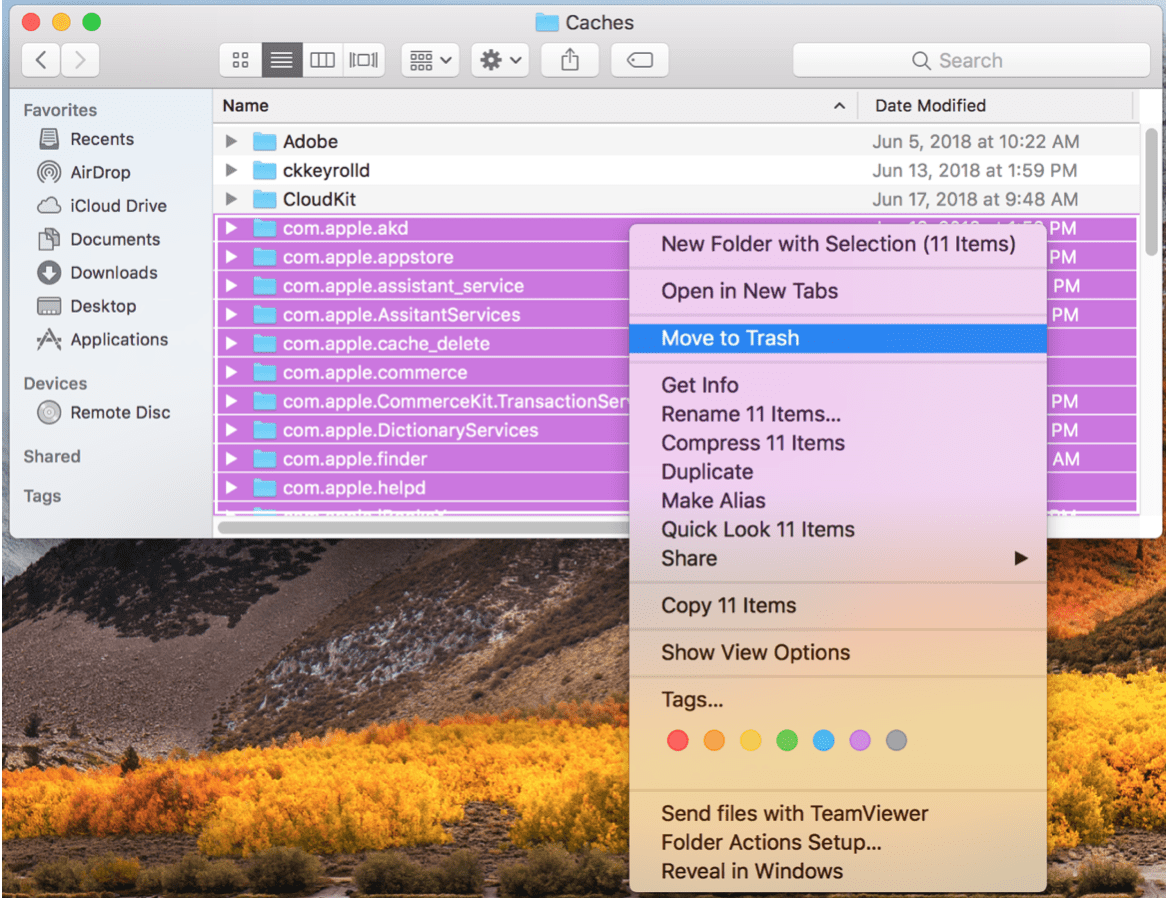 Clearing caches and temporary files on a Mac is not something you should need to perform regularly. Generally, you'd only want to clear caches if they're hogging a vast amount of storage capacity, or if an application is not working properly due to previously saved data from old cache. Keep reading to the end of this blog post to learn how you can save an incredible about of time with the Parallels Toolbox Clean Drive tool and accomplish the above steps with one click.
Out-of-Date Software
Keeping your Mac up to date is critical.
Why?
First, it helps ensure you're getting the most out of your Mac and it's running as fast as it can.
Second, those small updates are often there to address issues with battery life, bugs, or even massive security changes.
Don't like constant updates and feel like they get in the way of your productivity? Do you also ignore those notifications and wait as long as possible before ever doing an update? Even if you have things to do, people to talk to, or projects to complete, too bad!
How to Update the Software on Your Mac
Use the Mac App Store to update the macOS and any applications you downloaded or purchased from the App Store.
Regularly click Updates in the App Store toolbar, then use the Update buttons to download and install any updates listed. Any updates installed in the last 30 days appear below this list, too. You can go one step further by selecting your App Store settings in System Preferences to automatically check for updates, and even download newly available updates in the background. Don't worry, you'll be notified when the updates are ready to be installed and if it will interrupt your work or cause a restart. This is a serious PSA: update your applications, people!
Note: Regular backups will help ease that fear of updating. If your backups are up to date with your data, then you should be able to update without fear!
We've addressed the top issues that can cause a Mac computer's performance to slow down, as well as five quick native macOS solutions to speed up your Mac. We mentioned that as a bonus, we'll also cover handy one-click tools that can save time, money, and quickly free up your precious disk space without annoying micromanagement of your system. Here are our favorite tools that have helped users optimize their disk and system:
Parallels Toolbox Clean Drive – Keep your Mac clutter-free and running at max speed. Scans, detects, and lets you choose what to delete.
Parallels Toolbox Free Memory – Free up unused computer memory with one click.
Parallels Toolbox Find Duplicates – Search any drive or folder to quickly find identical files (even with different names) and free up disc space.
Parallels Toolbox  is available on macOS and Windows. It's an all-in-one package with a dozen time-saving tools to help optimize your workday.
• Created with both basic and power users in mind. Small business owners, developers, or IT users who need to save space with a simple set of tools are empowered to do so with this suite.
• Easily optimize your hard drive's storage with easy-to-use tools like Clean Drive, Find Duplicates, or Free Memory. Free up extra disk space you didn't know you had!
• Be in complete control of your privacy with reliable system tools such as Airplane Mode, Disable Camera, Lock Screen, and Mute Microphone.
• Manage your ever-changing workflow with Archive for your files, Eject Volumes for external drives, or Switch Resolution for external monitors.
Optimizing your slow Mac to run quickly is a difficult task but can be easily done with the steps above or Parallels Toolbox. Parallels Toolbox for Mac and see how easy it is to speed up your Mac.
Now It's Your Turn! These are my best strategies to keep a Mac at its best performance and prevent it from ever slowing down. Now we'd like to hear from you! Which strategy from this guide are you going to try first? Do you have any personal tactics that work best for you or any problems optimizing your Mac? Either way, let us know by leaving a comment below or reaching out to our team on Facebook or Twitter.