Windows 10 May 2019 Update: What the Parallels Desktop User Needs to Know
---
Microsoft's Windows 10 has two major updates each year: one in the fall and one in the spring. While things haven't gone according to this plan in the recent past (long story), the spring update (also known as the May 2019 Update) is now available.
I have been able to get this update early, and in this blog post, I'll highlight some of its features that will be of special interest to Parallels Desktop® for Mac users. I won't describe every single change in this update, but if you are interested in knowing everything about the update, I suggest you read the article on the How To Geek website.
There are lots of different Windows 10 updates on the Microsoft site: Insider Preview updates, Fast Ring updates, Slow Ring updates, Skip updates, Release Preview updates, and probably some others that I don't know about. The May 2019 Update that I'm talking about in this post is Windows 10 version 1903 build 18362.
---
Sandbox Feature
Windows 10 now includes its own virtualization sub-system, which enables a user to safely test applications in a "sandbox" (a virtual machine running inside Windows). As this is an advanced feature, it is not included in Windows 10 Home edition. To use the new Windows 10 Sandbox inside Parallels Desktop, you must enable "Nested Virtualization", a feature in Parallels Desktop for Mac Pro Edition and Business Edition (see Figure 1).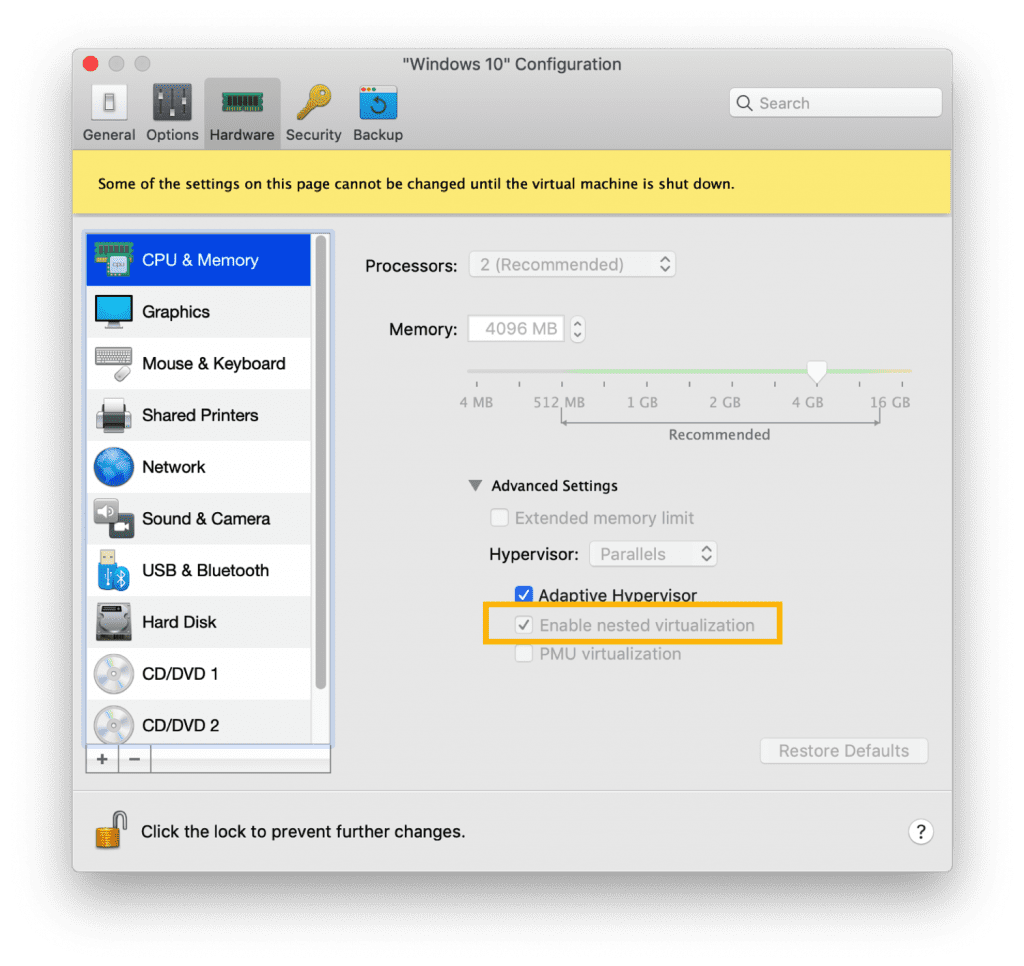 Once Nested Virtualization is enabled, you will see Windows Sandbox as an optional Windows feature that you can enable in the "Turn Windows feature on or off" Control panel (see Figure 2).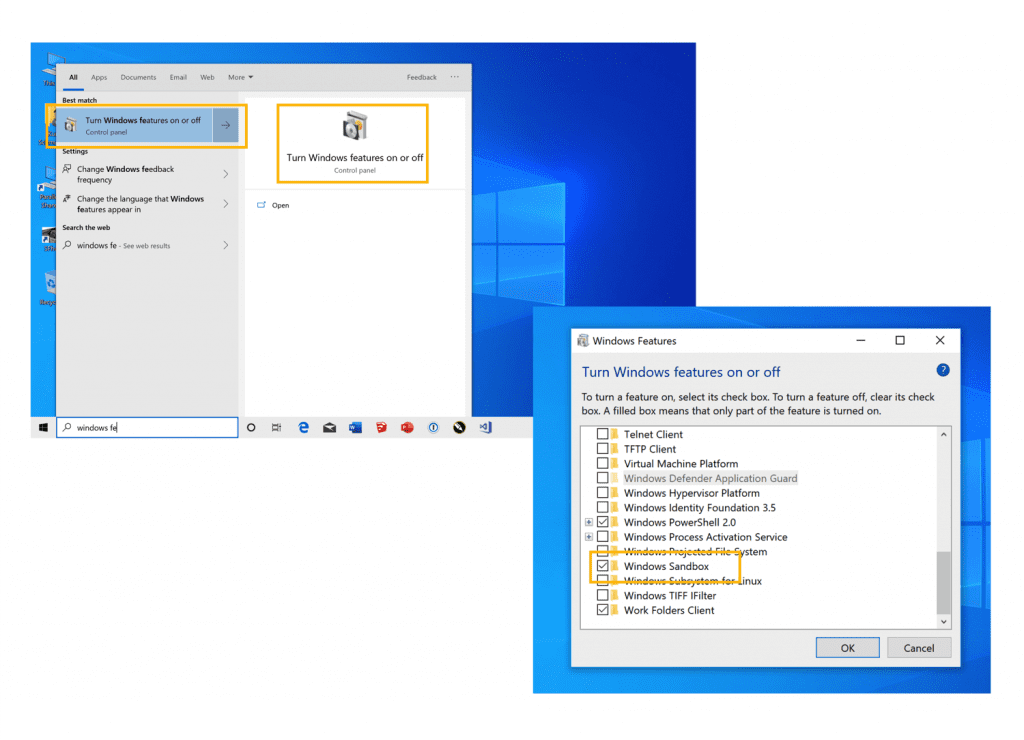 The Sandbox feature is pretty cool for Windows geeks, and especially cool for Parallels Desktop geeks (see Figures 3 and 4).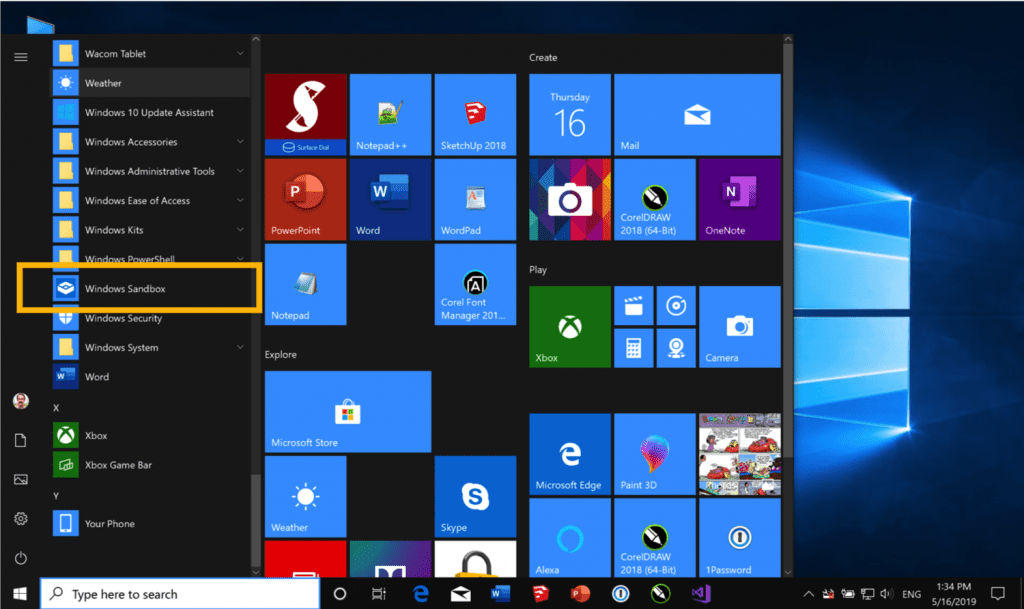 As you can see in Figure 4a and 4b, when you shut down the Sandbox, everything in it is discarded—not unlike when you enable Rollback mode (also known as Undo Drives) in Parallels Desktop.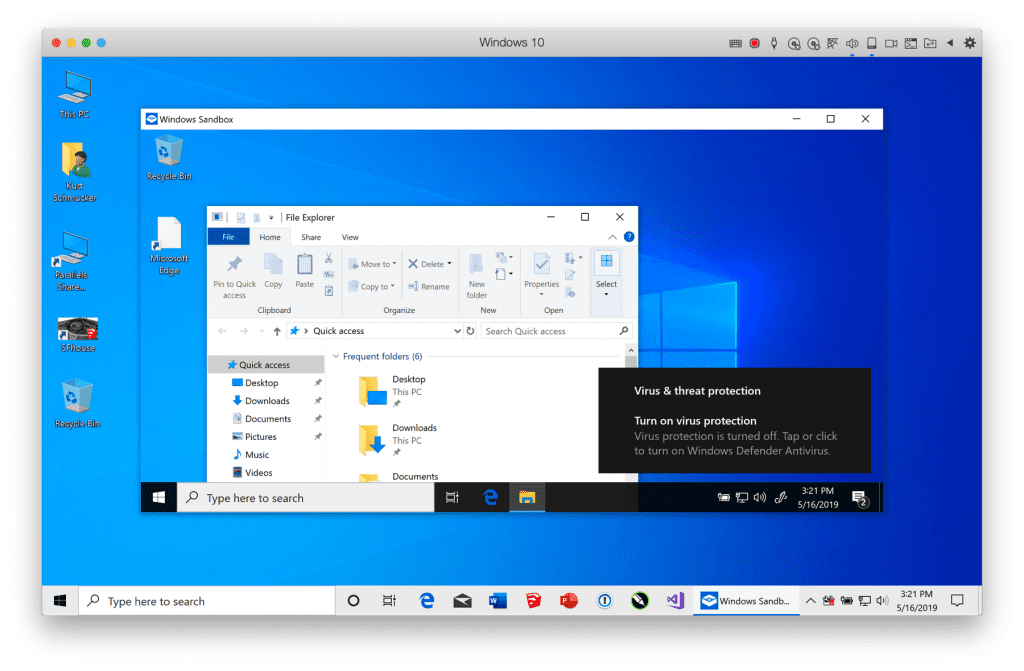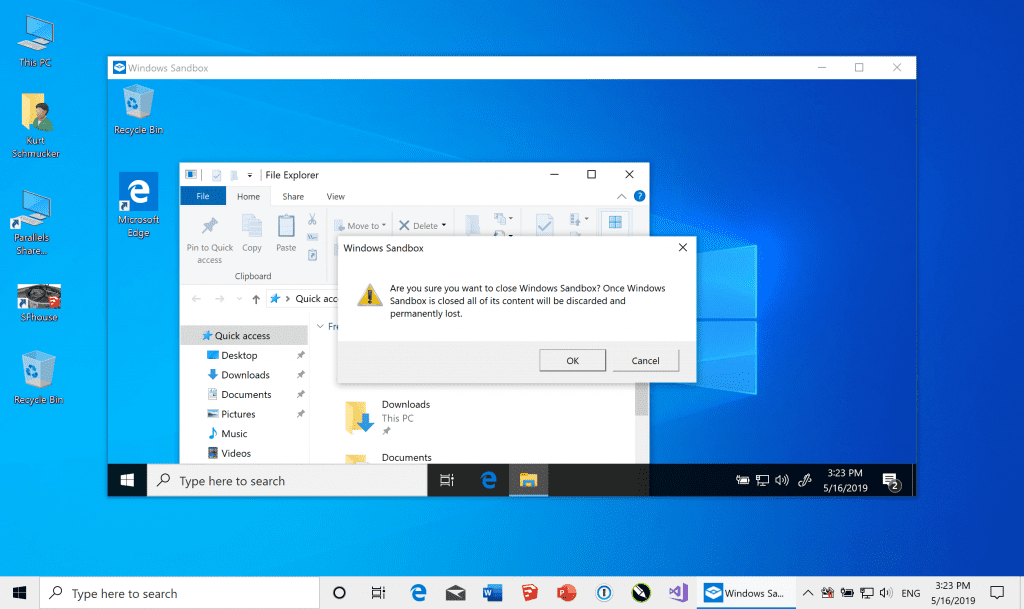 However, Windows Sandbox isn't really too useful for any user of Parallels Desktop because of the large performance drop when one virtualization occurs inside another virtualization.
---
Windows Update Changes
Microsoft has received a lot of criticism over the last year for serious bugs in released updates, for updates that failed to install, and for forcing updates on users without their permission. In the May 2019 Update, Microsoft has given more control over update installation and will now notify users that such an update is available—you can choose to install or not. (No choice for security updates, however—those are automatically installed.) They are also making about-to-be-released updates available to Insiders for additional testing. Hopefully, this will eliminate or reduce bugs in updates before they're released to all Windows users.
Microsoft has also addressed a major reason that updates fail: insufficient disk space. About 7 GB will be reserved for an update to use.
This shouldn't matter too much to Parallels Desktop users, since you can easily change the maximum size of a VM's virtual hard drive.
---
Search and Cortana Have Split
Search and Cortana used to be unified, but now they are split in the taskbar and their usability is improved. (See Figure 5.)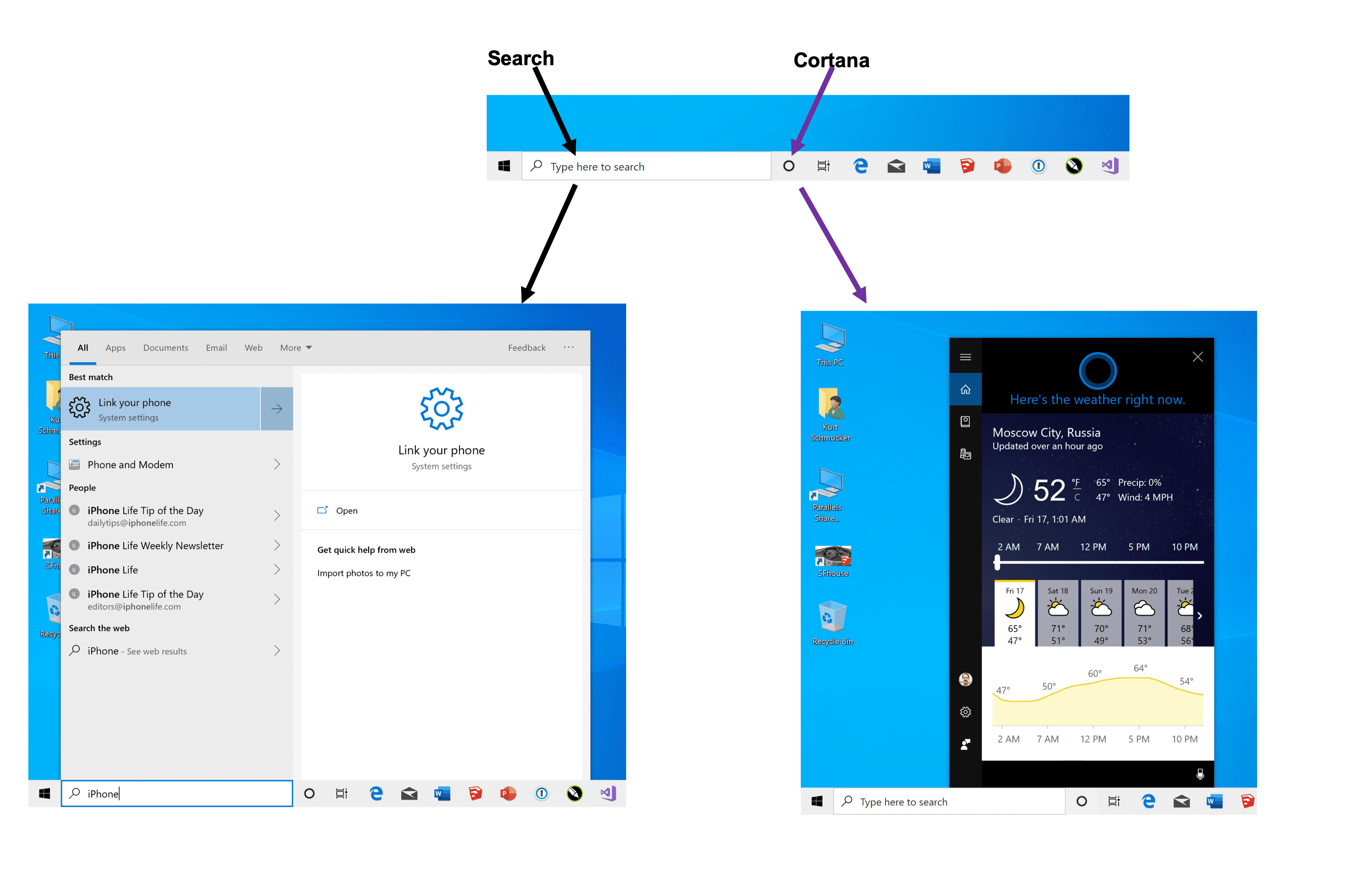 ---
Minimum Storage
After this update gets baked into the standard Windows installation, Windows 10 will require 32 GB of disk space.
This will not be an issue for Parallels Desktop users, since the virtual hard drive in a VM is 256 GB, but it only uses up the actual space it needs on the Mac® hard drive.
---
Light Theme and a Less Crowded Start Menu
This update adds a Light Theme and a less crowded Start Menu. While Dark Mode is a current hot topic in macOS®, I rather like the new Light Theme in Windows 10. (See Figure 6.)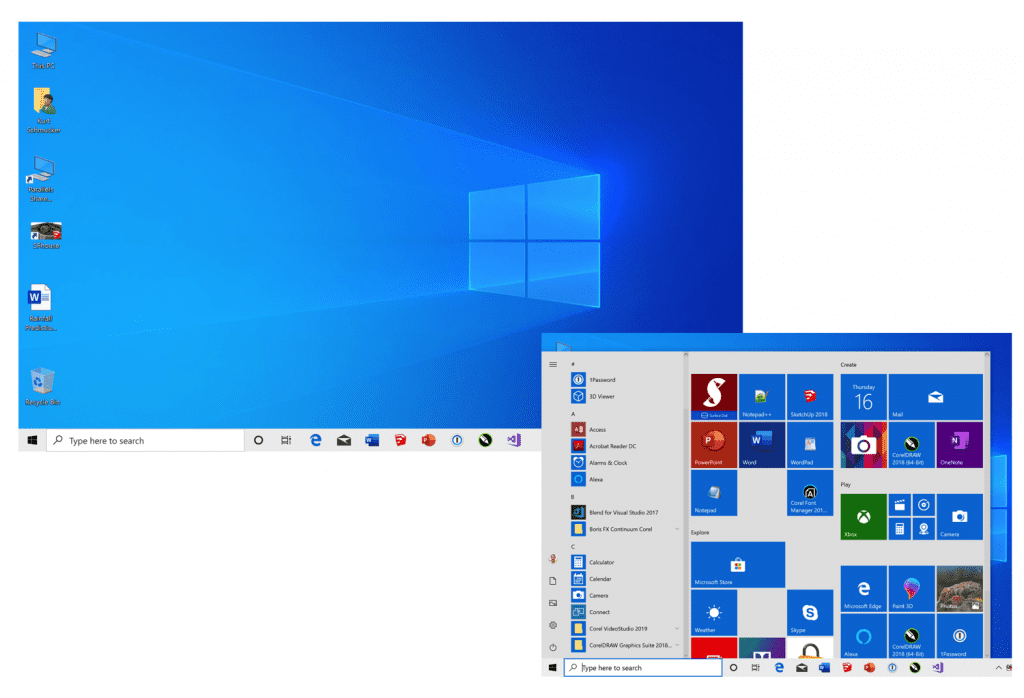 Let us know in the comments below, on Twitter or Facebook. about your experience with the May 2019 Windows 10 Update.
Try Parallels Desktop for free for 14 days and check out the new Windows 10 May Update.