What's new in Parallels Desktop 19
Hello Mac enthusiasts,
What an incredible year it's been!
We are super excited to announce the next round of innovations with Parallels Desktop 19 for Mac.
Parallels Desktop has become a catalyst for productivity and software development, enabling Mac users to leverage the strengths of multiple operating systems without compromise.
More than two million professionals, developers, creatives, and enthusiasts trust Parallels Desktop with running Windows, Linux, and macOS in a virtual environment.
The possibilities are limitless, and the impact on industries, businesses, and individual endeavors cannot be overstated.
This blog post will explore what's new in this release and how different user groups will benefit from it.
Compatibility with the upcoming macOS Sonoma upgrade
We know how important it is to stay up and running after continuous software upgrades. This is why compatibility with macOS has always been and continues to be a primary focus.
In macOS Sonoma 14, the software module CGPSConverter that converts PostScript files was removed from macOS. As a result, the Shared Printing feature became useless, as it was using this module to allow printing from Windows via printers shared from Mac.
Printing from Windows is essential for many Parallels Desktop users. As a response, our engineers re-engineered the Shared Printing feature to use Internet Printing Protocol (IPP) which is the most popular printing method nowadays. The IPP printing holds the potential for exposing more printer-specific features to Windows that our engineers are currently exploring.
There are also improvements to running macOS Sonoma in a virtual machine, which we cover in a separate topic below.
Design
Being a Mac app, we are heavily inspired by the depth of detail in Apple design.
We took time and care in our approach to meet modern macOS design guidelines.
We didn't want to simply put the old icon on a familiar round-cornered white tile but instead, rethink how we visually propagate our app in macOS.
The new app icon and in-product details achieve this!
Given most of our users have MacBook computers, we've changed the long-used background resembling iMac forms to a laptop.
The parallelism metaphor for running multiple OSs simultaneously has been moved from sitting in front of the Mac to the background because this is where we are – powering up the virtualization engine and running in the background, enabling users to run third-party OSs and software.
And, finally, the mysterious hole in the upper-left corner has been addressed. A rectangle with a dot in the corner represents a container: a window that hosts "your stuff," regardless of the platform you access it from. Plus, this is a nod towards the new Parallels branding that unites all Parallels products into a single keychain for organizations.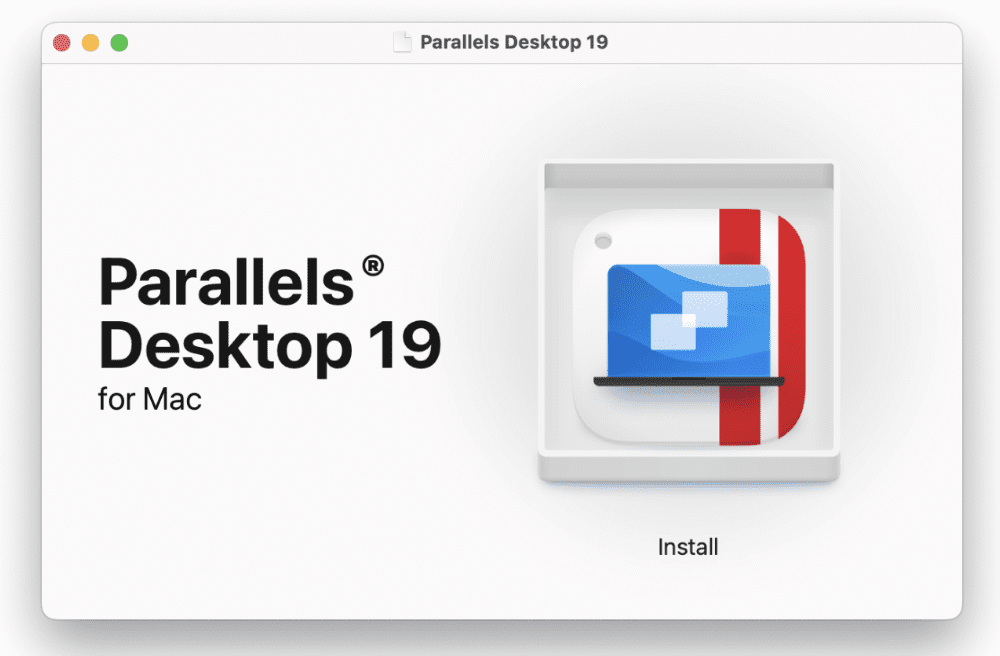 Integration with Mac: Use touch ID for Windows sign-in
We've brought the magic of Apple's Touch ID to Windows sign-in and Parallels Desktop installation!
If your Windows 10 or 11 is protected with a PIN or password, the next time you sign into Windows after upgrading to Parallels Desktop 19 will prompt Windows to use the new Parallels credential provided. Your Windows password will then be saved to Mac Keychain with a special Touch ID-bound record type (a record that can be used solely for Touch ID usage), available only on this Mac with your fingerprint.
Next time you sign into Windows, Parallels Desktop will prompt you to use Touch ID to sign into your user account. It is both simple and secure. Users can manage saved passwords via a simple but useful interface and get back to using the old sign-in method if preferred.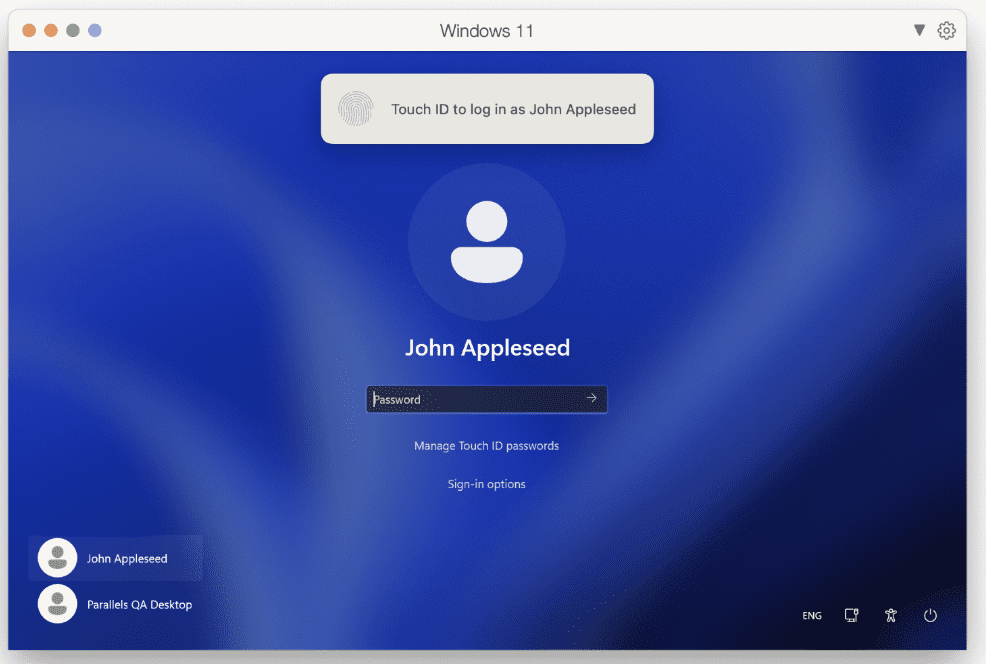 This improvement will be very handy for Parallels Desktop for Mac Business Edition users in an organization where certain security policies require Windows to be secured with a password.
Professional Windows software on Mac: OpenGL improvements and more
We are thrilled by the fact that professionals in architecture, engineering, and design all over the world use Parallels Desktop to power up their Mac with Windows apps they need for work. This year, with improved OpenGL support up to version 4.1, we enable more Windows-only CAD software to run on Mac, including VariCAD, Vectorworks Vision 2023, and more. 
There is also good news for professionals who trust Parallels Desktop to run the popular geographic information system software AcrGIS Pro on a Mac. We listened to feedback, and we are happy to announce significant performance improvements for ArcGIS Pro in this version.
macOS VM on Apple silicon: easier installation, more operations, and controls
On a Mac with Apple silicon, the macOS virtual machine is powered by a relatively new macOS framework, where Parallels Desktop is much less in control of VM operations compared with the Hypervisor framework used to power up Windows and Linux (on all Mac computers), and macOS on an Intel-powered Mac. This is the reason why macOS VM on Apple silicon has much fewer features and a different bundle format ".macvm" versus a familiar ".pvm" format used for the rest of the VM types.
This upgrade is packed with improvements for macOS virtual machines on Apple silicon:
VM installation: Use an IPSW image to install a new macOS virtual machine via the Installation Assistant UI, or with the CLI ($ prlctl create "macOS13" -o macos –restore-image "/path/to/image.ipsw").
Basic VM operations: restart, shutdown gracefully, and pause-resume the virtual machine either from the UI menu or by using the Parallels CLI prlctl.
Input: use two-finger Trackpad gestures in the VM to scroll and zoom.
Mass deployment: deploy Parallels Desktop with macOS virtual machine to Mac computers with Apple silicon.
With macOS Sonoma 14 running in both a primary and virtual capacity, the experience is even better:
Display: display resolution is updated automatically when the VM window is being resized.
Network: with Pro Edition, use port forwarding to access a macOS VM via SSH or RDP remotely, for instance, when you host them on Amazon EC2 Mac instances.
Using Packer with Parallels VM is easier and it supports macOS VMs on Apple silicon
When we develop Parallels Desktop, we always try to automate manual labor as much as possible. The same applies to many of our customers who use Parallels Desktop to develop and test their software. In response to customers' valuable feedback, we have partnered with HashiCorp to deliver long-awaited improvements to the Parallels Provider for Packer and Vagrant.
With Parallels Desktop 19, we have eliminated the need for using Parallels SDK and Python, making it even easier to work with these essential tools. And we are happy to announce that this upgrade brings the ability to create and configure a macOS virtual machine on Apple Silicon, too.
As part of our commitment to open source, we have developed a variety of sample templates for Packer, simplifying the onboarding process for new customers. These templates cater to Windows, Linux, and MacOS and are freely available on our GitHub Repository.
Furthermore, we have revamped our documentation, providing comprehensive guides on utilizing these tools seamlessly with our providers.
Linux on Apple silicon: run x86 Docker containers and Microsoft SQL, CentOS 9 Stream
For developers who need to run x86 Docker containers or Microsoft SQL Server on a Mac with Apple silicon, Parallels Desktop for Mac Pro Edition provides a new ready-to-go Ubuntu Linux Arm VM that is configured to run x86 Docker containers, powered by Apple's Rosetta 2 technology. The new VM can be downloaded from the Free Systems section of the Installation Assistant.
And, in a game changing move for developers and power users, we are excited to introduce the ability to run x86 binaries and containers within a Linux Arm VM on a Mac with Apple silicon. By incorporating a ready-to-go downloadable Ubuntu Linux VM, we have simplified the process of running x86 container images, including popular ones like Microsoft SQL Server.
This breakthrough enables users to effortlessly consume and debug containers, and build them for the x86 platform.
Looking ahead, we are committed to continuously improving the compatibility of these binaries in future updates. Stay tuned for exciting developments in this area.
Parallels Desktop 19 for Mac also supports running CentOS 9 Stream on a Mac with Apple silicon. Whether you're studying, developing, or testing for CentOS/RHEL, our solution provides flexibility and versatility.
Device management in an organization: enroll Windows to Microsoft Intune
We understand how crucial device management is for organizations and see increased adoption of Microsoft Intune among our customers.
Previously, to ensure that virtual Windows devices used by end-users in an organization can be enrolled in Microsoft Intune, an IT admin could use only the mass deployment scenario, which is not convenient for some types of organizations.
Parallels Desktop 19 for Mac Business Edition brings the ability to enroll Windows 11 in Intune when it is provisioned to employees via the Parallels My Account web app, and when the Windows image is simply shared via cloud storage.
This feature makes administering Windows devices within your organization much easier and more efficient.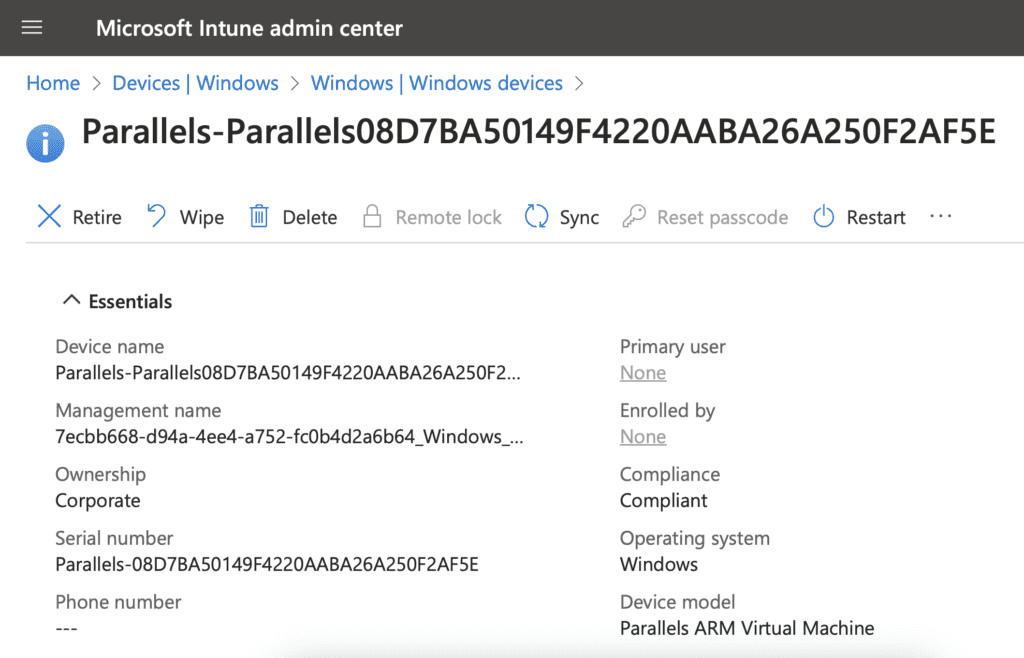 Parallels Desktop is about bridging the gap between macOS and your operating system(s) of choice, enabling you to enjoy the best of both worlds without compromise.
The new version of Parallels Desktop offers an even more seamless experience for Mac users looking to run Windows or Linux.
We are proud to be a Microsoft-authorized solution, and our developments are a testament to our dedication and commitment to delivering high-quality, powerful, reliable, and efficient solutions to run Windows 11 on Mac.
We're eager for you to experience the next level of Windows-macOS integration with Parallels Desktop.
DOWNLOAD PARALLELS DESKTOP 19 FREE TRIAL
Thank you from the team at Parallels!