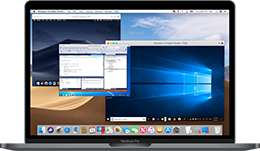 Thanks for trying
Parallels Desktop for Mac!
Choose Parallels Desktop Pro Edition and unlock the full potential of your Mac.
Performance boost: Allocate up to 32 vCPUs & 128GB of vRAM to your virtual machines.
Dev tools: Microsoft Visual Studio, Docker, Vagrant, Network Conditioner, & more.
Work with confidence: 24/7 support & 30-day money back guarantee.
Bonus software: Parallels Toolbox for macOS or Windows utilities & Parallels Access for Android or iOS for remote access to your Mac or PC, wherever you are.
Go with Parallels Desktop Pro Edition and do more.
More Power!
Designed with developers, power users, and other demanding professionals in mind. Parallels Desktop® for Mac Pro Edition gives you more processing power, with up to 128 GB of virtual RAM allocated to your VM and up to 32 virtual CPUs.
Compare Editions
Standard Edition
Download and Install Windows 10 in one click
Retina Support for Windows apps
Optimized for macOS Catalina (10.15)
Buy Now
Pro Edition
All the Standard Edition features PLUS:
Integration With Chef/Ohai/Docker/Vagrant
Network conditioner to simulate speeds and test
Visual Studio plug-In
Debug, dump VM, or start an SSH session from menu
Support for business cloud services
Premium 24/7 phone and email support
Buy Now
Business Edition
All the Standard and Pro Edition features PLUS:
Centralized administration and management
Unified volume license key for mass deployment
Buy Now
What else can you do with Pro?
Test a Beta OS or Update
Take advantage of future public beta OSes from Apple and Microsoft without risking your data. Install a beta macOS or beta Windows release in a virtual machine safely on your Mac.
New update or upgrade released? First test it out in a VM. Save snapshots of a virtual machine. If something goes wrong, you can revert the changes back to any of your snapshots and continue working with the guest OS. Plus, the SmartGuard functionality in Parallells Desktop allows you to automate snapshots' creation.
Download Pre-Built VMs
If you don't have enough time to create a new virtual machine with the required configuration, you can download a ready-to-use one with a predefined configuration.
Simply choose File > New and select from the "Free Systems" section. Pre-built VMs include a full Windows 10 Development Environment with Visual Studio and other tools pre-installed, a wide variety of Windows versions with different IE and Edge browsers pre-installed, Ubuntu Linux, Fedora Linux, CentOS Linux, Debian GNU/Linux, Mint Linux, and Android virtual machines.
See All Parallels Desktop Pro Features
"Parallels allows me to run a full development environment on Windows, including SQL Server, Analysis Services Server, Visual Studio, and SQL Management console simultaneously…"
Tim Goldstein, Senior Business Intelligence, Data Warehouse, OLTP, ETL Architect & Developer
Parallels Desktop
The most trusted desktop virtualization software for over 13 years!
The Parallels Desktop 30-day money-back guarantee ensures your satisfaction.