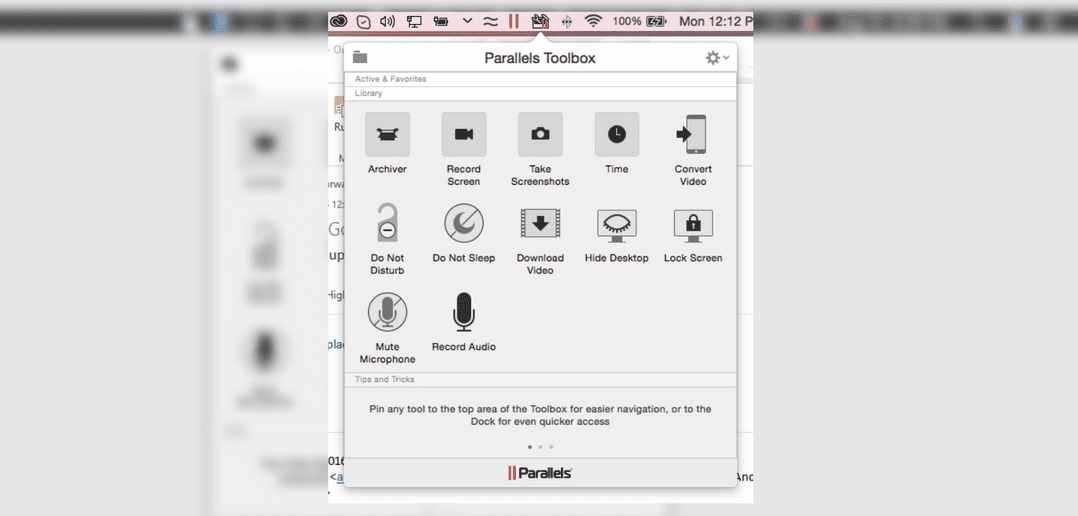 Introducing: Parallels Toolbox
Here at Parallels, we're excited as Parallels Toolbox for Mac joins our long history of innovating products designed and built around fulfilling our customers' needs.
Ever find yourself searching "How to take a screenshot on a Mac?" or "How to keep computer wake during presentation mode?" or "How to download a video from YouTube or Facebook on your Mac?" Most Mac users have a wide array of trivial scenarios that keep them from getting their work done. This is where Parallels Toolbox comes in, removing the need to remember endless keyboard commands and pay for multiple third-party applications, and saving you more than just money; it saves you valuable time.
Parallels Toolbox brings increased simplicity to daily tasks on your Mac, with over 20 tools to help you get your work done in a much simpler way. Whether you're a new-to-Mac user or an experienced pro, we've taken care of streamlining your productivity with simple-to-use tools packaged in a single app.
With Parallels Toolbox for Mac you can:
Download videos from YouTube, Facebook, and other websites such as TED.com with a single click

Archive and password-protect all your files

Use distraction-free presentation modes for both Mac and Windows, including:

Keep Mac Awake
Hide Desktop Files
Do Not Disturb
Simply capture screen shots or record video of a screen, window, or area
Record audio and mute/un-mute a microphone with ease
Take advantage of time management tools

—

an alarm, timer, date countdown, and stopwatch
Look forward to many more handy tools to come!
The initial release of Parallels Toolbox for Mac includes the following tools:
Archiver: Compress files with one easy click to use less storage space. Accidentally archive your important files? No worry—unarchiving will decompress your data back into individual files.
Record Screen: Record video of a screen, window, or area.
Take Screenshots: Screenshot a screen, window, or area
Time: A set of handy, easy-to-use time management tools to keep you productive and on task.
Convert Video: Optimize your favorite movie or television shows for iPad or iPhone.
Do Not Disturb: Avoid distractions so you can focus on the task at hand. When activated, notifications and the Dock app animations are disabled.
Do Not Sleep: Prevent your computer from going to sleep and your display from dimming. Ensure a task won't be interrupted by disabling settings that would allow the computer to go to sleep.
Download Video: Download your favorite videos from the Internet. Many popular video sharing sites are supported, including Facebook, YouTube, Vimeo, and many more.
Hide Desktop: Use this tool to hide all the files, folders, and other icons on your desktop. This tool is useful when, for example, you're doing a presentation, taking screenshots, or recording your screen.
Lock Screen:  Immediately lock your screen to prevent unauthorized access to your computer. No need to wait until the password-protected screen saver kicks in, or to remember which hot corner activates what—simply use this tool to require your user account password.
Mute Microphone: Mute your computer's microphone to prevent unauthorized or unwanted listening by other apps.
Record Audio: Use this tool to record audio from your computer's built-in microphone. A blinking icon in the Dock lets you know that audio is recording. You can additionally record from an external microphone if it is selected as the input source in System Preferences > Sound.
Parallels Toolbox for Mac is included with all editions of Parallels Desktop 12 for Mac. It will also be available as a stand-alone product from www.parallels.com/products/toolbox/ starting August 23rd, 2016 at $9.99 per year, including free updates of additional tools our engineering team is excited to provide to you!