How to get the best results in the Recognize Text tool
The Recognize Text tool is one of the new tools in Parallels® Toolbox 5.0, released on July 27, 2021. This tool "extracts" text from a photo or image. Even though Recognize Text has only been available for a little more than a month, it has quickly become my second-most-used tool in Parallels Toolbox. (FYI, my most-used tool is Download Video.)
I have discovered a few tricks for getting the best results from the Recognize Text tool, and I present these and a few other caveats about this tool in this blog post.
Basic Operation
As is true for all the tools in Parallels Toolbox, the basic operation of the Recognize Text tool is straightforward and simple: drag an image to the tool, select the language, and extract the text. My previous blog post shows this in operation.
Getting the best results
Tip #1 Higher resolution scans usually deliver the best results.
If you have the option of different dots per inch (dpi), for example if you are scanning a photograph, a higher dpi setting will usually deliver better results. See Figure 1. (The image in figures 1, 2, and 3 is the back cover of Object-Oriented Programming for the Macintosh, image courtesy of the author.)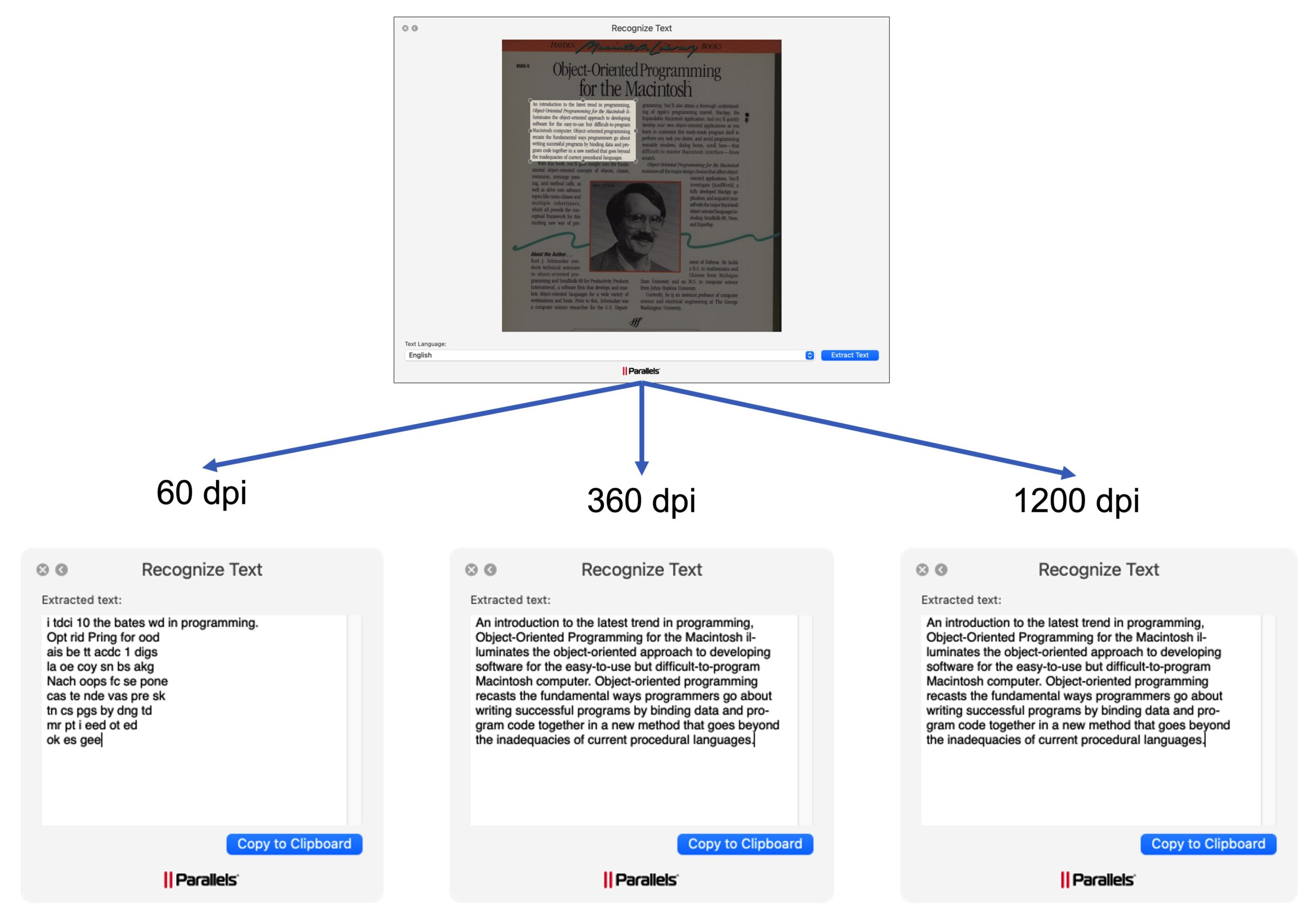 Tip #2 Selecting specific portions of the image can improve results.
When the text you want to extract is bordered by graphics, selecting only the text area can improve results. See Figure 2
Tip #2.5 Enlarge the Recognize Text window to get a larger image for easier portion selection.
Having trouble selecting an area to be scanned? Just enlarge the Recognize Text window first. See Figure 3.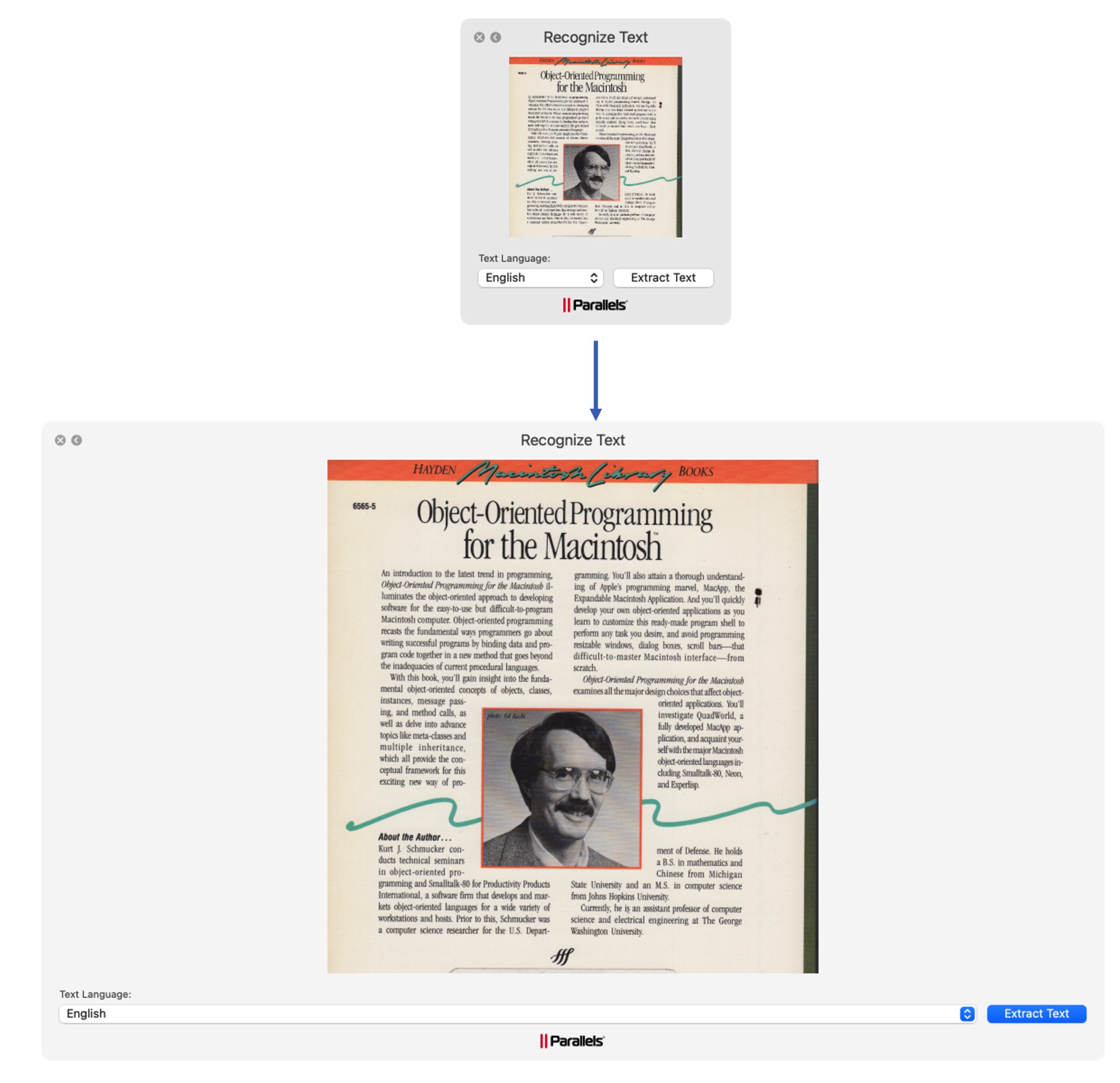 Tip #3 Straightening text to make it horizontal can improve results.
See figure 4. (Image in figure 4 and figure 6 are courtesy of the photographer.) I straightened the text in this image using the image manipulation tools in Microsoft PowerPoint.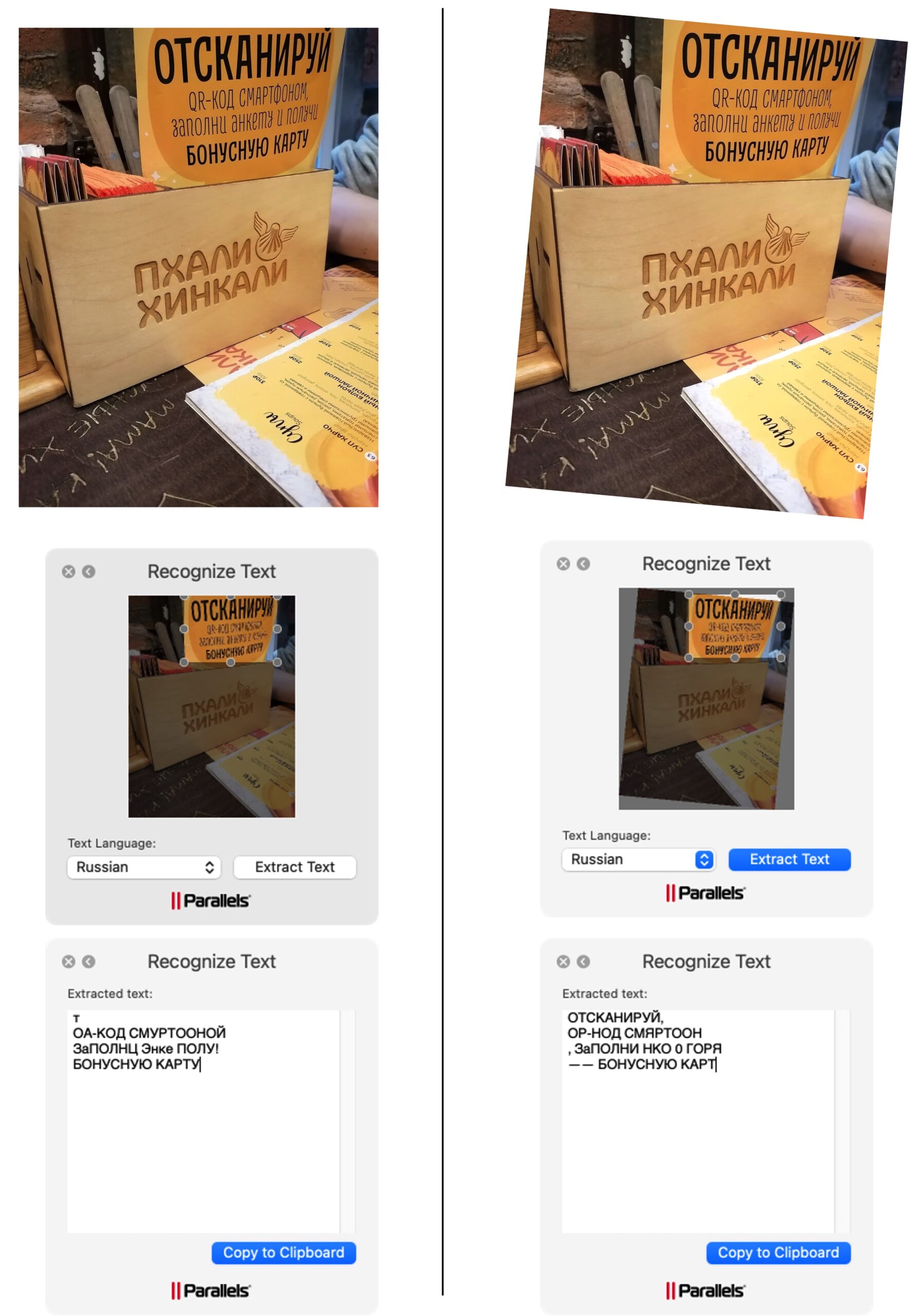 Tip #4 Vertical text
Update: Previously I wrote in Tip #4, that the Recognize Text tool did not support vertical text in Chinese, Japanese, or Korean. That was correct then, but in the just released Toolbox 5.1, vertical text in these languages is supported, and it worked perfectly for me. (See Updated figure 5). 
In addition, the 5.1 release added a new high-quality option in the Recognize Text settings, at only a very slight increase in recognition time, as well as one new tool, CPU Temperature.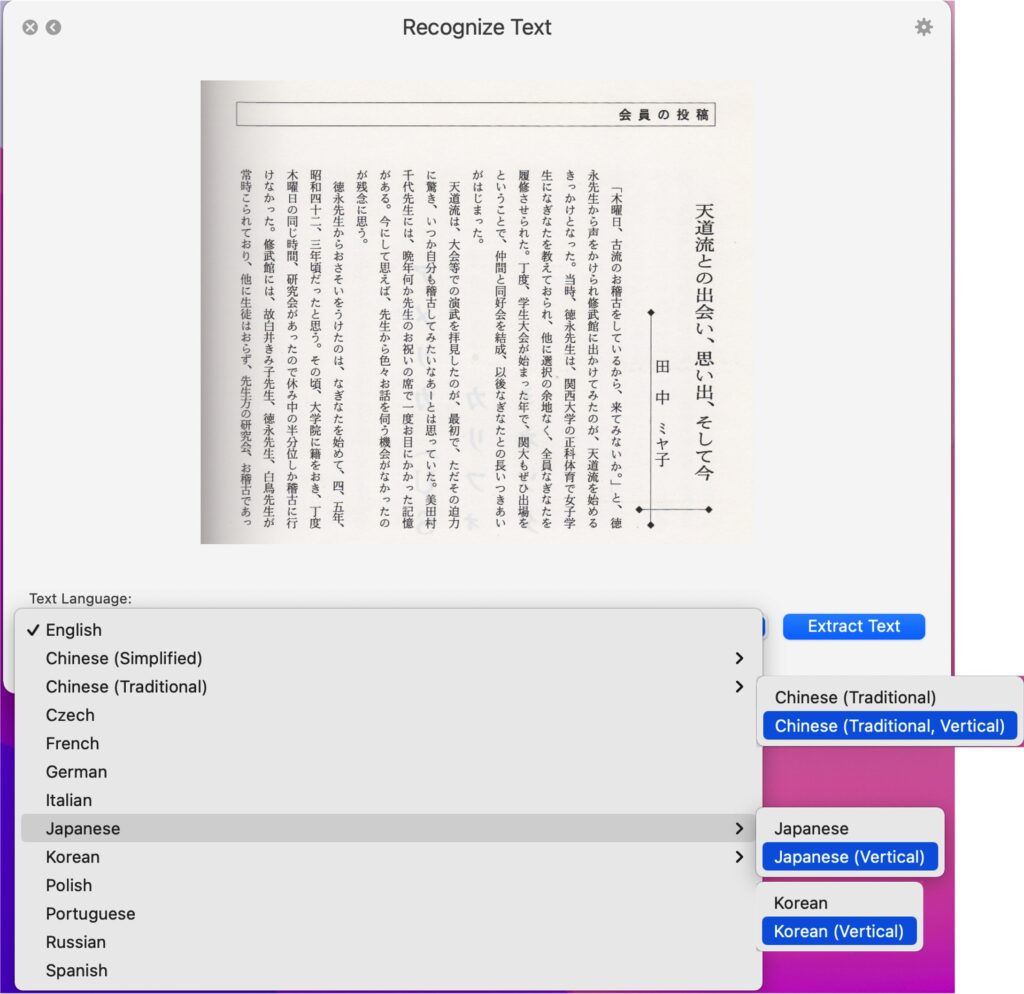 Tip #5 Text with multiple, mixed languages – don't bother even trying.
Tip #6 Fancy, ornate calligraphic fonts, or handwriting – don't bother even trying.
(See Figure 6. The image in this figure is from BiblioficDesigns.)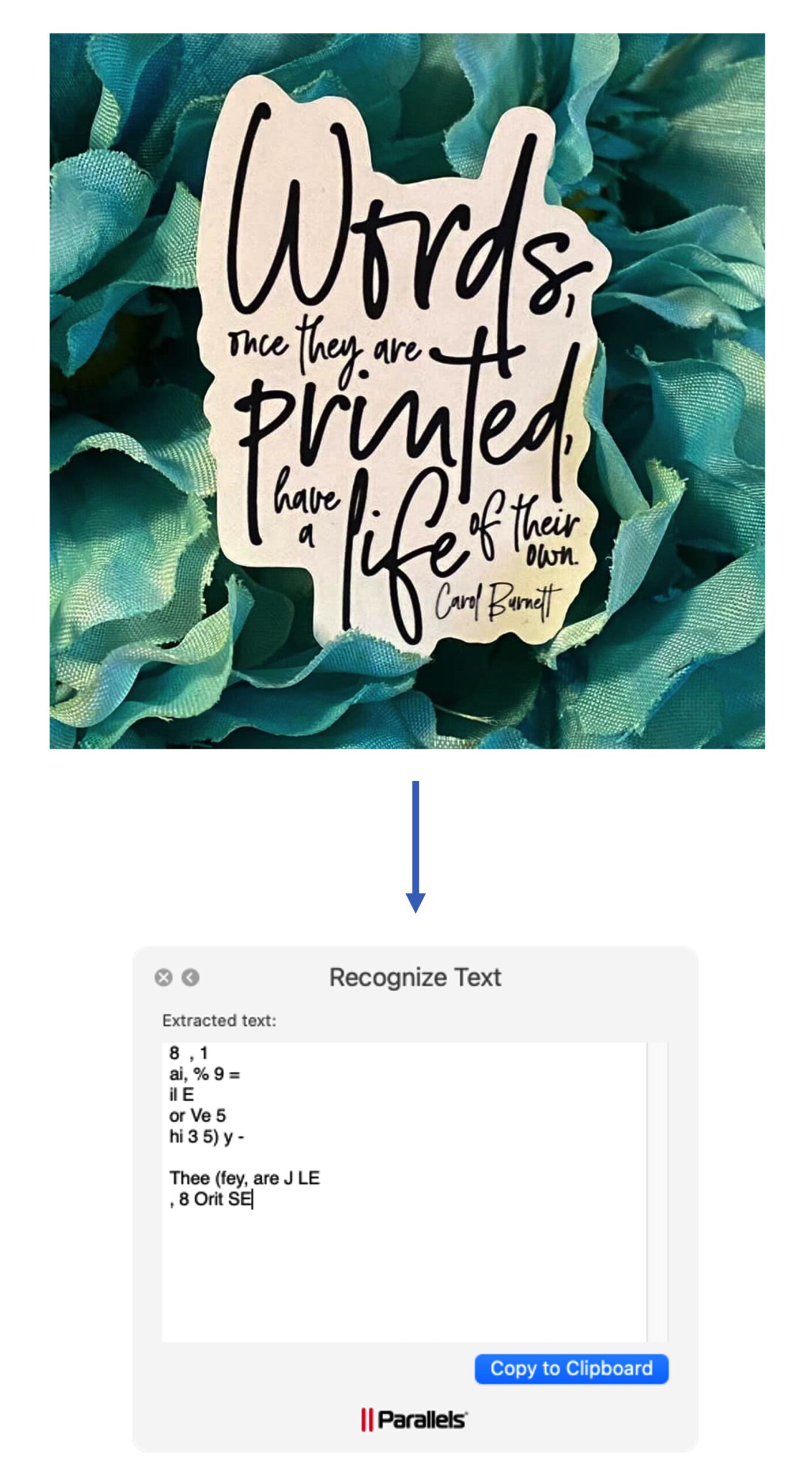 I hope these tips help you in your use of the Recognize Text tool. Let us know in the Forums if you have some additional tips to add.