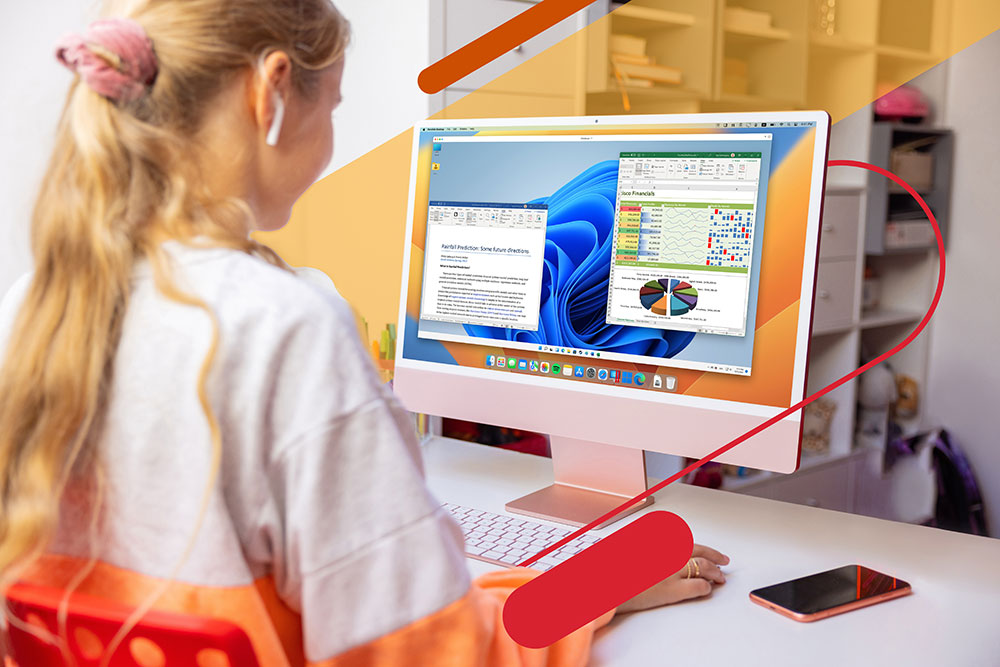 Supercharge your academic progress with Parallels Desktop
Accelerate your education and research activities by running Windows and Linux software on your Mac. Enjoy the flexibility to use your preferred operating system and applications for different tasks. All without the hassle of maintaining multiple devices.
Run Windows-only applications on your Mac, seamlessly
Equip yourself with all the essential tools for your department or major. On your Mac.
Whether it´s CAD, statistics, accounting or development— we have you covered.
Windows-based CAD tools
Experience flawless operation of resource-intensive Windows-based CAD tools — from your Mac. Push the boundaries of innovation by leveraging the full computational power of your Mac.
Statistics and accounting tools for Windows and Linux
Use leading Windows and Linux-based statistics tools on your Mac, delivering fast and reliable performance for data modeling, analysis and financial management tasks.
Development and testing applications for Windows and Linux
Unlock a comprehensive multi-OS environment for development and testing on your Mac with Parallels Desktop.
Microsoft Office perpetual license on your Mac
New to Mac? Leverage familiar software without additional costs. Seamlessly switch between operating systems without compromising functionality.
Your education, your choice of device
All the tools you need, on the device you prefer

Run Windows and Linux from your favorite Mac

Run Windows-based CAD tools
Frequently asked questions
Unleash Your Mac`s True Potential. Accelerate your learning. And teaching
Experience seamless integration, unparalleld flexibility, and enhanced productivity. Run Windows, Linux, and more on your Mac with Parallels Desktop and skyrocket your academic journey.
Start today