Parallels and CorelDRAW at IFA 2019 in Berlin
---
For the first time, Parallels and CorelDRAW® will be represented at IFA 2019 with a joint booth – Booth 105, Hall 16. In addition to the highlights of the current product lines for consumers such as Parallels Desktop®, Corel PaintShop Pro, Painter 2020 and of course CorelDRAW, the B2B solutions will also be presented. Fun and excitement will be provided with the slot machine where you can win prizes worth several thousand euros.
A couple of weeks from now, from Sept. 6 – 11, retailers, innovators, media, and, of course, consumers, will be flocking to the Messe Berlin Exhibition Grounds for the 2019 edition of IFA Berlin, one of the oldest and largest tech trade shows in the world.
Parallels has been a member of the Corel family since December 2018. And that's exactly how we will present Parallels Desktop at IFA 2019, together with Corel at a joint booth – Booth 105, Hall 16.
We'll be showcasing various products, including the new Parallels Desktop 15. As we've always done in previous versions of Parallels Desktop for Mac, we've worked closely with the folks at Apple to incorporate new features and functionality into v15 so users can truly experience the best of both (Mac and Windows) worlds. At IFA Berlin 2019, you'll be among the first to witness the latest Parallels Desktop features, including: DirectX 11 support to run CAD/CAM applications such as Autodesk Revit 2020, Lumion and ArcGIS Pro 2.3 as well as games such as Madden 19, Age of Empires Definitive Edition and Crysis 3 on the Mac, plus, the latest macOS® Catalina innovations, additional Mac integration points, new virtualized hardware, performance enhancements and much more.
Of course, the experts for all other Parallels products will be at our booth to provide you detailed information: Parallels Toolbox, the all-in-one solution with over 30 tools for macOS and Windows 10, and the professional business solutions Parallels Remote Application Server and Parallels Mac Management for Microsoft SCCM.
Corel will be showcasing PaintShop Pro 2020, Painter 2020 and, of course, CorelDRAW 2019, providing solutions for B2C and B2B customers. The focus here will also be on CorelDRAW Technical Suite 2019, which is used specifically in the area of technical documentation.
You can also play on our slot machine and with a little luck win amazing prizes worth several thousands of Euros.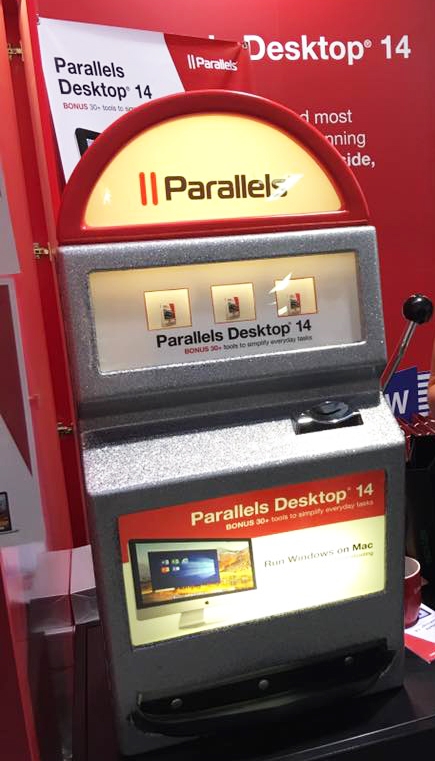 We look forward to seeing you at our booth 105 in Hall 16.