Securely Run Cryptocurrency Wallets on Mac with Parallels Desktop
Parallels Desktop® for Mac is the #1 award-winning virtualization software in the world. Why? The secret to our success lies with our incredible users who accomplish the unexpected every day, running Windows, Linux, and other popular OSes on their Mac® without rebooting. "Unexpected" needs come in many forms with our users. Millions of them all over the world have utilized Parallels Desktop to avoid purchasing a second computer, to avoid rebooting, and especially to save money. Today, we're spotlighting Parallels Desktop user Brad Nickel, the founder of Blacknox, who operates a Plexus Wallet for cryptocurrencies on his Mac. 
Blacknox are members of a community coin called Plexus, which currently only has Windows and Linux command line support. The Windows version is much easier to use, so Blacknox is running Plexus and other wallets in Parallels Desktop. Happily, they've reported "it is perfect."
Brad uses Parallels Desktop to virtualize a Windows 10 environment for secure wallets for cryptocurrencies, such as Plexus and GoByte. Plexus streamlines project management, community building, marketing, and other key components of successful cryptocurrency launches with tools developed specifically for the task at hand. Before using Parallels Desktop to run Plexus, Brad found himself exploring alternatives to virtualization and even ended up purchasing a second computer. His experience is outlined below.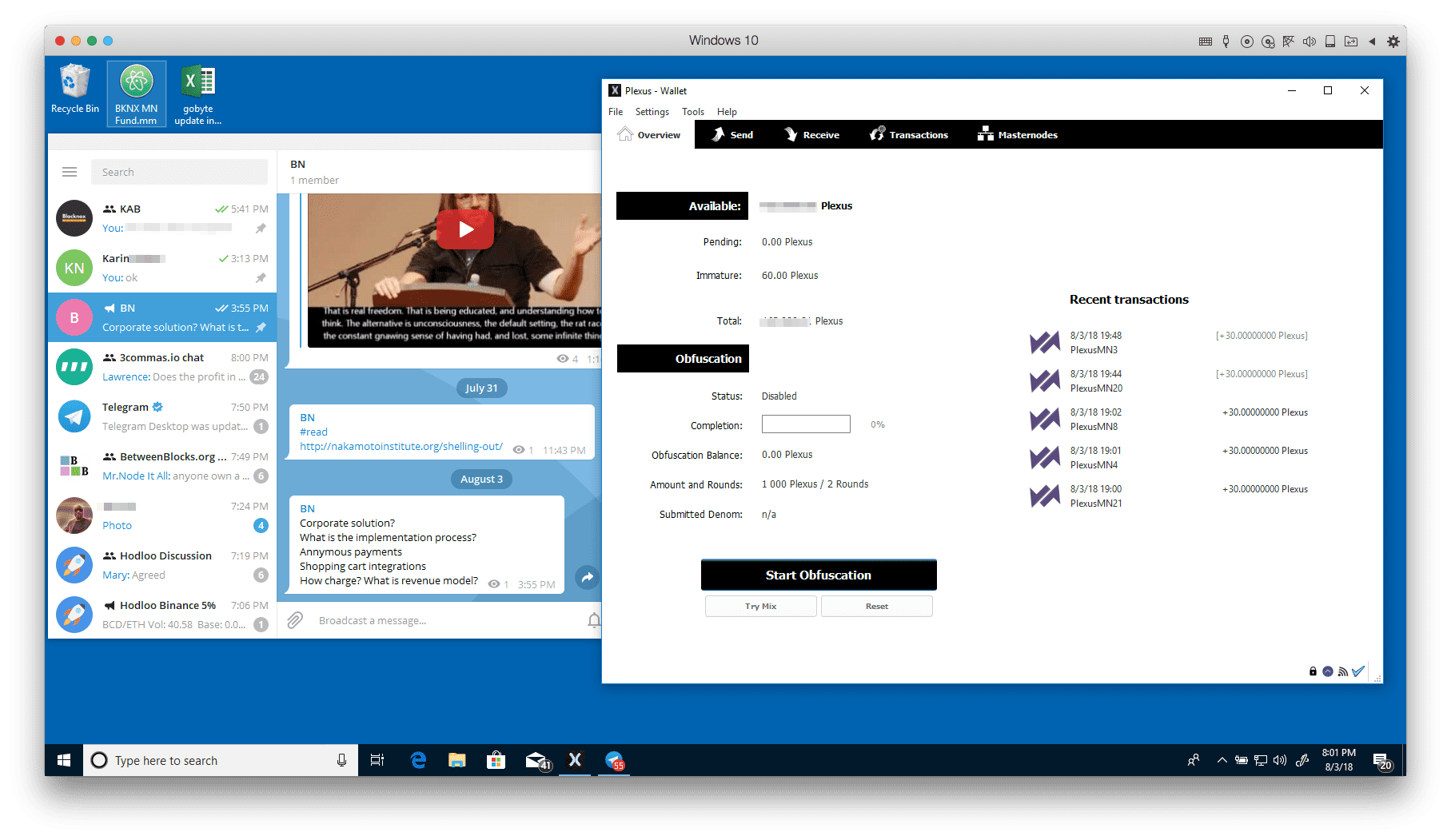 "I had purchased a cheap Windows-based laptop for running wallets for some crypto investments and development work we are doing. But the performance on that machine was really pitiful, even after I optimized it, and I was tired of having two computers on my desk. I attempted an installation of VirtualBox with Windows 10 on my Mac, but that was a mess of bugs and errors. I also looked at some other options like Wine, and nothing I needed would run. Then, I remembered Parallels Desktop. So I installed the trial version to see how it would do and was immediately blown away by the performance."
Personally, I'm fairly inexperienced with cryptocurrencies, so I dug a little deeper and asked Brad, "Why do you need cryptocurrency wallet support on your macOS?"
"There are a lot of projects that do not support other operating systems like Linux or macOS—or if they do, they have less features or aren't stable. When you invest in a cryptocurrency, you can keep it on an exchange or you can hold it in a wallet. It is safer and more secure to hold it in a software wallet on your computer. In the case of what are called Masternode coins (which is what we specialize in), you need a wallet on the computer to stake your coins and earn more coins, by providing capabilities to the network to authenticate transactions and secure the network.
In order to send or store coins, you have to have a wallet, and so when Windows is needed, Parallels Desktop is our choice. The performance is far better than on a low to mid-range laptop, and it means I don't need to have another computer running on my desk."
Brad's firm, Blacknox, operates as consultants to cryptocurrencies. They help users plan their business goals, products, and marketing. Brad said that his primary business goal with Blacknox is "to help currencies succeed." Here at Parallels, we are beyond excited to help Brad and his firm provide endless support for his clients. 
If you're interested in using Parallels Desktop to support cryptocurrency wallets that are only available in Microsoft Windows 10, we encourage all users to try a free 14-day trial.