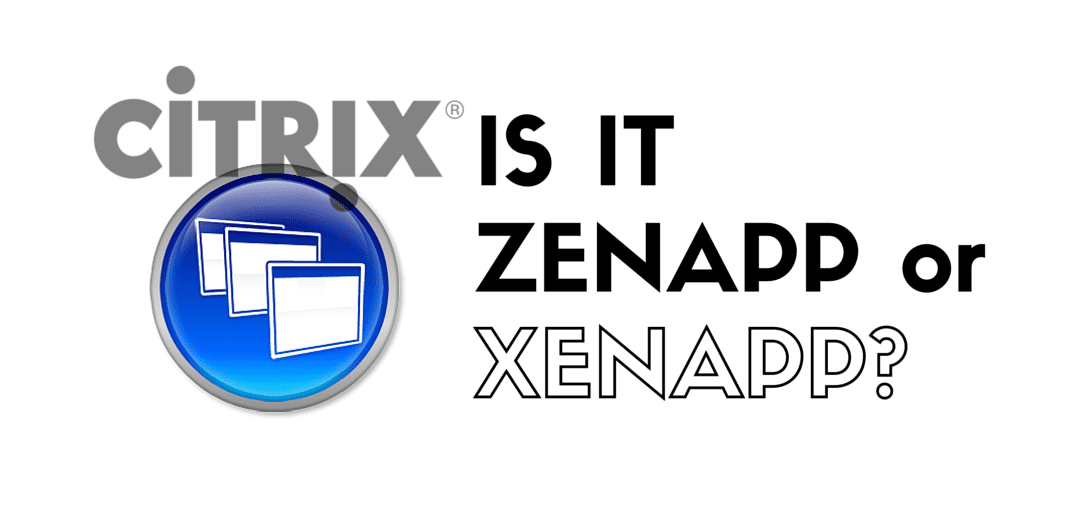 ZenApp – Did You Mean XenApp?
ZenApp, or did you mean Citrix XenApp?
XenApp (not ZenApp, we know, it's confusing!) is a virtual application delivery tool offered by Citrix. Gone are the days when employees have to stick to their desktops. With the advent of  virtualization technology, employees are now able to access applications and resources from any device, anywhere and at anytime. XenApp is the tool offered by Citrix that enables businesses to centrally host applications and publish them to remote client devices.
An overview of ZenApp, AKA XenApp
Citrix is a software company that offers virtualization solutions for businesses of all sizes. It has produced over 200 virtualization products in a span of 25 years. XenApp is Citrix's flagship product and is used to publish virtual applications to remote client devices. XenDesktop is another product that is used to publish VDI desktops to remote client devices. It supports SSL and second-level authentication for secure delivery of applications and data. It uses the HDX protocol, which means high definition graphical content is rendered to remote client devices.
Challenges with ZenApp, AKA XenApp:
XenApp has undergone multiple name changes. The most recent change was the merging of XenApp and XenDesktop components. However, this merging created confusion among users, which is why Citrix again released both products as separate entities. Moreover, each product is offered in different editions and with different pricing structures. Scouring through all these editions for the required features is a daunting task. Secondly, configuring XenApp requires technical expertise and several hours of labor.
There are multiple components that are required to be configured in the XenApp setup:
Citrix Receiver: The client software that has to be installed on the client device. It provides access to the centrally hosted XenApp installations.
HDX Technology: Delivers a high definition end user experience
NetScaler Gateway: Provides secure access for apps and desktops while giving granular data-level and application-level control to administrators.
StoreFront: Provides self-service subscription service of apps and desktops via an enterprise store.
Controller: Provides central management of user access to applications and desktops.
Studio: Provides service design wizards that help you to create and manage infrastructure and resources
Director: Provides real-time trends and diagnostic information on users and application usage.
EdgeSight: Provides long-term trending and analytic information of the performance and upholding of service-level agreements.
Thirdly, Citrix products are quite expensive. Not many businesses can afford this solution.
Parallels Remote Application Server is a cost-effective and holistic solution
Parallels Remote Application Server is the more affordable and easy-to-use solution when compared with ZenApp, AKA XenApp. It is a comprehensive package that consolidates all major virtualization technologies into a single and simple tool. Using this holistic solution, organizations of any size can securely publish applications and desktops to remote devices with ease. It provides a single dashboard to monitor and manage the entire infrastructure from a single pane of glass. The intuitive dashboard simplifies IT management.
Installing Parallels Remote Application Server is an effortless task. By following a simple wizard, you can set up this tool in five minutes; you don't need technical expertise. Moreover, there are no additional components to be configured, which simplifies the setup. All the expected features, such as load balancing and universal printer redirection, come auto-configured. Parallels Remote Application Server supports all major hypervisors as well as Microsoft RDS. Users are able to connect to Windows applications from any HTML5 browser and a range of client devices including iOS, Android, Mac, Linux, Chromebooks, and Raspberry Pi. Whether you want to publish applications or desktops from VDI or RDS, Parallels Remote Application Server is the easy-to-use solution. Most importantly, Parallels Remote Application Server costs 60% less than Citrix solutions.
References
ZenApp: Citrix XenApp Definition| citrix.com
ZenApp: What is Citrix XenApp? – Part I | euc.consulting
ZenApp: Citrix Systems | en.wikipedia.org
ZenApp: Citrix tried to stem the anger by un-killing XenApp. But is 7.5 a realistic upgrade from 6.5? Seems like no? | brianmadden.com
ZenApp: The Challenges of Monitoring Citrix XenApp and XenDesktop | blogs.gartner.com