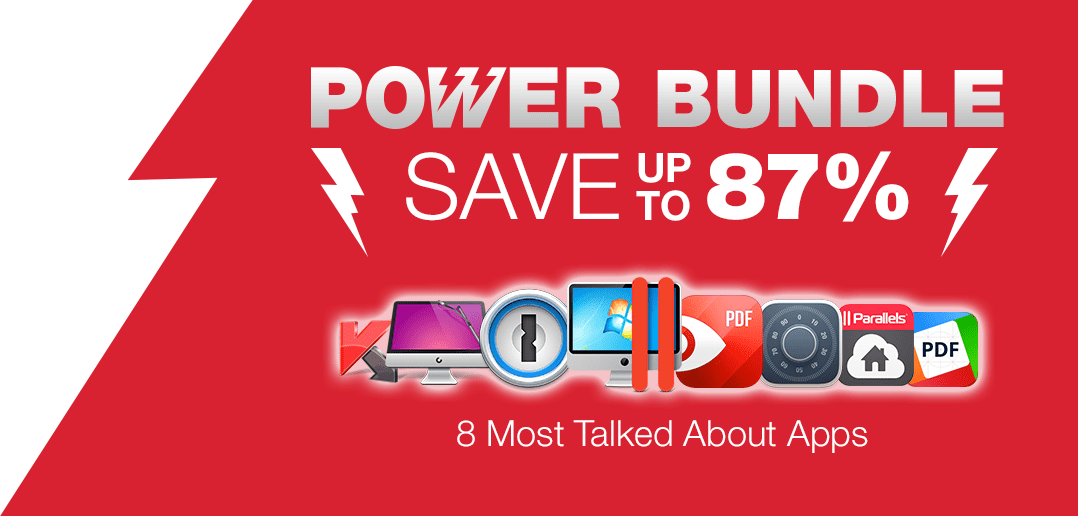 Parallels Desktop for Mac Power Bundle!
Parallels Desktop for Mac Power Bundle!
Buy or Upgrade to Parallels Desktop 11 for Mac get the 7 most talked about apps for FREE! Up to %81 off!
---

 Parallels Desktop for Mac The #1 choice of Mac® users for more than 9 years to run Windows® on Mac!
Parallels Desktop® 11 for Mac is the easiest, fastest, and most powerful solution for running Windows applications on a Mac without rebooting. No wonder Parallels Desktop remains the #1 choice for over five million customers worldwide.

---

1Password – Password Manager and Secure Wallet
1Password creates strong, unique passwords for every site, remembers them all for you, and logs in with a single click. It's the best way to stay secure and the fastest way to use the web. Every day there are new passwords to remember. If you create new ones, they are often forgotten. If you use the same passwords over and over again, you become vulnerable. 1Password solves all these problems and is used by millions.

---

PDF Expert – Read, annotate, and edit PDFs like never before – "App of the Year Runner-Up," Apple 2015
When it's time to edit PDF documents, all the great tools you need are easy to find and just a click away. PDF Expert's quick annotation, easy form filling, and powerful file merging will chew through your work in record time. Easily read, edit, merge, sign, and fill out forms—no wonder it won "App of the Year Runner-Up" from Apple in 2015.
"I'm thoroughly pleased by how fast PDF Expert is even when handling long or graphically intense documents." —George Tinari, Cult of Mac
---

CleanMyMac 3 – Top-rated Mac cleaning and maintenance utility — reclaim gigabytes of space with 2 clicks
Clean, optimize, and maintain your Mac with the all-new CleanMyMac 3. It scans every inch of your system, removes gigabytes of junk in just two clicks, and monitors the health of your Mac. Reclaim gigabytes of precious disk space by removing useless copies of your photos, leftover pieces of deleted apps, outdated device backups, and old software updates.
"CleanMyMac targets the useless stuff that piles up on your computer, like old log files, unused language files, iTunes backups, outdated caches, and other items to help free space and tidy up broken files." —Owen Williams, The Next Web

---

Hider 2 – Hide and encrypt data on your Mac with AES 256-bit encryption
Hider 2 gives you the ability to hide and encrypt data on your Mac. It's easy to use and ultra-secure—just drop any file or folder you want to encrypt by dragging it to Hider 2. Never worry about your private data becoming public. Your hidden and encrypted files are accessible to you (and only you); they will also be hidden from Finder or Spotlight.
"Hider is an app that makes the process of hiding away and encrypting files quick and easy." — Thorin Klosowski, Lifehacker
---

Kaspersky for Mac – Keep your Mac and sensitive information protected
Kaspersky Internet Security for Mac delivers premium protection for your privacy, identity, and children—plus, Safe Money makes online banking and shopping safer than ever on a Mac. Protect your Mac from thousands of new malware items unleashed by cybercriminals. Kaspersky keeps your Mac protected by delivering automatic updates and also warns you about dangerous website links.
"Kaspersky Lab has repeatedly impressed skeptics by exposing genuine and serious cyber-security problems." — The Economist
---

PDF Office for iPad – Desktop-Class PDF Editor for Your iPad
PDF Office is the most capable application available on mobile devices for creating and editing PDF documents. Its power rivals even the best desktop apps such as Adobe Acrobat, while its carefully designed touch-based interface allows you to make fast and easy edits.
This offer is for a one-year PDF Office subscription.
"PDF Office goes further with full editing and creation features." —The Next Web
---

Parallels Access – Fastest, simplest, and most reliable remote access from your mobile device
Manage and access all your files in the cloud, on remote computers, and on local devices with Parallels® Access™ Universal File Manager. Copy and paste to your mobile device—or open cloud files on a remote desktop—with a single click. This offer is for a one-year Parallels Access subscription
---
Do you already own Parallels Desktop for Mac, but want the other bundle items? Tweet us at @ParallelsMac, and we'll get you a link to purchase just the additional bundle items! Cheers!