Parallels RAS Console
– A Single Pane of Glass
The Parallels RAS Console is a Windows application that allow administrators to configure and administer a Parallels RAS farm infrastructure.
From a single a pane of glass, IT can perform all the available tasks, such as deploy servers, publish applications and desktops, monitor resources, manage connected devices, provide helpdesk assistance, and define security policies.

Granular Permissions for Administrators
Parallels RAS allows delegation of granular administrative permissions to different administrators. Customizable permissions such as View, Modify, Add, and Delete can be configured for each admin. This allows for delegated management of RAS components within the RAS environment, including RAS infrastructure servers, RDSH, and session management.
IT can configure custom roles for their administrators and delegate control of any Parallels RAS object, offering flexible management while keeping security high.

Site View
The Site Info tab offers an interactive dashboard that provides an overview of the site components' status, quickly recognizable by colored boxes. A traffic-light color code (green, orange, and red) is configurable based on parameters such as CPU usage, users, and Publishing Agent (PA) status. Visible at an individual or group level, the colored boxes provide an immediate understanding of the health of the site component. For example, if an Agent component value is not in the green range, the whole group will become red. Additionally, the Designer tab has been moved from the menu (located on the left side) to the Site tab.
Enhanced System Notifications with Ability to Deploy Scripts
IT administrators can set automated trigger notification messages accordingly to performance counters—such as the grace period, CPU usage, and more. In addition, they can set self-executed custom scripts when a configured value is outside the predefined range.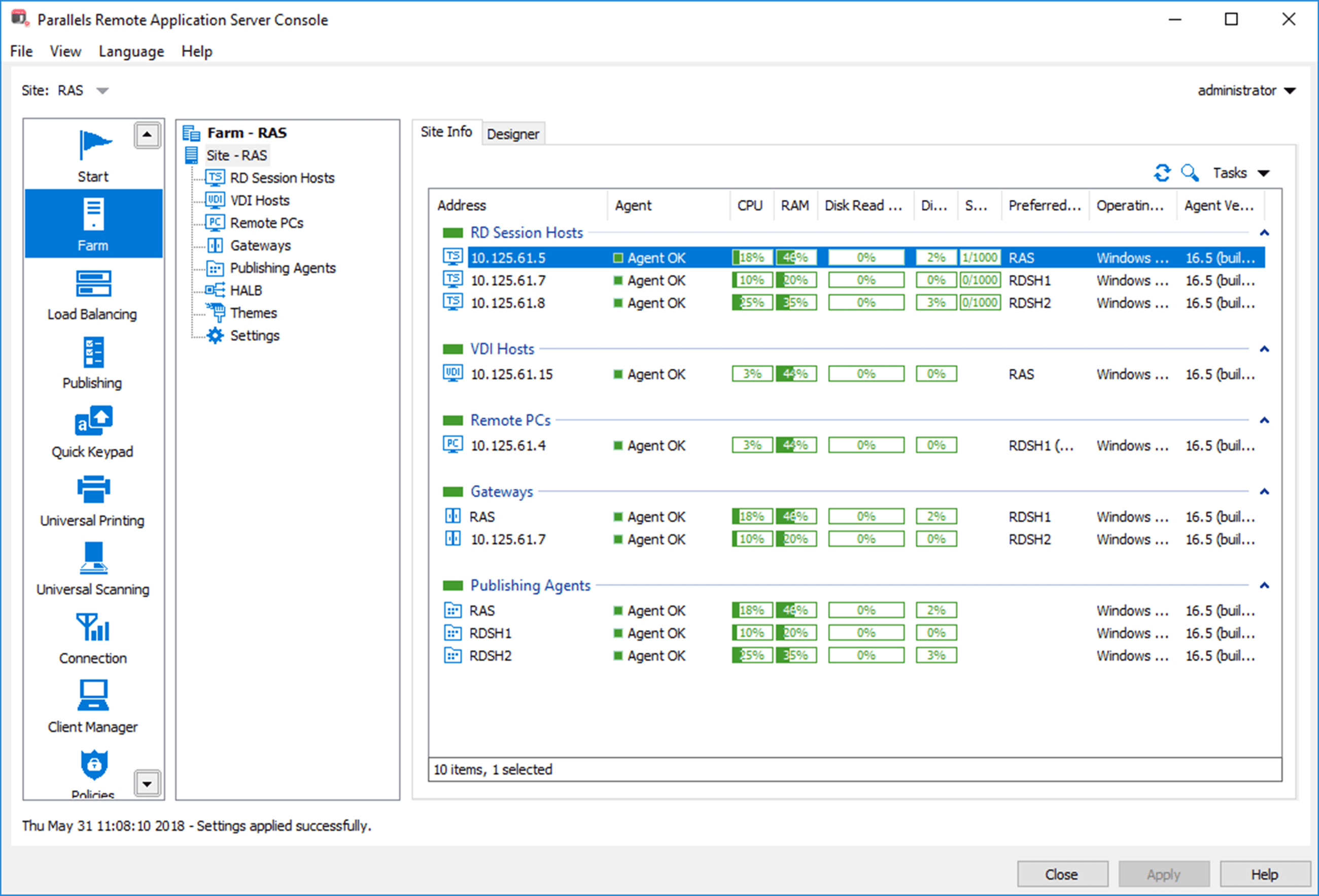 Web-based Console (helpdesk)
In addition to the standard Windows-based application, Parallels RAS offers a web-based console. It provides more flexibility for IT administrators, allowing for monitoring and performing management tasks such as: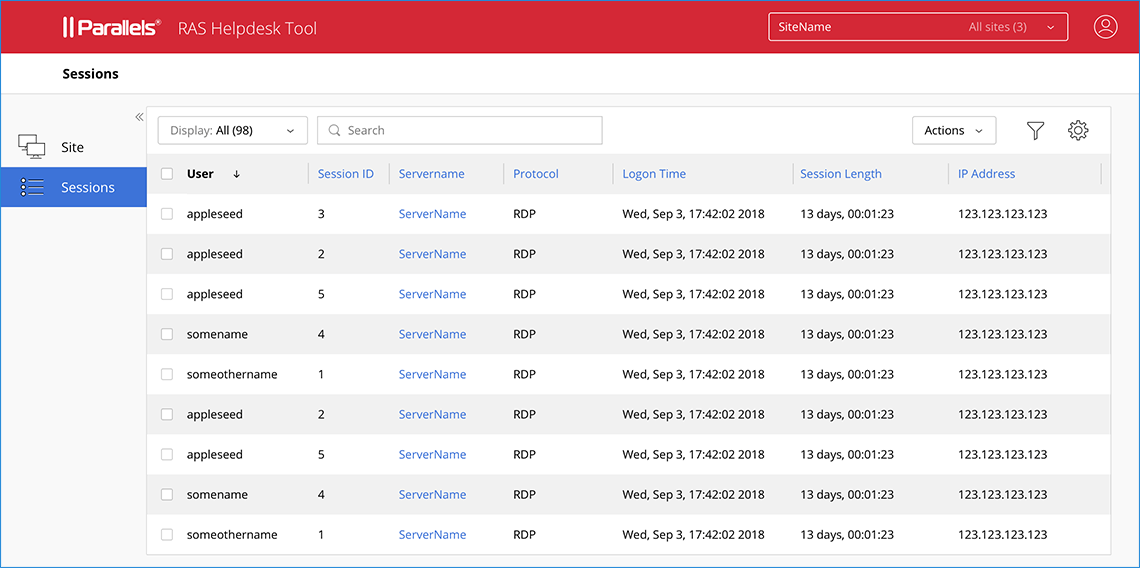 Moreover, helpdesk staff can troubleshoot user sessions from this web-based console. Admins can manage the Parallels RAS Farm and assist users from any HTML5 browser.

Parallels RAS Console Server Tools
Parallels RAS enables instant access to a predefined set of management tools directly from the Parallels RAS Console, such as network utilities (Netstat/Telnet to and from hosts), Windows Service Management Console, reboot/shutdown actions, and much more.
Access and execute a pre-configured set of management tools on your servers, directly from the Parallels RAS Console—custom tools can also be implemented. Centralize, streamline, and speed up Parallels RAS farm server's maintenance using the console as a single pane of glass.

Parallels RAS Template
IT administrators can make use of the RAS templates to automatically generate and deploy virtual workspaces on the fly, creating on-demand virtual desktops or RD session hosts.
After a RAS template is created, the IT team can instantly deploy several VMs by just selecting the template and enter the number of VMs. Create a virtual desktop once and replicate it as many times as needed.

Device Management
Administrators can monitor the status and sessions of any Windows OS device connected, allowing for central management and power-cycle scheduling (on/off, reboot, and shutdown).
Replace desktop – Limit users from changing system settings or installing new applications. Replace the Windows desktop with the Parallels Client to convert the Windows operating system into a thin client–like OS without replacing the operating system. This way, the user can only deploy applications from the Parallels Client, providing the administrator with a higher level of control over connected devices. Additionally, Kiosk Mode limits the user from power-cycling only when enabled.
Shadowing – Admins can gain full access to a Windows desktop on the device and control applications running locally on the device, as well as any remote applications published from Parallels RAS.