Parallels Toolbox 5.5 released!
When Parallels Toolbox for Mac version 1.0 was first released in 2016, it had 20 tools. We promised that there would be regular updates with new tools added. We have certainly kept that promise! Version 5.5 was released today, and it has two new tools, for a total of 53 tools. (Figure 1)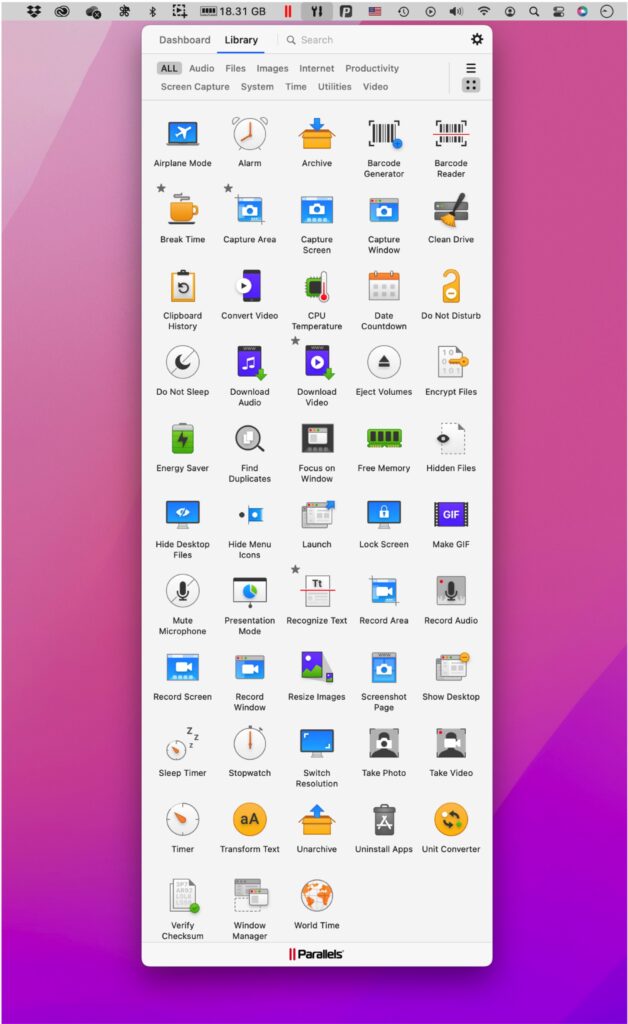 The two new tools are Encrypt Files and Verify Checksum.
Encrypt Files
As the name implies, you use the Encrypt Files tool to encrypt files. Of course, if it only did one-way encryption, this tool wouldn't be so useful, so it also does decryption. A newly encrypted file is of type "pboxz" and the Encrypt Files tool will be opened when you double click on the file. There are several reasons to use this tool, but a primary one is to secure and protect your files. As a well-integrated Mac tool, you can save the encryption passwords in the Mac keychain, and use Touch ID, if your Mac has that feature.
The tool also accepts multiple files and folders for encryption: just drag and drop more files to the drop zone in the tool to add them.
Since cross-platform encryption is often needed, the Encrypt Files tool uses AES-256 encryption which enables you to share and decrypt the file between both Windows and MacOS.
You can easily share the files after they are encrypted using the Share button in the tool's window. (This invokes the Share feature built into macOS.)
The first portion of Video 1 shows the Encrypt Files tool in operation.
Verify Checksum
Checksums are often used to verify data integrity. If a file was altered or compromised, the checksum will be different from the one for the original file. Such a check is often done after downloading a file to ensure that the file was not damaged during the download process or infected.
The Verify Checksum tool calculates the checksum of a file and compares that checksum with the original checksum published by the file's creator.
The second portion of Video 1 shows the Verify Checksum tool in operation. You can choose between MD5, CRC32, and SHA1/256/512 for the checksum algorithm to use.
Download a free trail of the latest version of Parallels Toolbox for Mac and Windows. Let us know on Facebook or Twitter if you have any suggestions for additional tools that you would like to see in Parallels Toolbox.