7 Best Presentation Tools for Everyone
---
Microsoft PowerPoint is one of the most powerful presentation tools on the market. However, it lacks customizable tools to help win over your audience. Without customizable tools, you'll be at risk of pesky bouncing icons or embarrassing push notifications. Here at Parallels, we like to think that everyone would benefit from our suite of one-click tools, Parallels® Toolbox. Parallels Toolbox provides a wide array of one-click tools that help narrow your focus on creativity, productivity, and easily managing your system.
While there are plenty of individual applications that assist with presentations, Parallels Toolbox is set above the rest because it's one application that includes over 30 tools. Other competitors have averaged $9.99 to $29.99 per application—Parallels Toolbox is available for one low cost, $19.99 per year.
Here are some of my favorite tools included in Parallels Toolbox to optimize presentations.
Record Screen
The Record Screen tool allows you to record your entire screen, desired application window, or a specific pre-selected area.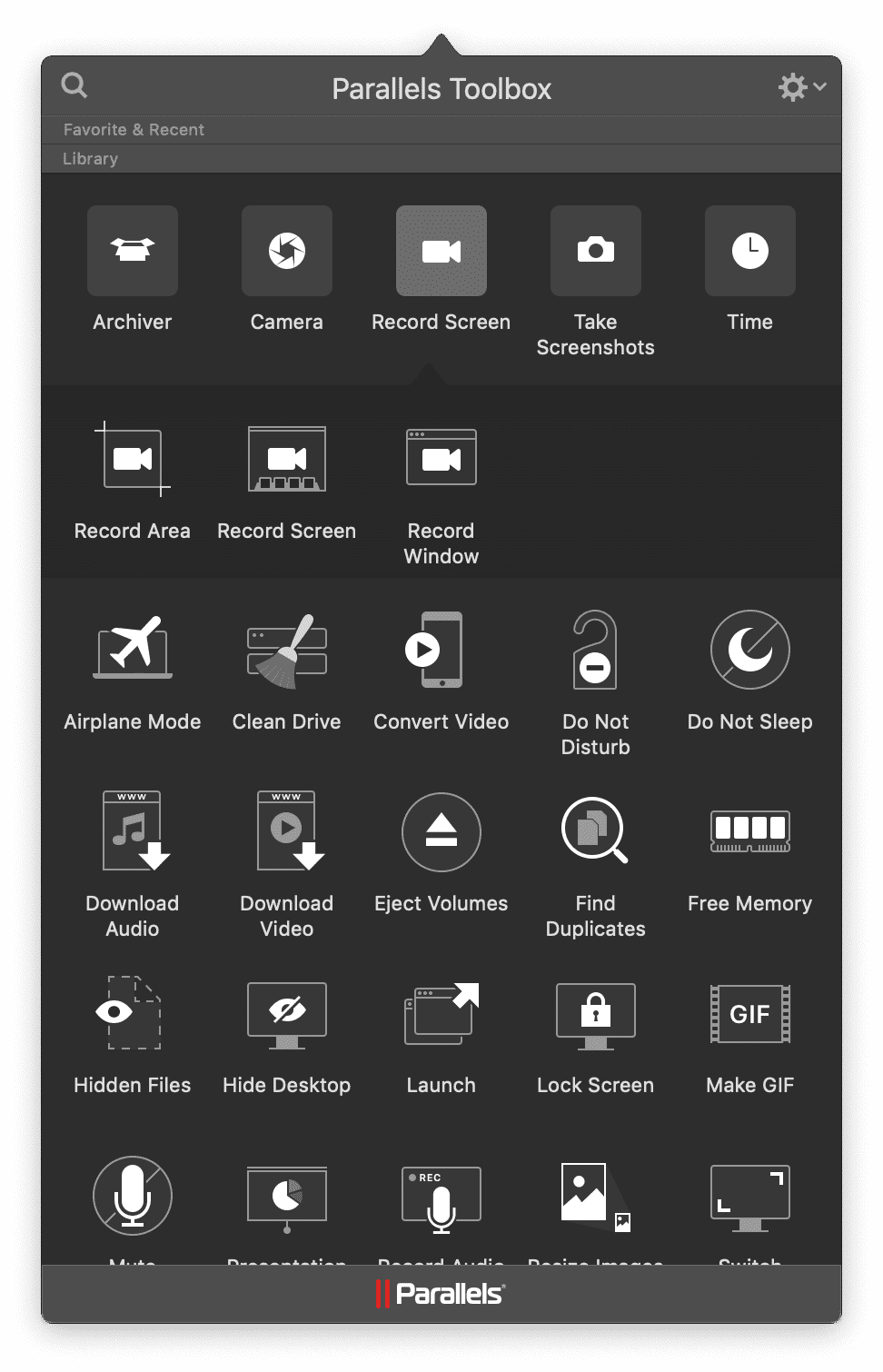 Easily use this tool to record video of your entire screen. When activated, click anywhere to start recording. If your Mac® has more than one display, click the display you want to record from. While recording video, this tool also records audio from your computer's microphone. To stop recording, click the icon in the macOS® Dock.
Tips and Tricks:
You can change multiple settings in the Parallels Toolbox Preferences, including dictating where the recording is saved, choosing a specific microphone, scheduling a delay, or creating a visualization of mouse clicks while recording.
Do Not Disturb
This is easily my favorite tool bundled in Parallels Toolbox. Do Not Disturb enables users to stop all incoming distractions to narrow focus.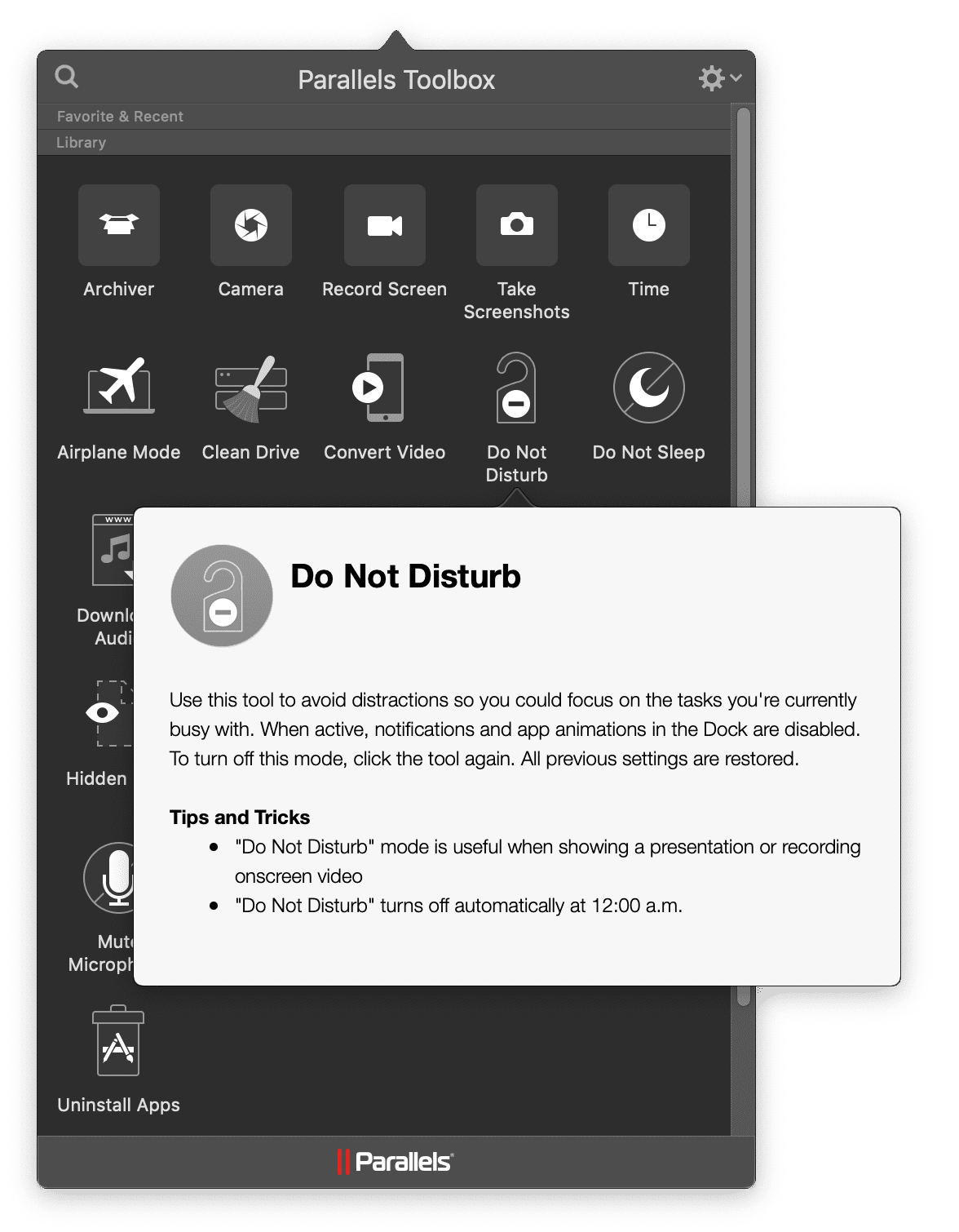 Avoid distractions so you can focus on the task at hand. When activated, all notifications and dock animations are disabled.
Do Not Sleep
Prevent your computer from going to sleep and your display from dimming.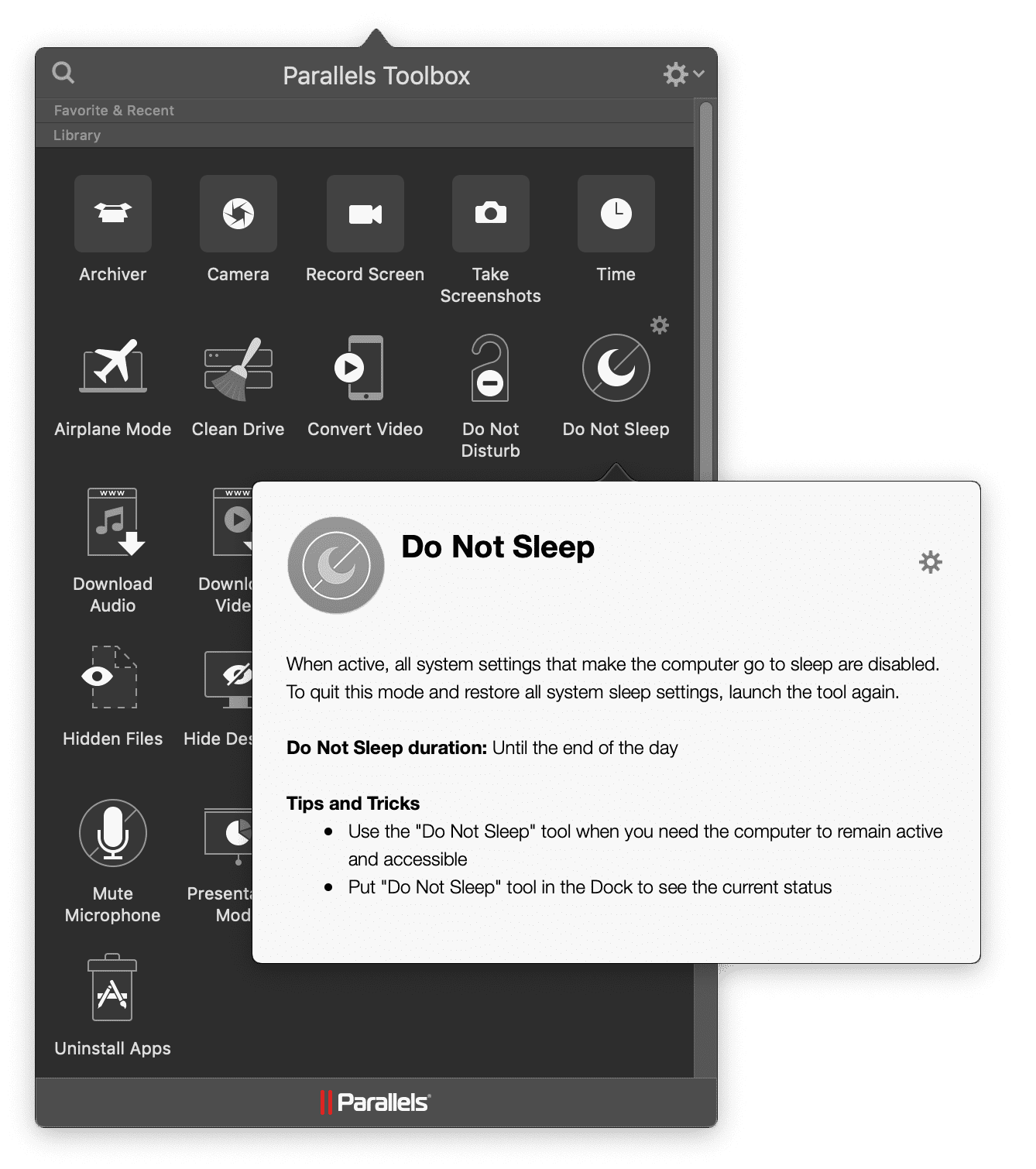 Ensure a task or presentation won't be interrupted by disabling settings that would allow the computer to go to sleep.
Hide Desktop
Hide all the files, folders, and other icons on your desktop.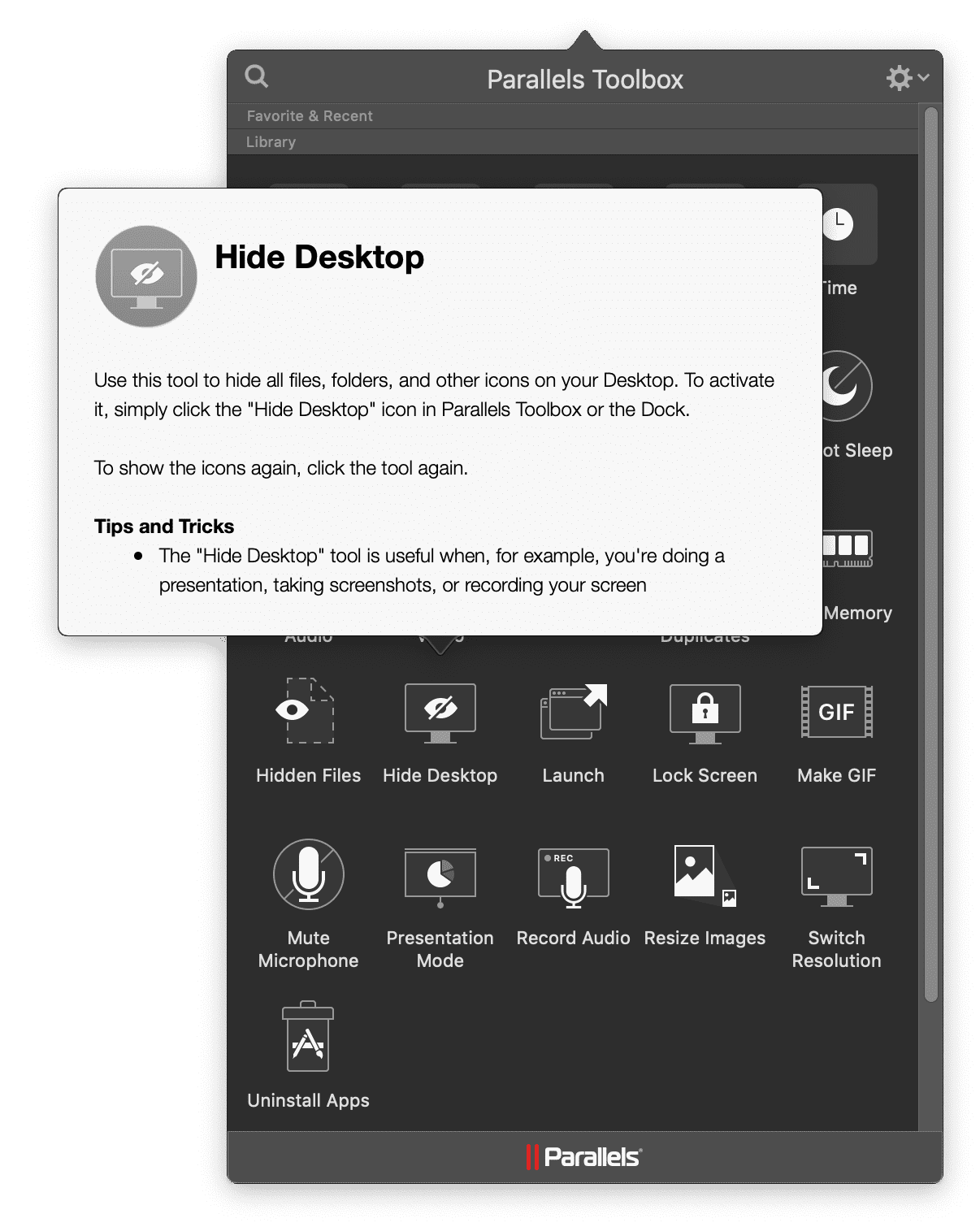 This is especially helpful when presenting, sharing, or recording your screen, or for taking clean screenshots.
Record Audio
Use your computer's built-in microphone and record audio with a single click.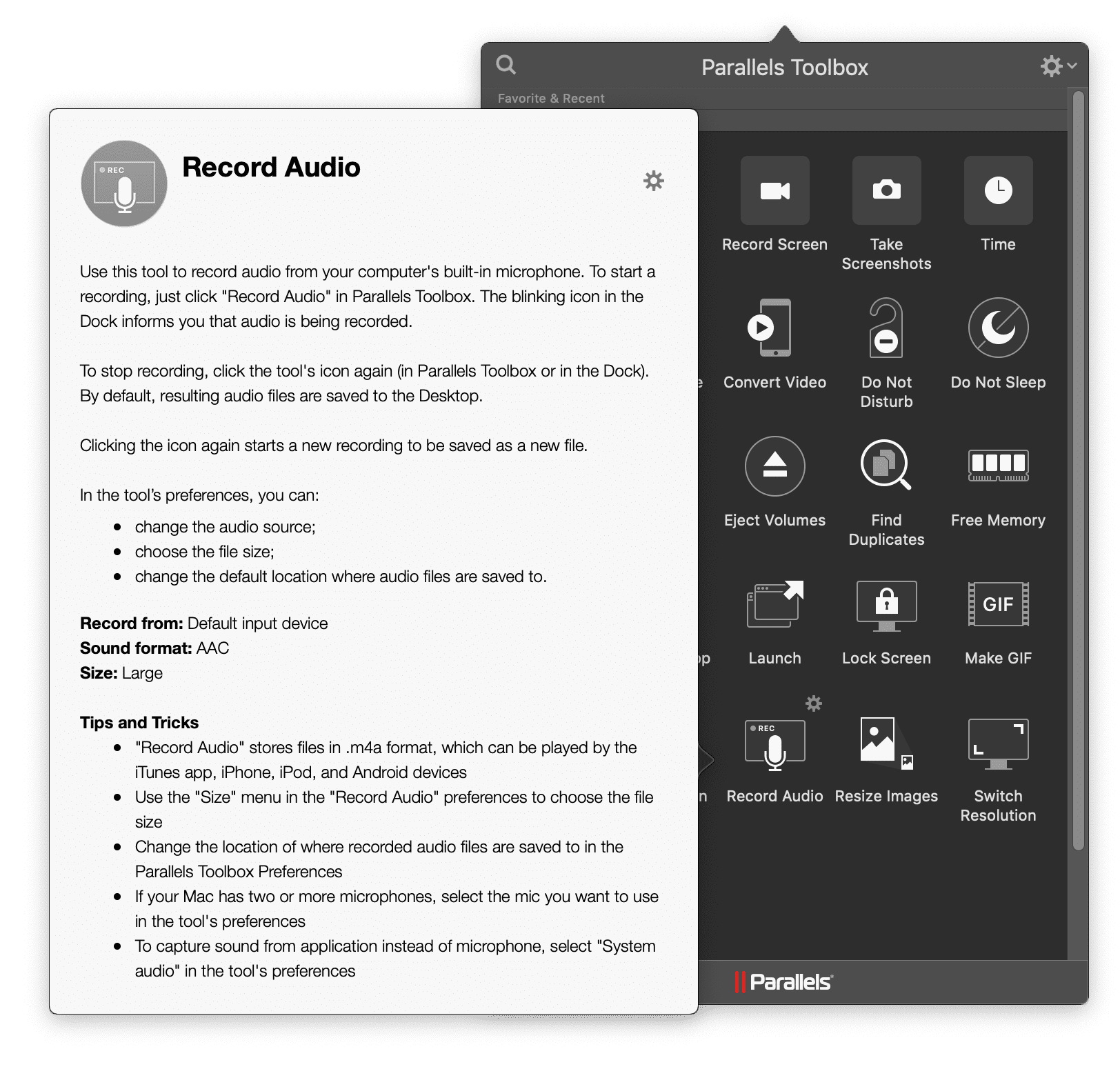 You can record from an external microphone if it's selected as the input source in System Preferences › Sound.
Switch Resolution
Quickly switch the screen resolution.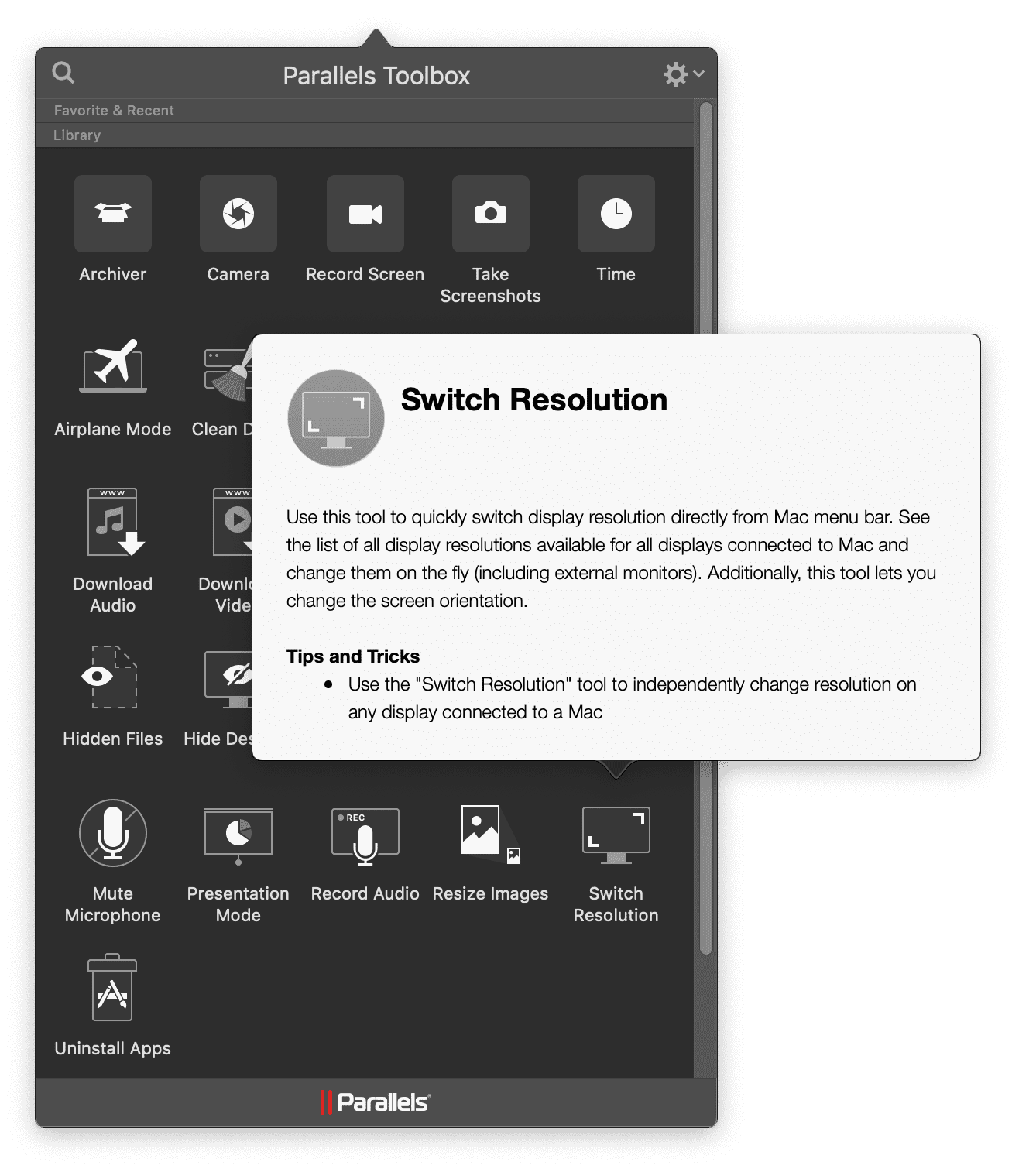 This tool is great for those who find the macOS resolution settings a bit too limited.
Presentation Mode
Disable distractions for a better presentation experience. Presentation Mode can automatically detect external displays and turn itself on.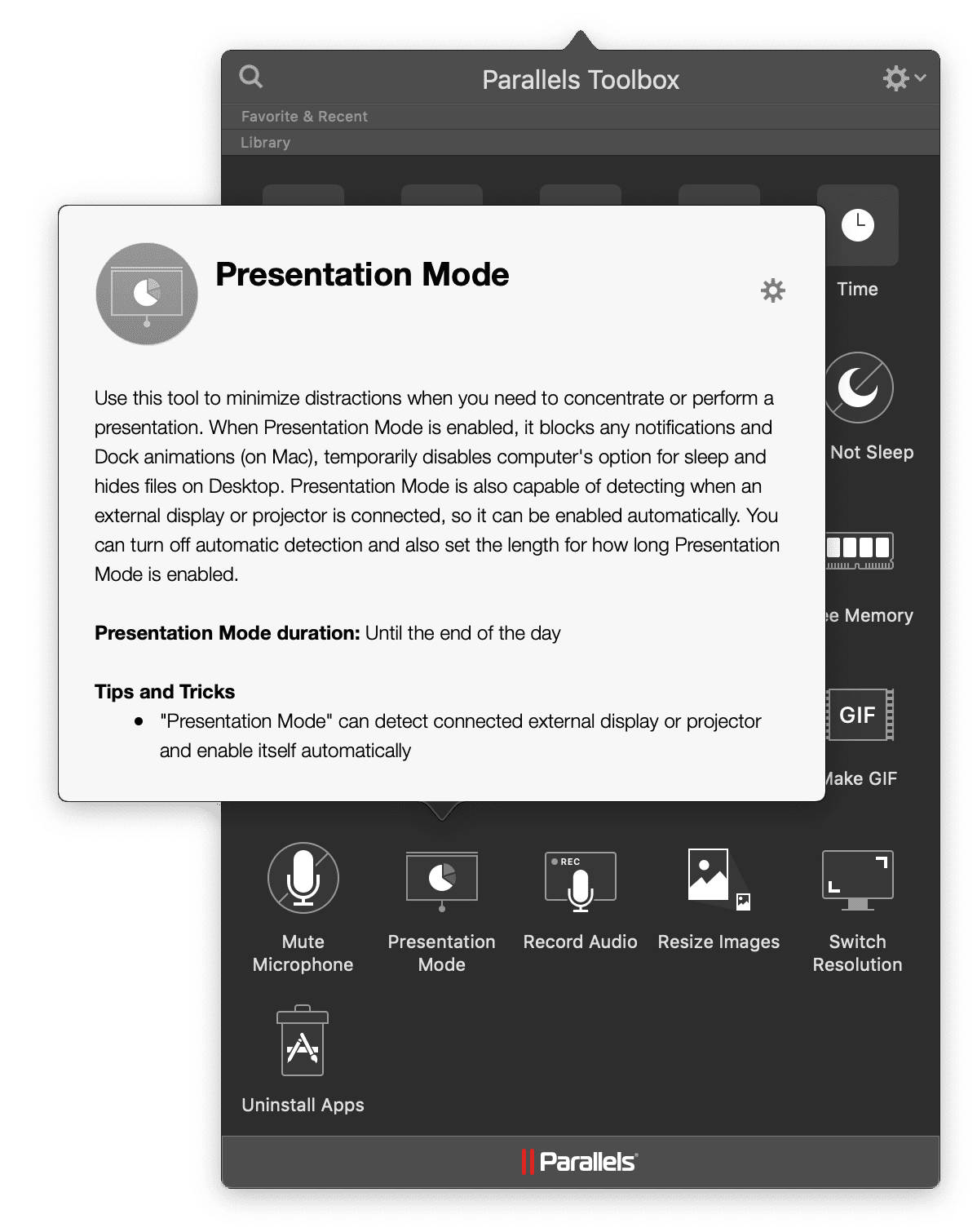 The Presentation Mode tool is a combination of Do Not Disturb and Do Not Sleep, and it helps optimize the display for presentations.
PowerPoint, Google Slides, and Keynote can be used to deliver excellent presentations. But Parallels Toolbox helps you break the conventional presentation practices and optimize your computer to be presentation-ready—in just one click.
With its economic value and subscription benefits, Parallels Toolbox beats the competition. Not only is it more economical (you receive over 30 tools), you also receive more tools on a regular basis added to the annual subscription. With 24/7 support, you'll always be working with peace of mind with Parallels Toolbox.
Are you looking to download Parallels Toolbox and try it free for 7 days prior to deciding if you'd like to buy it? No worries, download it for macOS or Windows!