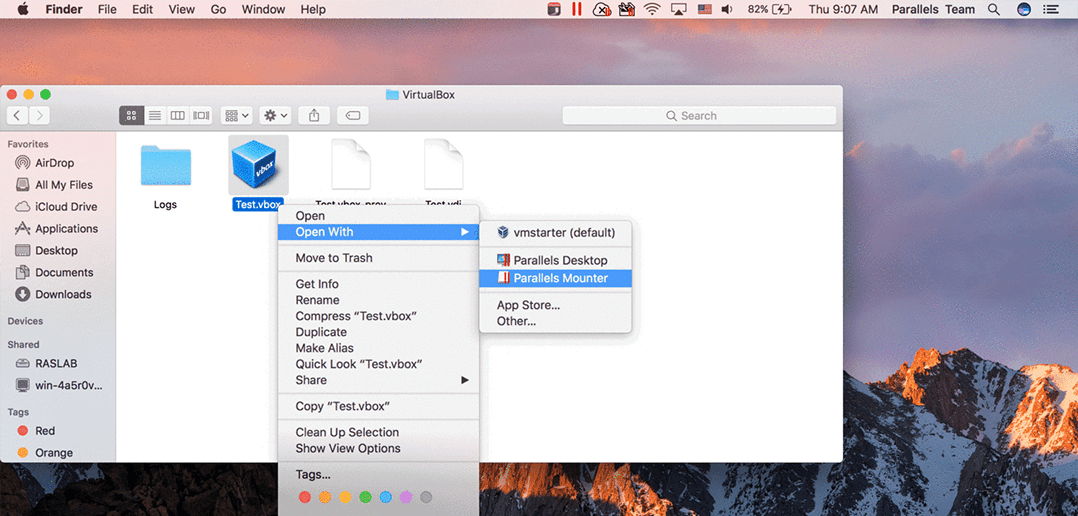 Accessing your files from a corrupted third-party virtual machine with Parallels Desktop
---
Parallels Support team guest author: Dinesh Rathina Kumar
---
In one of our past blogs, we talked about accessing virtual machine files from a corrupted virtual drive.
That blog can be really useful for Parallels Desktop for Mac users.
I recently came across a similar scenario, but the customer I'd been on the phone with had a third-party VM that wasn't functional. (Actually, that was the reason he decided to switch to Parallels Desktop.) And, yeah, no backups, sad story…
So the primary goal for us was to get the files out of that VM, create a brand new VM in Parallels Desktop, and copy the files over. If you find yourself in a similar situation, and you are switching to Parallels Desktop because your third-party VM got corrupted, this is the blog for you!
The instructions below will work for accessing files from VMware, Virtual PC, and VirtualBox corrupted VMs.
Parallels Desktop includes a handy tool called Parallels Mounter that makes it possible to restore the data from the third-party VM in three simple steps, without restarting.
Parallels Mounter is a specially designed utility for browsing your Parallels Desktop or third-party (VMware, VirtualBox, Virtual PC) VMs and virtual hard disks directly in Finder. It is provided as part of the Parallels Desktop package and does not require separate installation.
Parallels Mounter can mount the following file formats:
Parallels bundle (.pvm) or configuration file (.pvs) or virtual hard disk file (.hdd)
VMware configuration file (.vmx, .vmwarevm) or virtual hard disk file (.vmdk)
Virtual PC configuration file (.vmc, .vpc7) or virtual hard disk file (.vhd)
VirtualBox configuration file (.xml) or virtual hard disk file (.vdi)
 Follow these steps to mount the hard disk of a third-party VM:
Locate and right-click on the VM's file and choose Open With > Parallels Mounter or Open With > Other > Library > Parallels > Parallels Mounter from the shortcut menu. Most VM vendors use [your user name]/Documents/[application name] or Users/Shared/[application name] as a default folder for the VM virtual drive.
Once mounted, you can browse the contents of a volume by clicking its icon in the Finder window. The best part is that you can manage the VM files just as you manage your Mac OS X files in Finder window.
There we go! Now you can access the files you saved in your Documents folder or on your desktop and drag and drop them to the Mac desktop.
To unmount the volume, use the Eject button  next to the disk icon.
Then all you need to do is create a new VM in Parallels Desktop, start it, and drag and drop these files back to your shiny new VM. Easy, right?
We hope this blog helped you access the data you need, as well as learn something new about Parallels Desktop. And don't forget to follow Parallels Support on Twitter!
Try Parallels Desktop for free for 14 days!