Parallels Desktop and macOS Big Sur
---
Apple has at last released macOS Big Sur! First previewed at the Apple Worldwide Developers Conference in June 2020, and then finally released to the world in November 2020, macOS Big Sur has had the longest beta development cycle of any macOS release in recent history.
The silver lining: engineers at Parallels® used this time to work in lockstep with their Apple counterparts in an effort to ensure that users will have the best possible Parallels Desktop® experience once migrated to macOS Big Sur. 
The greatest amount of Parallels engineering work came in response to a significant change in the underpinnings of macOS Big Sur. As a Mac user, you may have seen dialogs (like the one shown in Figure 1) when using macOS Catalina or macOS Mojave.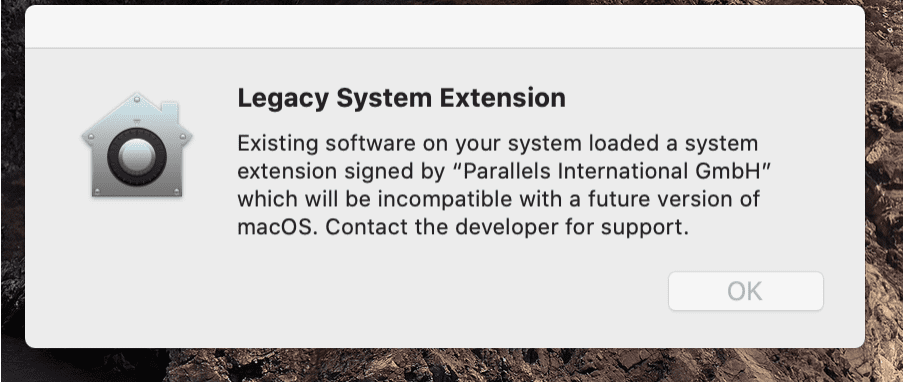 The change in the macOS necessitated the re-architecture of Parallels Desktop (seen in Figure 2).

While this figure illustrates what may appear to be a small change, it required the largest amount of engineering work in Parallels Desktop 16 and the equivalent of 25 man-years of engineering effort. This change means that even more of the performance and security of Parallels Desktop will be derived from Apple's updates to the internal architecture of macOS going forward.
In addition to the work diagrammed in Figure 2, the Parallels engineers have added a number of new features to Parallels Desktop 16, and to bundled products Parallels Toolbox and Parallels Access, including: 
macOS Big Sur support
3D support in macOS VMs
Learn more about these features in Video 1.
Parallels Desktop is ready for you when you decide to migrate to macOS Big Sur. Let us know in the comments when you will be upgrading, and then, how the migration went! 
(C) 2020 Parallels International GmbH