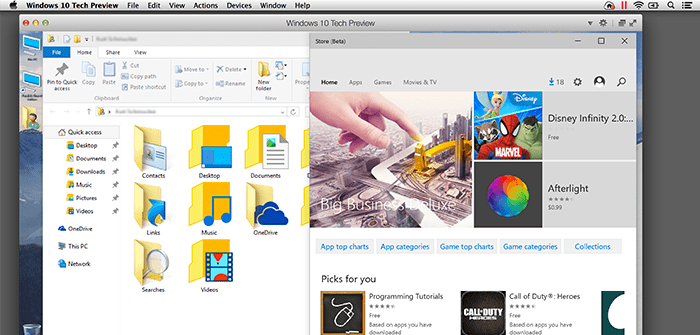 First Look: Windows 10 Technical Preview
---
Last month, I wrote about installing the Window 10 Technical Preview in Parallels Desktop. It was great to see others also write about this really easy and convenient way to "kick the tires" of an OS under development.
Now I'll tell you about my first month of use. You won't, however, have to wade through this entire blog post to learn my overall impression of Windows 10. Bottom line—in general, I'm optimistic about Windows 10 and its usability in Parallels Desktop.
[Tweet ""I'm optimistic about #Windows10.""]
I was never much of a fan of Windows 8 or the slightly revised Windows 8.1. However, I've found Windows 10 to be much more like the popular Windows 7, with a few improvements.
Whenever I install Windows for my personal use, the first thing I do is add my Microsoft Live ID as an admin user. I suspected that there might be a new place to do this, so I asked Cortana to point me in the right direction. (See Figure 1.) No problems at all, and even a pleasant surprise, which I describe next.
The second thing I do is enable Japanese language support. In the Windows 10 Technical Preview, this was considerably easier than in any version of Windows I've ever tried. In fact, I didn't have to do anything at all: once I signed in with my Live ID, Japanese language support was automatically enabled. (See Figure 2.)
Microsoft must have noted in my Live ID account that I enable the Japanese input method editor (IME), so it was turned on automatically. I was rather impressed by this, so I sent the Windows Installation team kudos with the built-in Windows Feedback application. (See Figure 3.)
My next step was installing Office. Since there were preview versions of Word, Excel, and PowerPoint available specifically for the Windows 10 Technical Preview, I decided to use these versions rather than a released version of Office. This turned out to be more difficult than I expected.
The Windows 10 Office previews are available via the Windows Store Beta. (See Figure 4.)
It's well-known that the Store Beta in the Windows 10 Technical Preview has had some issues. Fortunately, the Windows development and testing teams began addressing those issues right away, and by the time you read this all these issues should be a thing of the past.
Life on the cutting edge of technology is always like this—finding issues like these is what early users contribute to the entire ecosystem. I also installed and used the preview versions of Excel and PowerPoint. (See Figures 5, 6, and 7.)
I had hoped to try out Japanese text editing in the Word Preview, but unfortunately, this feature is not yet ready for use. (See Figure 8.)
So, I tested Japanese editing in Notepad and it worked just fine. (See Figure 9.)
(Those of you who also read and write Japanese may have noticed the really great looking font in Figure 5. Sorry to disappoint you, but this font is not included in Windows 10. It is a Japanese font I have used for years on my Mac, and I just moved it over to Windows 10 for this test.)
As I was writing this blog post, a large update for the Windows 10 Technical Preview was released—another aspect of life on the cutting edge of tech. OS updates often require more memory than "ordinary" applications, and in the case of the Windows 10 Technical Preview, the 1GB of memory for the Windows 10 VM was insufficient to run the update to Windows 10 Technical Preview build 10041. (See Figure 10.)
Increasing the VM memory to 4GB enabled the update to run. In further testing, the Parallels Desktop engineering team determined that the update will actually run in 2GB. Microsoft has stated that future Windows 10 Technical Preview updates will be released monthly, so perhaps this memory increase will not be needed going forward.
Since I have several VMs on different Macs running the Windows 10 Technical Preview, I changed the desktop picture and Start Menu in this VM so that I would have a very noticeable reminder that this VM was running build 10041.  (See Figure 11.)
So, to repeat my bottom line assessment: I like Windows 10 a lot more than I ever liked Windows 8, and I'm hopeful for its future. I will certainly be testing later releases, and you can do the same in an easy and safe way—in Parallels Desktop.