The First Steps with Parallels Desktop for Mac Business Edition for IT Administrators
---
Parallels Desktop for Mac Business Edition provides a wide range of helpful new features. Administrators have plenty of options for providing Parallels Desktop to new users. When employees need Windows on their Mac computer, the IT department must first install and configure Parallels Desktop on the clients and distribute and configure the Windows VM (including the application software) to those who need it. This process is now easier than ever with Parallels Desktop for Mac Business Edition and can be largely automated. The IT department is now able to roll out and configure Parallels Desktop on employees' clients using several methods. Read on for more detail. 
Installing Parallels on clients
One option is to invite users via email. The IT department invites users via the Parallels user portal and assigns a license. The users receive an invitation to accept the license and install Parallels Desktop via the link provided.
Another option is to distribute the software to clients via an MDM system.
This enables IT staff to distribute Parallels Desktop with the VM and configure multiple users at the same time via "Package Deployment". Once configured, employees automatically receive the software, the VM, and the policies they need to be able to get started with Parallels Desktop. The IT department is only on the hook for preparing the appropriate package. This package consists of the Parallels installation file, the Parallels auto-deploy package and the associated VMs. Once the desired configuration is created, the policies for the VM and the settings and Windows software have been set, the package can be distributed to users via Jamf, Parallels Mac Management or Apple Remote Desktop.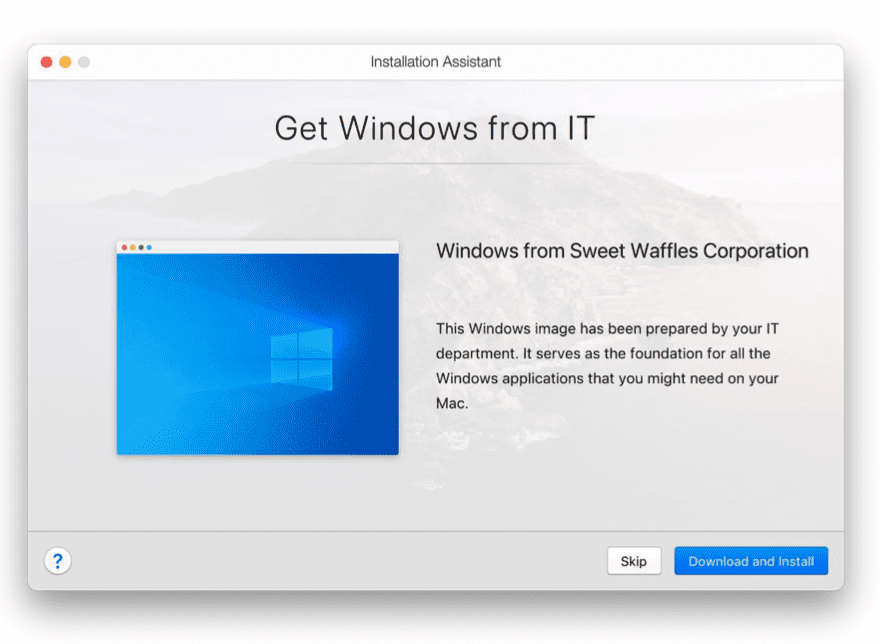 Distributing VM images easily
With the new download function for pre-configured Windows VMs, the IT department no longer has to create, configure and distribute systems individually if they don't use a dedicated solution for client management and software distribution. Once Parallels Desktop is installed, users download a Windows VM that is ready to use and that already has all the required programs and configurations. This process is supported by the Parallels "My Account" portal.