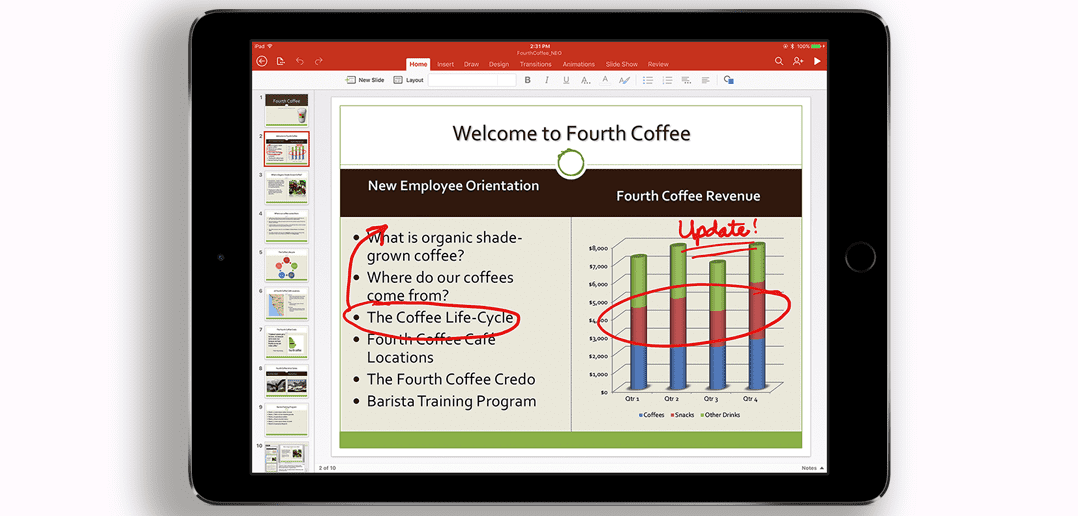 Microsoft Ink Support Added to iPad Office
---
I consider Ink to be a significant addition to Microsoft Office, and I have written several blog posts about using Ink. Of course, there is no Ink support in MacOffice since there is no Mac with either a touch screen or a stylus. In my posts, I have shown how to use Ink in WinOffice on a Mac by using Parallels Desktop (to run WinOffice on a Mac) and an app like Astropad (to get the ink stroke data to the Mac).
Microsoft has now added Ink support to iPad Office. Figures 1 and 2 show Ink use in iPad Word and iPad PowerPoint.
and Video 1 shows Ink in use in iPad PowerPoint.
Ink features are on the new Draw tab on the ribbon in each of the iPad Office apps, as shown in Figure 3.
This Draw tab also features an innovative circular menu for choosing the ink color, as shown in Figure 4, and as seen in action in Video 1.
While you can't add to or edit the ink in an Office document in MacOffice 2016, you can display and print it, as you can see in Figure 5.
Have you used Ink yet? Let us know in the comments.
Try Parallels Desktop for free for 14 days!