Parallels Desktop 15 for Mac
---
It's finally here! We are so excited to introduce Parallels Desktop® 15 for Mac.
---
With Parallels Desktop, you can run Windows, Linux and other popular operating systems on your Mac® without rebooting. For over a decade, we've been the #1 solution for over 7 million users worldwide.
Version 15 includes many exciting features: Support for DirectX 11, leveraging macOS® Catalina innovations, additional Mac integration points, new virtualized hardware, performance increases and lots more.
Learn more about the hottest new features—and stay tuned for more blog posts coming this week detailing everything you need to know about Parallels Desktop 15.
---
Moving from OpenGL to Metal – DirectX 11 Support
This is a revolutionary new feature that our users will be so excited about! With the help of Apple Metal, we're introducing DirectX 11 support in Parallels Desktop 15. Over the last several years, Apple® and Parallels have collaborated to ensure DirectX 11 support and performance on Metal in macOS Catalina.
The move to Metal has made Parallels Desktop faster and more efficient. You can now run CAD/CAM applications like Autodesk Revit 2020, Autodesk 3ds Max 2020, Lumion, ArcGIS Pro 2.3, Master Series and more. Plus, you can play many of your favorite games, including Madden 19, Age of Empires: Definitive Edition, Crysis 3, Anno 2205, Railway Empire, Space Engineers and Risk of Rain 2.

*macOS Mojave is required; macOS Catalina (when released) is recommended for the best performance.
---
Ready for the Latest OSes and Leveraging Catalina Innovations
macOS Catalina, the new macOS 10.15, will be released by Apple this fall. You can now test it in a virtual machine as a guest OS in Parallels Desktop 14 and 15. As soon as it's released to the public, it will be supported for Parallels Desktop 15 as a host OS.
We have developed really cool features in macOS Catalina, like Sidecar (Figure 2a) and full Apple Pencil® support and Sign in with Apple. DirectX 11 support will also be the best in macOS Catalina.
And of course, we will also support the latest Windows Updates as soon as they're released.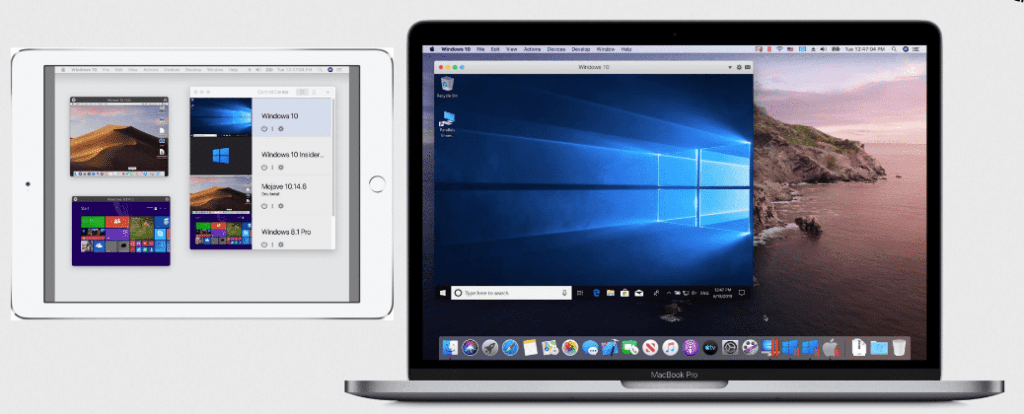 ---
Additional Mac Integration Points
Every year, we integrate the best features from Windows and Mac. This year, our users can find more Mac features included in Windows. You can now save your Windows passwords in keychain, drag and drop files live from Safari, preview thumbnails, email a file in Mail (Video below) and lots more.
---
New Pro and Business Features
For our professional and business customers, we recommend Parallels Desktop for Mac Pro Edition and Parallels Desktop for Mac Business Edition. You get all the new features in Parallels Desktop 15, plus we've integrated the Virtual Platform Trusted Module (vTPM) and added additional features especially for IT admins.

---
Performance Improvements
Parallels Desktop 15 is faster and stronger.
Compared to Parallels Desktop 14:
Start Microsoft Office application up to 80% faster
3D graphics are up to 15% faster
User interface is more responsive
Some applications and games (such as Lumion, Autodesk 3ds Max 2020, Anno 2205, Frostpunk and more) can now use DirectX 11 and are much faster, rather than being unusable and slow as they were in previous versions
---
One More Thing
As you may know, macOS Catalina drops support for 32-bit Mac. Still want to run those applications? It's not a problem for Parallels Desktop users. Just create a macOS VM for Mojave or High Sierra, or any other recent macOS. You can run those applications in that macOS VM. And the best part is that there's no cost in creating a macOS VM. Watch for a future blog post with all the details.
---
How to Get Your Copy of Parallels Desktop 15 for Mac
If you…
Are an existing customer, upgrade now.
Are a new customer, purchase your copy here—or test it for 14 days for free.
If you have recently purchased Parallels Desktop 14, check out our Tech Guarantee to see if you qualify for a free upgrade to the latest version, Parallels Desktop 15, at no additional cost.
We would love to hear your feedback. Stay connected with Parallels and our online communities—like us on Facebook or follow us on Twitter.