Adding Many Full-Size Icons to the Mac Dock
---
I use the Mac Dock a lot, and I configure it to have the most useful set of icons that I can. Unfortunately, when you add lots of icons to the Dock, the icons become tiny. In this blog post, I will show you how I add many full-sized icons to my Dock. You can see what the end result is in Figure 1.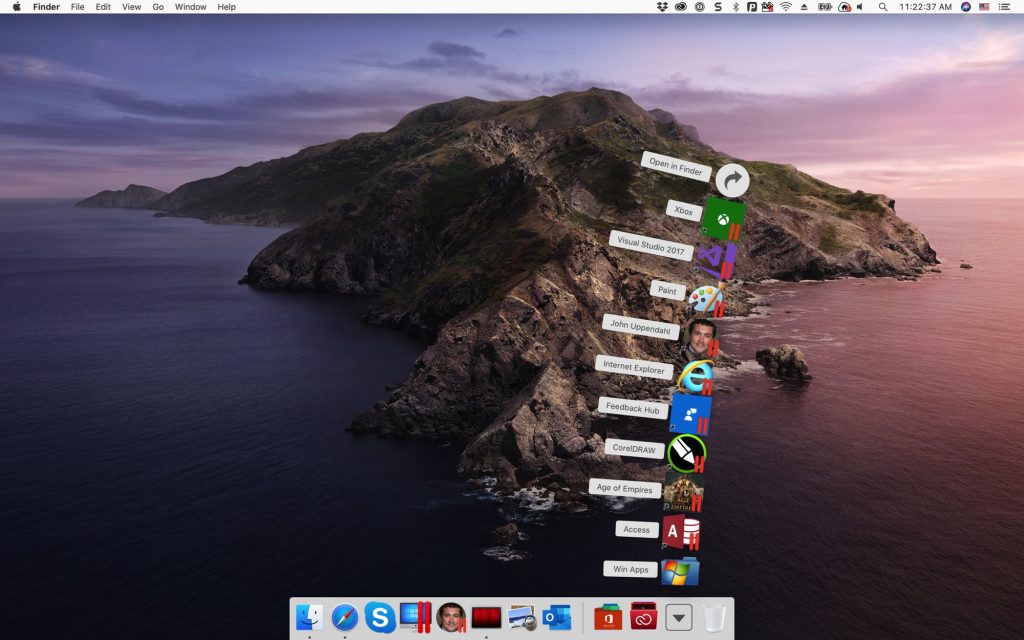 The trick here is to add meaningful folders that contain icons to the Dock. Video 1 (37 seconds) shows the final result:
---
---
I have added folders for Office for Mac, Creative Cloud and my most frequently used Windows apps. There are a few tricks to getting this to look and work as you see in this video.
---
Create an alias for each app
Use the Finder "Make Alias" menu item for the apps you want to see in the Dock, and move these aliases to the folder you will put in the Dock. Don't try to move the app itself to this folder, since some apps will not work correctly if they are not in the Applications folder.
When you create an alias, it will have the same name as the original with the word "alias" appended. You can change the name of the alias to anything you want, and the alias will still work as expected. I typically make the name as short as possible.
---
Create a custom icon for the folder
I don't want a bunch of similar-looking folder icons in my Dock, so I give each a unique icon. You do this in the "Get Info" window for the folder—Video 2 (36 seconds) shows the process.
---
---
If you have creative skills, you can draw your own icons. I don't have these skills, so I get my folder icon art from a variety of sites like Icon Factory, Deviant Art and Icon Archive. Or you can just search "folder icons Mac"—there are lots of icons out there.
When you put a folder in the Dock, it will show the icon of the first item in the folder. So make a copy of the folder and change its name by adding a space at the beginning. Then this icon will show in the Dock.
---
Finding the Windows app icons on your Mac
Parallels Desktop™ for Mac creates a Dock folder with every Windows app in your virtual machine (VM). (See Figure 2.)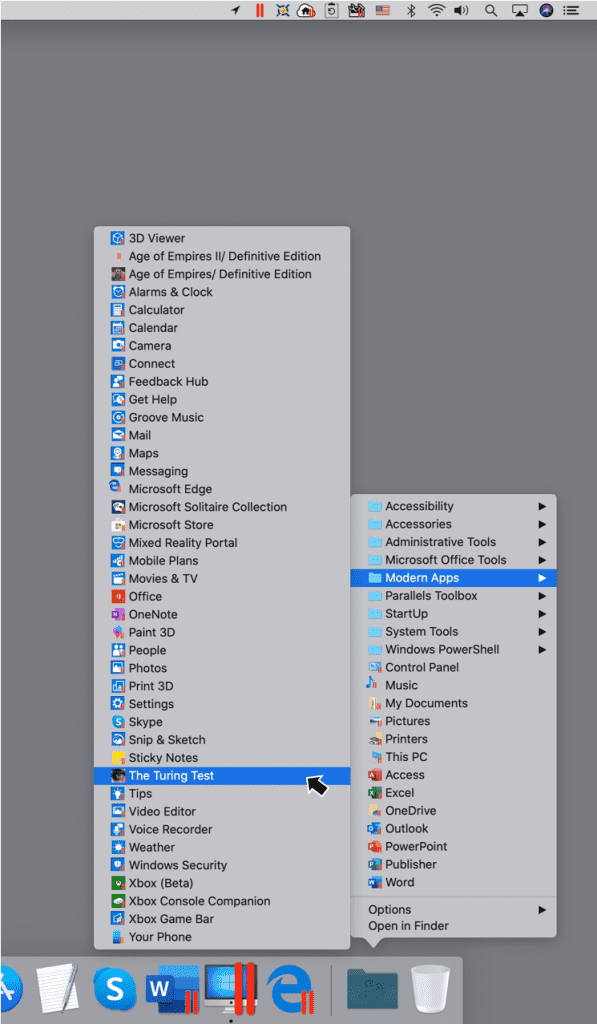 This is very useful for a rarely used Windows app, but for me, it's overkill for the Windows apps that I use the most. This is why I create a unique folder for the Windows apps I use regularly.
Parallels Desktop creates a "stub" app for each Windows application in your VM. These stubs are in the folder "Applications (Parallels)" in your user directory on your Mac. Go to this folder and create an alias for each Windows app that you use frequently. Put these in a "Windows Apps" folder and move it to your Dock.
I hope this Mac Dock trick helps you more easily get your Dock configured exactly the way you want. Please share any other Mac tricks that make you more efficient in the comments below.
Try Parallels Desktop for Mac Pro Edition for free for 14 days!