More than Half of All Companies Use Mac – Parallels Survey Part 1
---
Today 55% of businesses use Mac devices themselves or explicitly approve of their use within the company. This was revealed by a recent study commissioned by Parallels based on a survey mainly among small and mid-sized enterprises (SMEs). The participants surveyed are evenly distributed across a broad range of industries including manufacturing, distribution, the health industry and civil engineering.
Interestingly, marketing and creative departments did not turn up as the places where Mac devices are most likely to be found. IT departments were the ones that topped the list, with software development acting as the premier driver of Mac corporate usage. Marketing and creative groups followed in second place. Mac devices are least common in accounting—they were only found there in 20% of cases.
BYOD and CYOD with Mac
Mac finds its way into companies in different ways depending on the type of enterprise. In a little over half of the businesses housing Mac, the Apple computers are either present on request following the choose-your-own-device (CYOD) principle or as standard equipment. Surprisingly however, Mac devices are purely optional equipment in many other businesses, ending up in employees' offices as their bring-your-own-device (BYOD) option.
26% of all those surveyed—almost half of the businesses allowing Mac on their premises—stated that Apple computers were strictly a BYOD issue in their company (Figure 1). This means that a large number of these devices brought into the business lack device management and control and may not be integrated into the organization's IT strategy to any extent.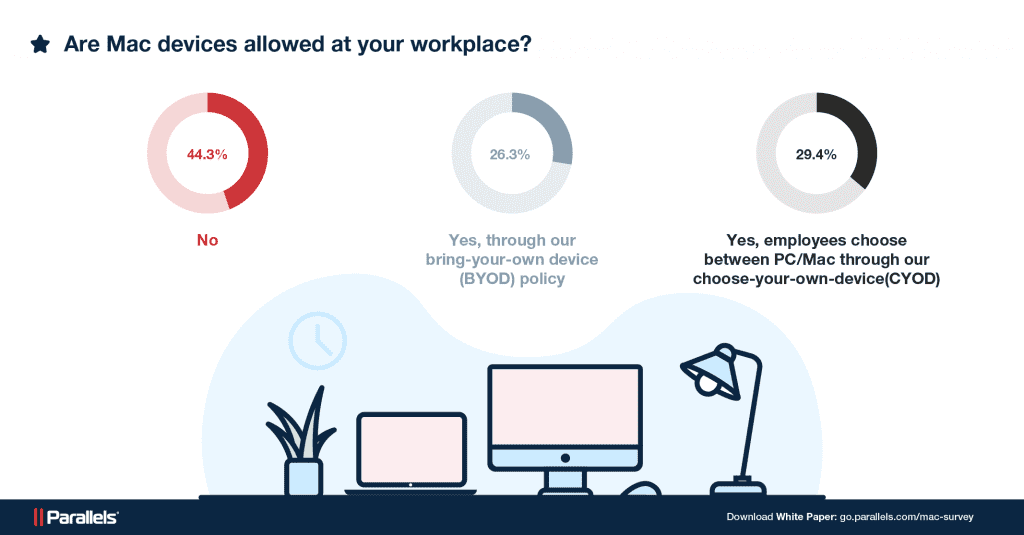 We surveyed more than 1,000 IT professionals for this study. 53% were from Europe, the Middle East and Africa (EMEA), 40% were from North America and the remaining respondents were from Asia. Please stay tuned for more findings of the survey in the weeks to come.
Learn more: