The MacBook Pro Flight Ban – What Your Employees Should Know Before Boarding a Flight
---
Like a lot of companies these days, you probably have a growing number of Mac® users in your organization. If those employees go on business trips, you'll want to inform them of the recent MacBook Pro® flight bans that are being implemented in several airports around the world, as well as provide them with tips on how to address the issue. After all, you wouldn't want them held up while boarding a flight to an important business conference or meeting. But before we discuss those tips, perhaps you'd like to know why these bans are being implemented in the first place.
Understanding the ban and which Mac laptops are affected
It all started when Apple® announced a recall for certain 15-inch MacBook Pro laptops. These units were found to have batteries susceptible to overheating and posed a fire-safety risk. Naturally, as soon as airline officials got wind of this information, they considered the laptops' flight hazards and started issuing strict policies against them.
Technically speaking, the only Mac laptops that could really pose a threat are the 15-inch MacBook Pros between September 2015 and February 2017. Supposedly, all other models can be considered safe. Apple even has a page where you can submit the serial number of your Mac to find out if it's affected, and any unit found to be affected is eligible for a free battery replacement.
In spite of the seemingly elementary task of checking affected devices, it's not so easy once you consider how airline ground staff are already swamped. Besides, it's hard to physically verify whether a device has really undergone a battery replacement.
Since doing a thorough check on every single Mac laptop prior to boarding could cause considerable delays, some airlines have simply issued blanket policies where ALL MacBook Pro and MacBook® laptops are banned.
How are airlines implementing this ban?
Fortunately, not all airlines have issued a complete ban. Risk appetites vary across organizations, so stringency varies from one airline to another.
For example, United Airlines is a bit lenient. According to the notice on their site, United doesn't allow affected laptops to be packed in a checked bag, but it does allow them to be hand-carried as long as they're switched off and unplugged during the flight.
Qatar Airways and Singapore Airlines aren't as tolerant. Both don't allow affected units, whether as a hand-carry or checked-in baggage.
And then there are those like Qantas and Virgin Australia, who have banned ALL 15-inch MacBook Pro laptops (including those that aren't supposed to be affected) from checked-in luggage, allowing them only to be hand-carried and switched off.
It's worth noting that some governing agencies like the US Federal Aviation Administration (FAA) have issued their own policies. The FAA has instructed airlines under its jurisdiction to follow 2016 safety instructions for goods with recalled batteries. This means that major US airlines like American, Delta and United are supposed to completely ban affected Mac laptops from flights, whether as carry-on or checked-in.
How your Mac users can travel hassle-free during the ban
The worst thing that can happen to your employees with the ban in effect is having to leave their MacBook or Macbook Pro behind. That can be a major hassle, especially since those Mac laptops could be their main workhorse. Here are some things they can do to avoid that inconvenience.
First, they need to visit the Apple webpage to check if their device is affected. All they'll need to submit is their Mac serial number. Next steps depend on what the online tool says. Note that even if their Mac laptop isn't a 15-inch MacBook Pro, they should still head to the site and use the tool. We'll explain why.
If their device is an affected MacBook Pro
If the online tool shows their Mac has the defective battery, they will be eligible for the Apple battery replacement program and should have that device's battery replaced. According to Apple, battery replacements can take 3-5 days, so they'll have to factor that into their travel schedule. Further instructions regarding the replacement program can be found on the same webpage.
Once their battery has been replaced, your employees should gather all pertinent documents related to that service, like the repair receipt, "AppleCare Service — Product Repair Summary" and any other proof-of-repair confirmation. Make sure their device's serial number is included for easy verification. They will need those at the airport if they're asked to submit proof of the replacement.
If their device isn't an affected 15-inch MacBook Pro
If the online tool shows their Mac is NOT an affected device, they should take a screenshot of the result and print it out. They can then show that to the airline staff during an inspection at the airport if they're asked for proof.
This is exactly why we recommend using the online tool even if your employees don't have a 15-inch MacBook Pro. As evidenced by the screenshot below, which was obtained using the serial number of a 13-inch MacBook Pro, the tool can also work for Apple laptops that are NOT a 15-inch MacBook Pro. Figure 1 can mean the difference between being allowed to board a flight or not.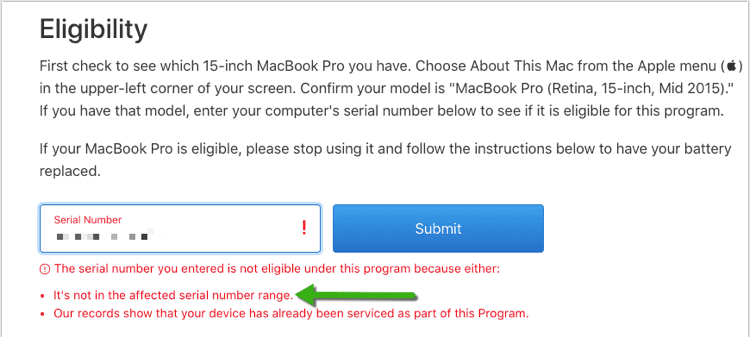 Since policies vary from airline to airline, it would be in your employees' best interests to check with each airline beforehand to get exact information. The notices posted on official airline websites are sometimes vague or outdated, so a call with an airline representative would be the best course of action.
If this post helps you and your traveling Mac users, send them our sincerest bon voyage!
What to do if a Mac laptop is lost while traveling
It's not uncommon for company hardware to be lost or stolen while traveling. In this situation, company data security risks associated with that laptop outweigh the loss of the hardware itself.
If it happens to a Windows PC, you just initiate Wipe and Lock from SCCM. But if it's a Mac, it's not possible—unless you have Parallels® Mac Management for Microsoft® SCCM, an extension to Microsoft SCCM that brings Mac management to the Configuration Manager.
References
TechRadar | https://www.techradar.com/news/macbook-pro-flight-ban-everything-you-need-to-know
Qatar Airways | https://qatarairways.zendesk.com/hc/en-us/articles/360036738613-MacBook-Pro-Travel-Advice
Singapore Airlines | https://www.singaporeair.com/en_UK/sg/media-centre/news-alert/?id=jzbi7bal
United | https://hub.united.com/united-apple-macbook-battery-recall-2639826045.html
ZDNet | https://www.zdnet.com/article/qantas-and-virgin-ban-macbook-pros-from-checked-in-luggage/
Inc | https://www.inc.com/eric-mack/your-apple-macbook-pro-might-be-banned-from-flying-heres-what-to-do-about-it.html