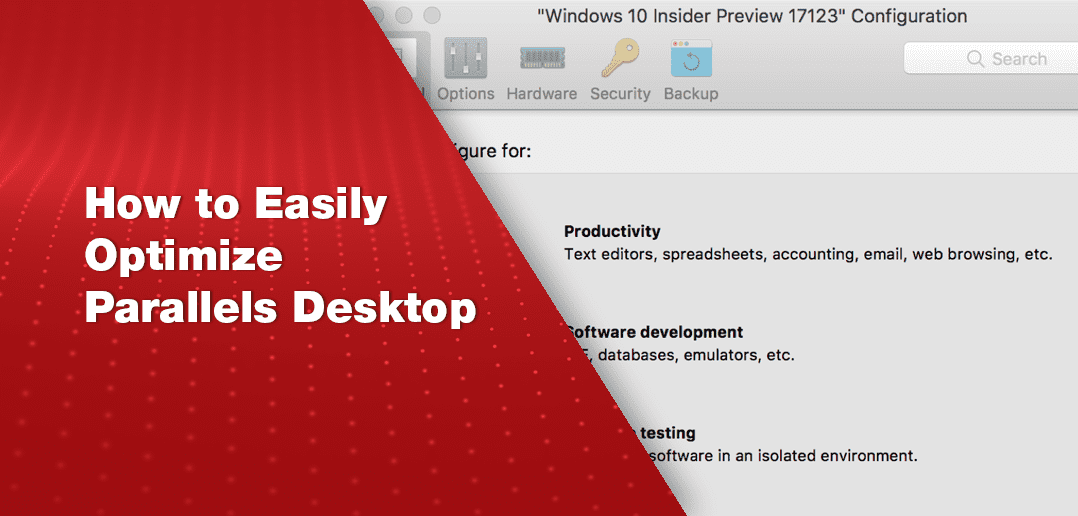 How to Easily Optimize Parallels Desktop for Mac
---
With millions of users around the world, Parallels Desktop® for Mac has been a popular Mac application for more than a decade. To serve the specific needs of this large user base, over the years we have added preferences and settings to Parallels Desktop—lots of preference and settings. This has resulted in an application that can be adjusted to the particular needs of each user, which is clearly a good thing. However, it also means that users of Parallels Desktop—and especially new users—can find it challenging to pick the right settings that give them optimal configuration for their use.
To address this challenge, in 2015 we added some "user settings" called profiles: collections of settings that are optimal for certain uses of Parallels Desktop. In this blog post, I'll show you how to use profiles to optimize Parallels Desktop for your particular use.
Profiles
There are two profiles in Parallels Desktop Home Edition (Figure 1) and five in Parallels Desktop Pro Edition and Parallels Desktop Business Edition (Figure 2).
While the names of profiles might be enough to pick the best one for you, Figure 3 contains a flow chart to assist you.
But what about…
What if I use applications in more than one category?
No problem. You can change profiles whenever the virtual machine (VM) is not running. So if you primarily use Microsoft Word and Excel during the day, but play Overwatch and Crysis 3 at night, just use the Productivity profile during the day and switch to the Games Only profile in the evening.
I mostly use applications in one category, but I have unique needs. Should I still use profiles?
Again, no problem. Pick the profile that most closely matches the applications you use, and then modify the setting for your specific needs. For example, the Productivity profile will set the amount of memory for a Windows 10 VM to 1 GB. But if you have really complex and huge Excel spreadsheets, increase the memory for the VM to 2 GB or 3 GB. Parallels Desktop will remember this modification, and thus the profile for your VM will be "Productivity (modified)," as shown in Figure 4.
Don't worry: you can always reset a profile to its default values. Just click the Restore Defaults button at the bottom right side of the configuration window.
Further Reading
Want to know more about profiles in Parallels Desktop? Check out these Knowledge Base articles and blog posts:
Virtual Machine Profiles in Parallels Desktop 13
Virtual Machine Profiles in Parallels Desktop 12
Virtual Machine Profiles in Parallels Desktop 11
Virtual Machine Profiles in Parallels Desktop Pro Edition
One-Click Tuning for Parallels Desktop
I hope this blog helped you save some time and avoid manual VM tuning to fit your needs. Thanks, and don't forget to follow us on Twitter!
Try Parallels Desktop for free for 14 days!