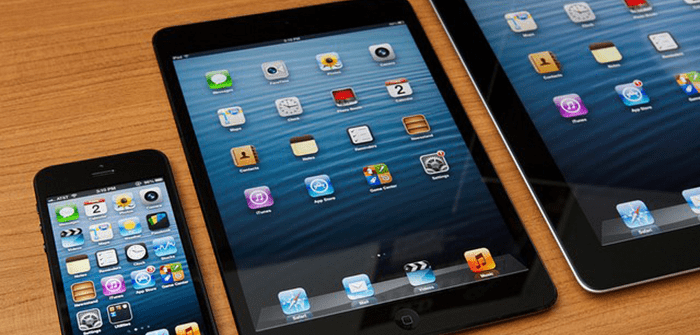 Parallels 10 for 10: I Might Be in Love with My iPad Mini 3
---
I was handed an iPad Mini 3 a month ago when I started working at Parallels, and I'll admit that I looked at it with some skepticism for a week before it made its way into my regular tech rotation. It was only a few days later that I wanted to carve my initials in it like kids in a tree to make sure everyone knew this baby was mine.
I gave up on the iPad a while back; it was uncomfortable to read with or play games on, and the battery seemed to not last nearly as long as I wanted it to. I picked up a Kindle Fire a few years ago that was the size I was looking for, but it still felt like I was trying to hold the weight of the Encyclopedia Britannica in my hand while reading something the size of a moderate paperback.
Since it was at my disposal, I grabbed the iPad 3 when prepping for a Game of Thrones marathon so I could comfortably live-tweet the show (everyone needed to know how excited I was for the Tyrion and Dany scenes!). The full hour flew by without a second thought—I could easily hold it vertically and type on the keyboard with my thumbs, without needing to prop it up due to the weight.
I became even more infatuated with it the following day; I was 10 minutes into a meeting when I realized that the documents I poured my heart and soul into the night before to rock the socks off of everyone in the meeting were saved to the desktop of my gaming rig at home. I'm certain I looked like a deer in the headlights when the realization dawned on me that I was utterly not prepared.
Thankfully, I had installed Parallels Access the other day to play a few indie games on my iPad Mini from my gaming rig at home earlier in the week, so I was able to access my home PC, grab the files, and present them seamlessly in the meeting. Admittedly, I could have done that using Parallels Access from my iPhone as well, but I prefer not to look like that person in a meeting who pulls out their phone, clearly digging for something, then puts it away without telling everyone what was going on. Since I was already taking notes with the iPad, I'd like to think I was a bit more suave than that.
Bottom line, here's what sold me on the iPad 3: the visuals are stunning. I was browsing some images for my Dungeons and Dragons game, and they looked so much nicer on the iPad than my iPhone—and I didn't have to make everyone gather around me and my laptop to share. And then watching movies on it? A zillion times better than on my iPhone—it was easy to prop up to watch while in bed pretending to sleep, and I didn't have to worry about the battery dying while 30 minutes into my Game of Thrones marathon.
I'm sold on the iPad 3—It's my go-to device to play on social media at home or use apps at work (especially ones that save my butt!), and for all my gaming genres.
Even better—Parallels is giving away an iPad Mini today as a part of our #Parallels10for10 giveaway! Here's how you can enter to win it:
How to Enter
It's easy to enter to win—just tweet us @ParallelsMac and tell us how you use Parallels Desktop 10 & hashtag it #Parallels10for10! Here's a quick example:
.@ParallelsMac I use #ParallelsDesktop10 for Office, gaming, and streaming. 🙂

— Lindsay Jo Scarpello (@LJScarpello) June 10, 2015
Say it any way you want to—send us a picture, write a haiku, or tell us in emoji, we just want to know how you use Parallels Desktop!
[Tweet "@ParallelsMac #Parallels10for10 I use Parallels Desktop to…"]
---
For more details, including the official giveaway rules, please see our overview post.