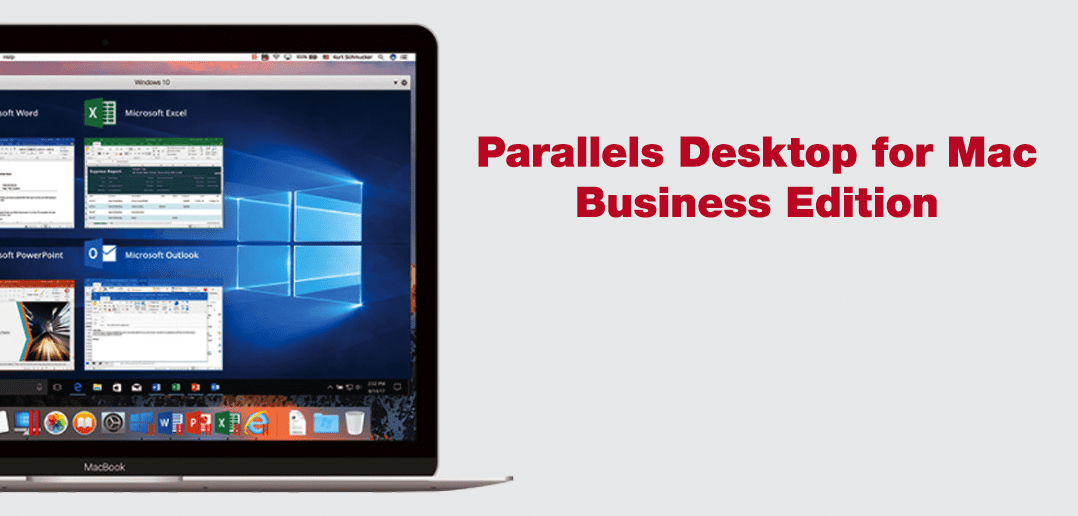 What's New in Parallels Desktop 13 for Mac Business Edition
---
We are very excited about this year's release of Parallels Desktop® for Mac Business Edition, the most secure and powerful solution for your employees and team members to run Windows and Windows applications on Mac®. The Business Edition, as always, includes all new features from Parallels Desktop 13 for Mac Pro Edition, plus exclusive business features that make an IT administrator's routine tasks easier.
Improved Mass Deployment Package 
We made life easier for IT admins who use mass provisioning of virtual machines in their organizations. The new mass deployment package has an intuitive structure and convenient naming, so IT admins spend less time on preparing the package for deployment. The new style also looks like a checklist, which helps reduce time to deploy and make it error-free.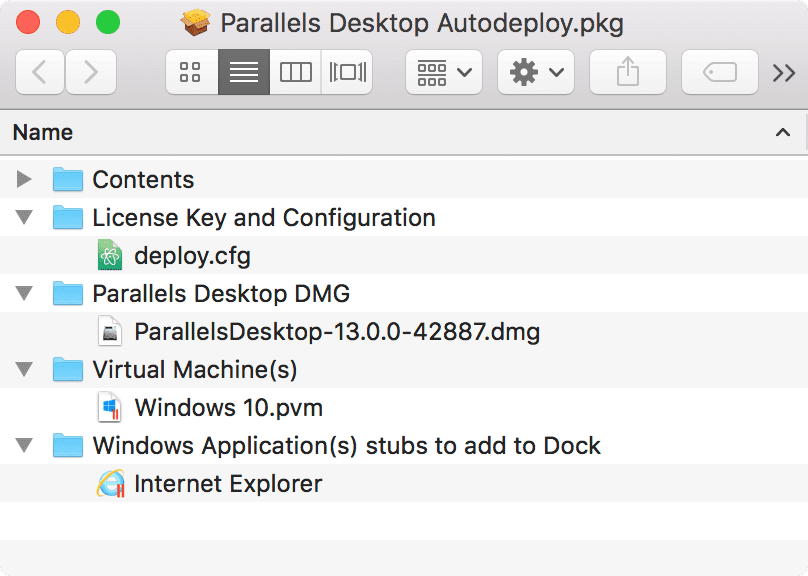 Ability to Pin Selected Windows Applications to Employees' Dock in macOS 
We keep learning from our customers' experiences—this new feature is one result. IT administrators can now customize mass deployments so end users will have icons for Windows applications—selected by their IT admins—in the macOS® dock. Having a shortcut to most-used Windows applications is a good option for organizations who use a defined list of business-critical applications in Windows.
The screenshot below is what users would see if you provisioned them with a Windows 10 virtual machine and selected Microsoft Word, PowerPoint, Excel, and Internet Explorer to be accessible from the macOS Dock.

Single Application Mode
This is one of the all-time most-awaited features in Business Edition. We have tried many options and came up with many prototypes that we didn't like, because we knew you wouldn't like them either. Now, we've come up with a solution that meets these high standards.
Here is what your users currently see if they run Windows in Window mode. In addition to the Windows desktop, they get the Parallels menu in the Mac menu bar and the Parallels Desktop application icon in the Dock. They are able to change view modes and open the Parallels Desktop Control Center. And since they have access to Windows OS, they are able to change its settings if these Windows VMs are not managed from within Windows OS.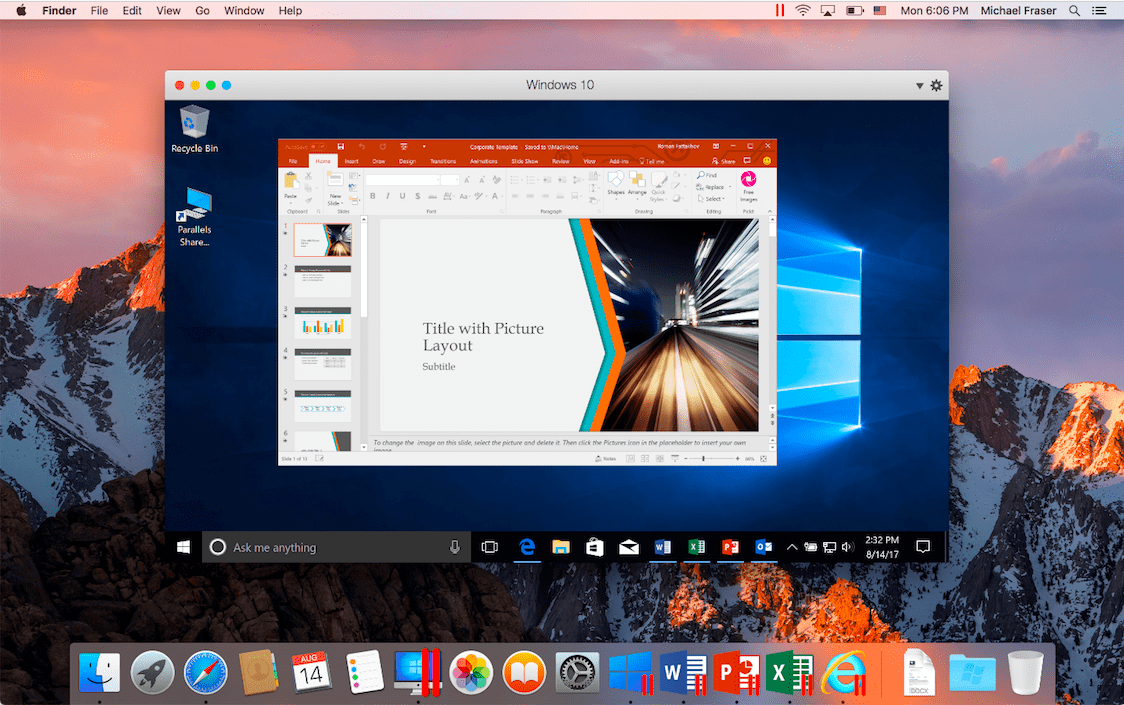 Here is Single Application mode—a special Parallels Desktop deployment option that allows you to completely hide Parallels Desktop and Windows on a Mac, making Windows applications appear like they're running all by themselves. This mode is designed for administrators who want Mac users in their organization to run a specific Windows application without being aware of Parallels Desktop or Windows running in a virtual machine.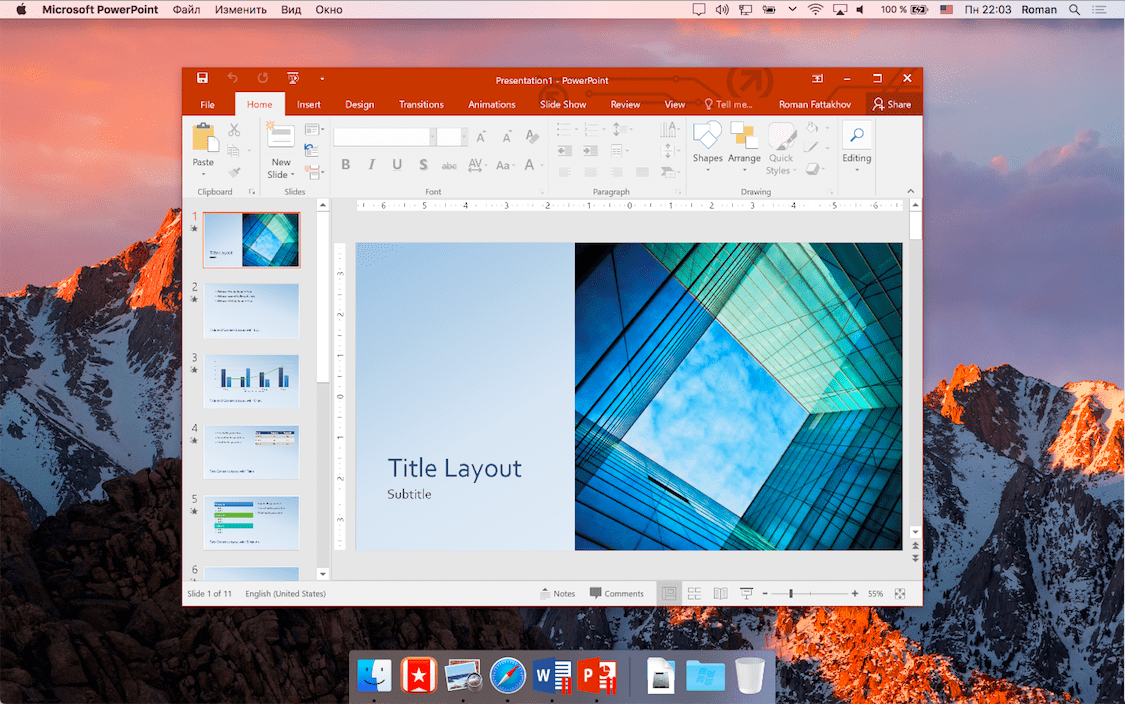 With Single Application mode, you're able to hide all interfaces that are not the provided Windows application interface.
Here are key benefits of this feature for your users, which also means an easier life for IT:
• A Mac user will not see the Parallels Desktop icon, user interface, or the virtual machine window at any time.
• A Windows application icon is added to the Dock. When the user clicks on the icon, the application will run on a Mac desktop like a native macOS application.
• A Mac user will never know that Parallels Desktop and Windows are running on their Mac computer.
You can provision as many Windows applications in this mode as you want. As a side note, you do not need to use mass deployment to be able to deliver Windows applications to your employees this way—you can execute the package on each end-user Mac manually.
For more information on how to use this feature, please see our Administrator's Guide.
These new features are all available now in Parallels Desktop 13 for Mac Business Edition, and we have something more coming later this year.
Tell us how we did in the comments, and let us know which particular feature you want to know better—we'll cover it in one of our next entries.
Sincerely,
The Parallels Desktop for Mac Team