Parallels Desktop, DirectX 11 and Metal
---
The recently released Parallels Desktop® 15 for Mac has a number of excellent features that will benefit its huge user base in a variety of ways. I think, however, the feature that will provide the greatest benefit to the largest number of users is the move to Metal and the support of DirectX—in particular, DirectX 11. This feature of Parallels Desktop 15 provides performance improvements (especially in graphics) for a wide range of Windows applications. In this blog post, I will discuss some of the benefits of this new feature and describe why it will affect so many users.
There is a fundamental mismatch in the way Windows applications and Mac® applications provide high-quality graphics to their respective users. In the Windows ecosystem, the widely used underpinning for graphics is DirectX. In Mac, graphics support has been provided in a number of different ways, ranging from QuickDraw (in the early days of the Mac) to Quartz (in the early days of Mac OS X®) to Metal today.
Parallels Desktop has bridged this mismatch and provided the means for Windows applications built with DirectX to run on Mac. In earlier versions of Parallels Desktop, this was accomplished by yet another graphics library, OpenGL. OpenGL, which was available on Mac, provided a way for Parallels engineers to achieve the graphics support needed by many Windows applications.
However, in June 2017, Apple® announced that OpenGL on Mac was being deprecated, and Apple urged all Mac developers to move to Metal. Metal has been available since 2014 and is now part of macOS®, iOS, tvOS™ and watchOS®. All recent Apple hardware products provide for hardware acceleration for Metal, which makes Metal the best approach for fast graphics performance for Mac applications.
The graphics needs of Parallels Desktop are quite different from other Mac applications. So Parallels engineers began working with their Apple counterparts to ensure that Metal would support the needs of DirectX-using Windows applications in Parallels Desktop. The culmination of that work is Parallels Desktop 15 and Metal in macOS Catalina.
The relationship between all these graphics libraries in the last three versions of Parallels Desktop is shown in Table 1.
---
| | | | |
| --- | --- | --- | --- |
| | Parallels Desktop 13 | Parallels Desktop 14 | Parallels Desktop 15 |
| DirectX 9 | Supported via OpenGL | Supported via OpenGL | Supported via Metal |
| DirectX 10 | Supported via OpenGL | Supported via OpenGL | Supported via Metal |
| DirectX 11 | Not Supported | Not Supported | Supported via Metal |
Table 1: The relationships between Windows and Mac graphic libraries in the last three versions of Parallels Desktop.
---
So what does this mean to users of Parallels Desktop 15? Here are some of the broad implications:
The move to Metal has made Parallels Desktop 15 faster and more efficient, especially with graphics.
Some Windows applications now run that did not launch in Parallels Desktop 14 or earlier versions. Other Windows applications show improved performance.
Note: Since OpenGL is still in macOS Mojave and macOS Catalina, Windows OpenGL applications still rely on Mac OpenGL, as do Linux 3D applications.
The following table (2) lists a few of the Windows applications that now work in Parallels Desktop 15:
---
Of particular importance to me is Age of Empires: Definitive Edition. As I've mentioned in earlier blog posts, Age of Empires is my favorite game of all time. In February 2018, Microsoft released a new version called Definitive Edition. I was anxious to play this new version, but it required DirectX 11. I tried to run it in Parallels Desktop 14, but the results were quite disappointing. There were warning dialogs (Figure 1) and the game was sluggish and slow—unplayable.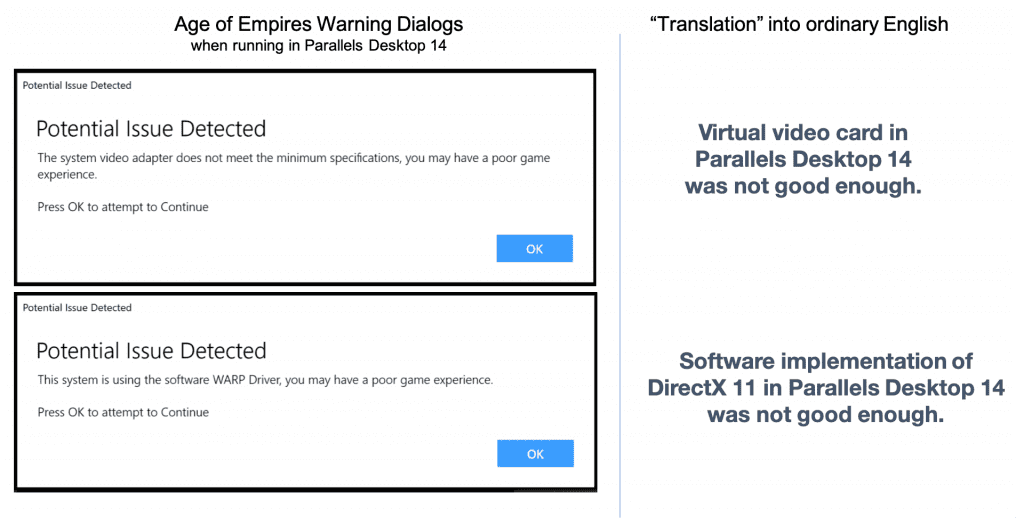 When Parallels Desktop 15 was available in beta, I volunteered to test Age of Empires: Definitive Edition. I was happy to report to the development team that this new version of Age of Empires ran really well in Parallels Desktop 15—especially on the beta release of macOS Catalina. Video 1 shows a portion of an Age of Empires: Definitive Edition game running in an early beta of Parallels Desktop 15.
So does this mean all DirectX 11 applications run great in Parallels Desktop 15? Your experience will depend on the hardware you have, and especially on the CPU and graphic card in your Mac.
Lots of recent DirectX 11 games—especially first-person shooters—stress the most recent hardware available. Parallels Desktop 15 with DirectX support can achieve some truly remarkable results. But Parallels Desktop cannot turn your four-year-old MacBook Air® into an $8,000 Alienware™ gaming rig with a $1,300 liquid-cooled graphics card. That is just not possible.
To be completely above board and transparent, the details of the Mac used to create Video 1 are shown in Figure 2.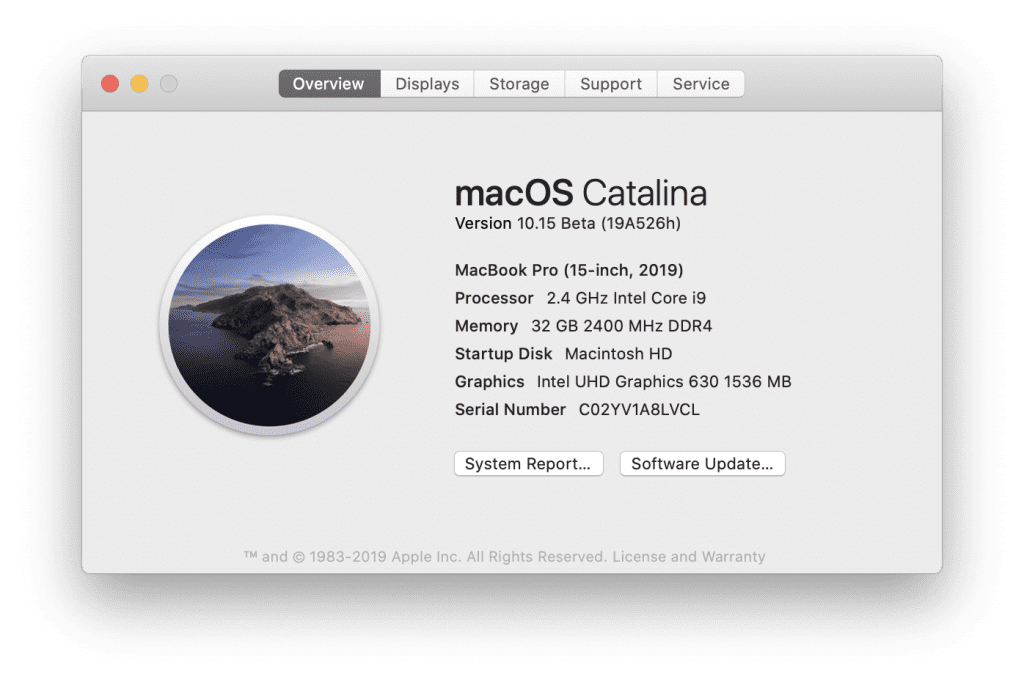 Please let us know in the comments about your experience with DirectX 11 applications in Parallels Desktop 15. I will try to break free from playing Age of Empires: Definitive Edition long enough to respond to your comments.
Test it yourself and download Parallels Desktop 15 for 14 days for free!