Running a Parallels Desktop VM from an external drive (yes, for real!)
---
Guest Parallels support staff author: Sasti Kumar Velupillai Muniappan
---
Running a Parallels Desktop virtual machine from an external drive (yes, for real!)
With the rising trend of cloud storage, computer users are seeing a gradual increase in file size for…everything! Would you have imagined holding a 1 TB thumb drive 10 years ago? Not only is it available nowadays, but you can get it at a reasonable price!  At the same time, computer manufacturers don't seem to keep up with these changes. As a result, the built-in hard drive capacity is often not enough to store all the applications and files we want.
That being said, what if your Mac is low on free disk space, but you still want to add a Parallels Desktop virtual machine (VM) for occasional use? Is it possible to change the location of the VM and keep it elsewhere—for example, on the external storage drive?
Yes! By default, your VM (.pvm file) resides in the Documents/Parallels folder in your user folder, or in /Users/Shared/Parallels. This location can be changed while creating the VM if you select the Customize settings before installation option.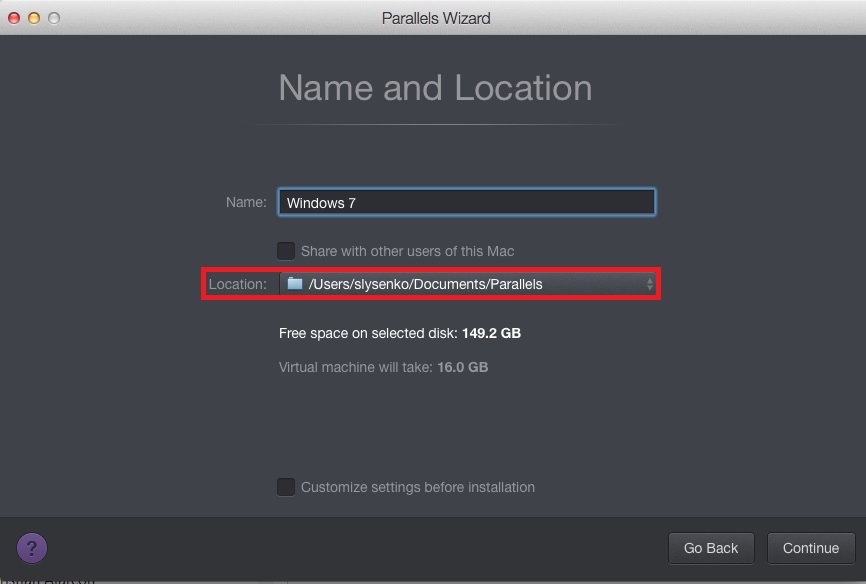 If you want to move an existing VM to a new location:
Shutdown Windows.
Open Finder and go to your VM location (see the pic above).
Copy the .pvm file and paste it to the new location (such as your external drive).
Double-click on the .pvm file in the new location to re-register your VM.
If you are using your external storage device only for storing your VM, make sure it's properly formatted to the Mac OS Extended (Journaled) format.
NOTE: If you choose to use an external storage device to store your VM, do not unplug it from your Mac while Windows is running. It can corrupt the VM.
Hope this trick helped you save some space! Have questions? Reach out to us on Twitter or comment below.
Need Microsoft Windows operating system? Buy directly below:
Need to run Windows on your Mac? Download our free 14-day trial.