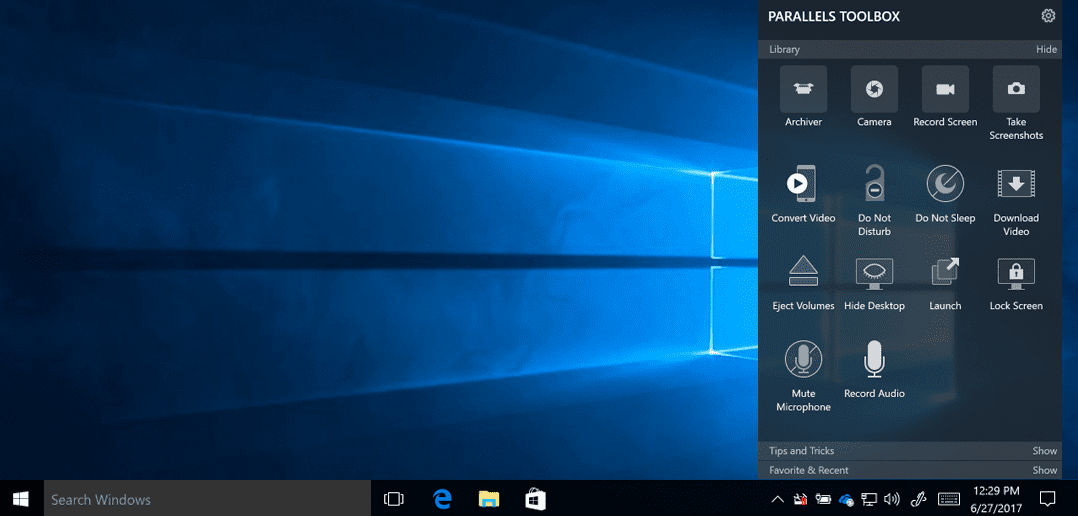 Parallels Toolbox for Windows – Now available
---
Today, we launched Parallels Toolbox for Windows for the first time ever to streamline common computing tasks.
"Parallels Toolbox for Mac received an outstanding response after its initial launch last August, so we decided to bring these time-saving benefits to Windows users," said Jack Zubarev, Parallels president. "Now, whether you use a PC or Mac, you can simply and quickly get tasks done on either platform."
Parallels Toolbox for Windows is a go-to resource for accomplishing daily tasks, at a lower price than even a single competitive utility. Tools include the ability to easily download and convert YouTube videos, take specialized screenshots, block your computer's built-in camera and record a video of your screen. Everyone from computer newbies to business pros can save time and effort by using this well-designed set of tools.
Parallels Toolbox for Windows:
Archive: Create compressed archives from your files to save space or easily share files
Block Camera: Block the built-in camera so applications will no longer have access to it
Capture Area: Take a screenshot of a part of the screen
Capture Screen: Take a screenshot of the entire screen and save in different formats (PNG, JPEG, TIFF, PDF and GIF)
Capture Window: Take a screenshot of a single window
Convert Video: Convert many video types to MP4 so they can be played on phones and tablets
Do Not Disturb: Disable notifications and animations that would interrupt your work or presentation
Do Not Sleep: Prevent the computer from going to sleep
Download Video: Download video from the Internet to the computer
Eject Volumes: Eject all external hard drives, memory cards, network volumes and mounted disk images with one click
Hide Desktop: Hide icons on the desktop for clutter-free presentations
Lock Screen: Lock screen to prevent unauthorized access
Launch: Open several items—such as applications, folders, links or other files—all at once with just one click
Mute Microphone: Mute the computer's microphone
Record Area: Record video from a selected area on the screen
Record Audio: Record audio from the microphone
Record Screen: Record video of the entire screen
Record Window: Record video from a single window
Take Photo: Take photos immediately using the PC's camera
Take Video: Immediately use the computer camera to take video with the click of a button
Unarchive: Unpack various file compression formats—such as RAR, RPM, XAR, and Z—so you can use the files
Free trials of Parallels Toolbox for Windows 1.0, as well as Parallels Toolbox for Mac 1.7, are available online today.