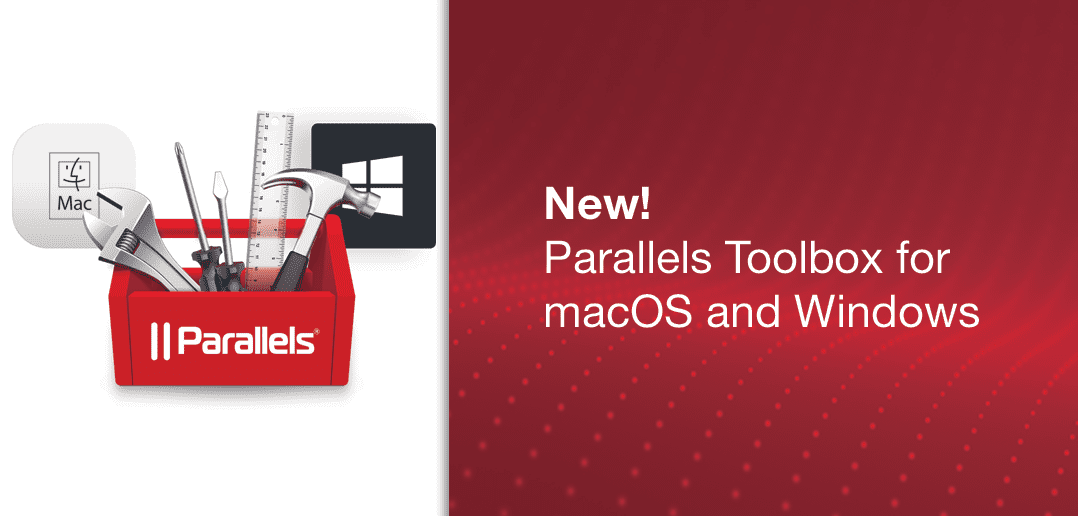 Essential macOS tools and Windows tools with Parallels Toolbox
---
Save precious time with one-click.
We're excited to introduce our latest release of Parallels Toolbox.
Parallels Toolbox for Mac or Parallels Toolbox for Windows is the perfect Swiss Army knife to help optimize your workday with easy-to-use tools. It's another step in the Parallels master plan to ensure both macOS® and Windows users have every tool they need to get their job done. 
Whether you're a creative individual, a small business owner, or a developer (maybe even all three), there's a tool in Parallels Toolbox for your ever-changing needs!
Download a free 7-day trial of Parallels Toolbox for macOS or Windows.
Ensure you're equipped with the right tools for any job—purchase the entire suite of Parallels Toolbox with 30+ tools for only US$19.99 per year. During your subscription, we'll regularly add new tools to the suite so you have the very best tools of the trade! 
Let's explore the intuitive tools included and the buying options that we've specifically designed with our users in mind.
Here are the tools included with the full suite of Parallels Toolbox for $19.99 per year:

Visit the Parallels Toolbox webpage
We've listened to valuable feedback from Parallels Toolbox users, who have graciously outlined their favorite tools: 
Download Video tops the list of users' favorite tool in the Parallels Toolbox suite, making it simple to save your favorite videos from the Internet for later use. Easily download your favorite videos from YouTube, Facebook, Vimeo, and more with one click. You can download multiple videos simultaneously at a high quality (up to 1080p). Perfect for students, entrepreneurs, and on-the-go business executives who want to be able to watch videos anywhere, at any time.
Our wide spectrum of users also enjoys the Record Screen tool. Record Screen allows you to easily record what's happening on your computer for training purposes, vlogging, or even to create dynamic content. Quickly record a video of an area, window, or your entire screen.
Another favorite tool, Do Not Sleep prevents your computer from going to sleep and your display from dimming. Ensure a task or presentation won't be interrupted by disabling settings that would allow the computer to go to sleep. This helps users ensure the computer will remain active and accessible. Also, this tool is immensely helpful during backups, software updates, or media management, such as converting or uploading.  
These are just three of our users' favorite tools included in Parallels Toolbox. We've created a tool for every occasion with over 30+ helpful tools in one sleek interface for both Mac® and Windows users. Parallels Toolbox has proven to be easy to use and economical. It endlessly empowers users with seamless integration with macOS or Windows to problem-solve throughout your workday. To recap, you can buy the entire Parallels Toolbox suite with over 30+ helpful tools mentioned above for only $19.99 per year, or try a free 7-day trial for macOS or Windows.
FAQs about Parallels Toolbox for macOS or Windows
Q: If I buy a subscription, will I get new tools later?
A: Yes, absolutely! You'll just need to make sure your Parallels Toolbox version is up to date with the latest version, and you'll have instant access to the newest tools for macOS or PC.
Q: How often should I expect to see new tools added to Parallels Toolbox?
A: Our engineers work endlessly to provide new tools. On average, we add around 5–10 tools per year. Stay up to date with the updates offered in product to ensure you have all the latest tools available to use as soon as they come out.
Q: Are all these tools easy to use?
A: Our users are blown away by how easy it is to use the tools in Parallels Toolbox. One-click problem-solving for your disk, productivity, or to create dynamic content. We have a 7-day trial for you to try for yourself.