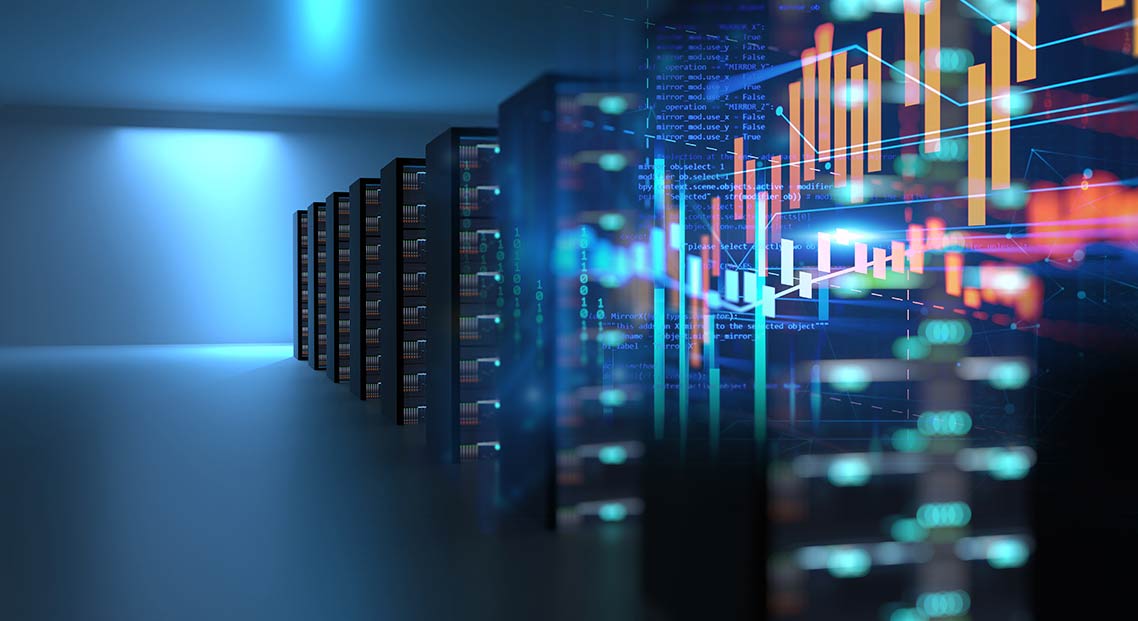 How to Deploy Parallels RAS from the AWS Marketplace
Amazon Web Services (AWS) provides a complete set of compute services, allowing organizations to distribute, execute and scale applications or workloads using Amazon's cloud-computing platform. One of these services is Amazon Elastic Compute Cloud (EC2), which allows customers to deploy and run virtual machines to host any product or software. This article provides a step-by-step guide to deploy Parallels® Remote Application Server (RAS) from the AWS marketplace.
What is AWS Marketplace?
Qualified partners can promote and sell their applications to AWS Customers through the AWS Marketplace. Customers may search, purchase, and instantly begin utilizing software and services that are powered by AWS via the AWS Marketplace, an online software marketplace.
Independent Software Vendors (ISVs), Systems Integrators (SIs), and Value-Added Resellers (VARs) that have software solutions they want to provide to clients in the cloud can do so through the AWS Marketplace. Partners may provide their software solutions to clients all across the world and get up and running quickly using AWS Marketplace.
Deploying Parallels RAS from AWS Marketplace
Utilizing the prebuilt AWS Marketplace Virtual Machine (VM) templates, a complete Parallels RAS installation can be deployed and configured following the steps shown below:
Step 1: Subscribe to Parallels RAS from AWS Marketplace
Log in to https://aws.amazon.com/ with your organizational account, navigate to the AWS Marketplace, and search for Parallels RAS. You can also use this link. On this page, you can find a product overview, what is included (e.g., Parallels RAS trial) and the pricing information to estimate infrastructure costs depending on the selected EC2 instance type and region.
Click on the Continue to Subscribe button.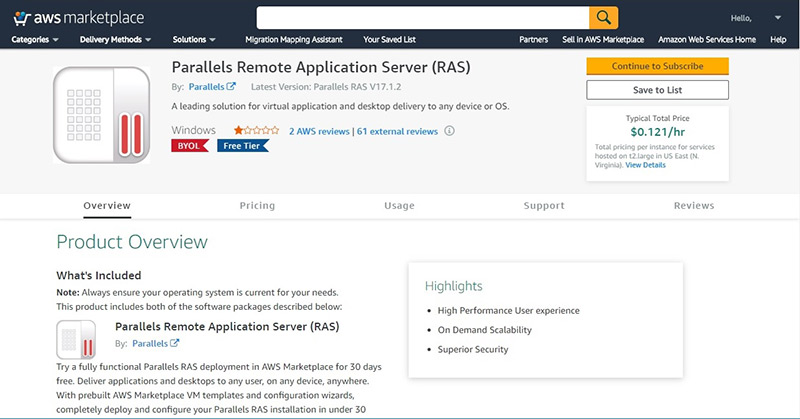 Next, click on Accept Terms.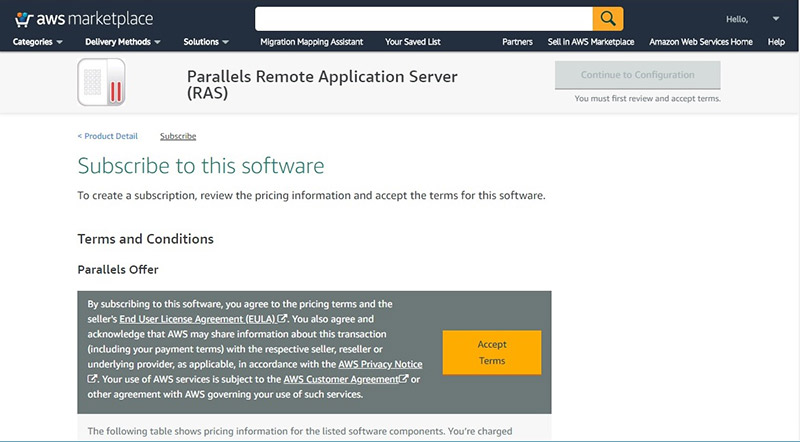 Step 2: Configure and Deploy the Virtual Machine from AWS Marketplace
Once the subscription on AWS marketplace for Parallels RAS is confirmed, click on the Continue to Configuration button.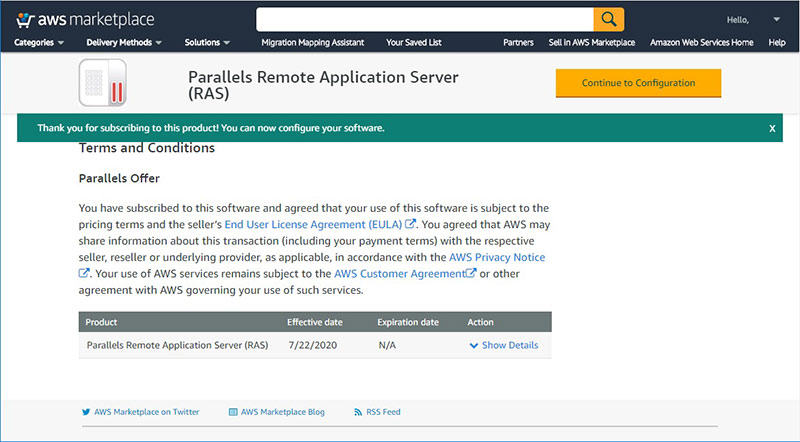 Leave Delivery Method and Software Version set to the default values, choose the AWS Region where you want to deploy the virtual machine, and then click on Continue to Launch.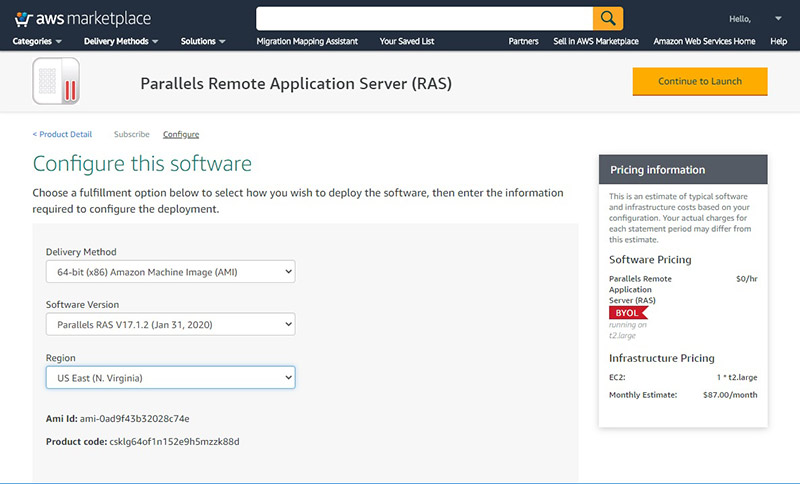 On the following screen, choose the EC2 Instance Type, VPC Settings, Subnet Settings, Security Group Settings and Key Pair Settings according to your setup requirements. If you create a new key pair, it is extremely important to save the private key file to be able to retrieve your administrator credentials later.
Next, click on the Launch button.
The virtual machine creation procedure can be monitored from the EC2 Dashboard. Once the virtual machine deployment finishes, check its public IP address and acquire the administrator password. The private key file that was used during the configuration process will be necessary.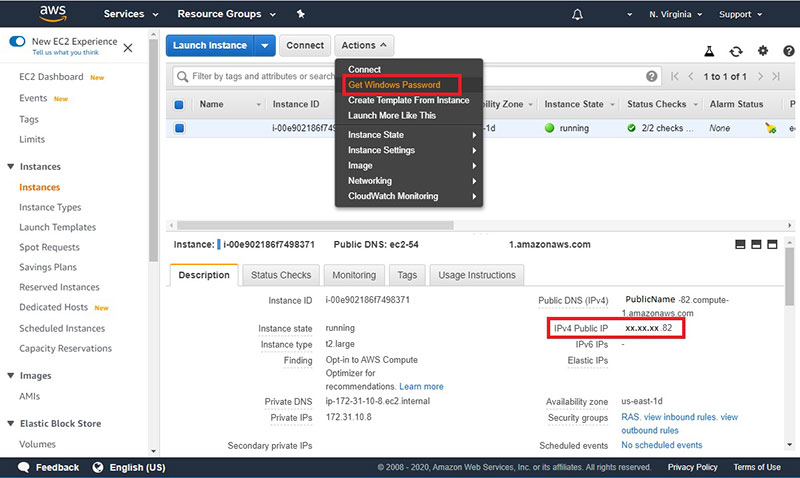 Step 3: Finish Parallels RAS Installation
Open a Remote Desktop Protocol (RDP) connection to the server using the public IP address and the administrator credentials. A PowerShell script will ask for the administrator password in order to complete the installation process. When the deployment finishes, the RAS Console will open. Enter your credentials and click on the Connect button. Make sure that you connect using the administrator password (more information is provided in the Windows Desktop image).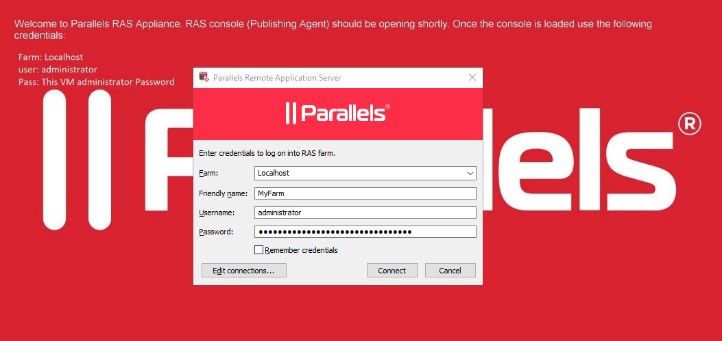 A Parallels RAS setup has now been deployed from AWS marketplace with the following features:
RAS Publishing Agent, RAS Secure Client Gateway and RAS Remote Desktop (RD) Session Host Agent are installed on the server.
Different sample applications are published: Calculator, Paint, WordPad and Google Chrome.
HTML5 access is enabled and configured.
Built-in features, such as universal printing, are enabled.
Step 4: Test Published Applications
To test any of the published resources, open an HTML5-compatible browser, and enter https://** Public DNS **/RASHTML5Gateway in the address bar. The Public DNS value can be found under the Instance "Description" tab.
Enter your user credentials, and then click on the Login button.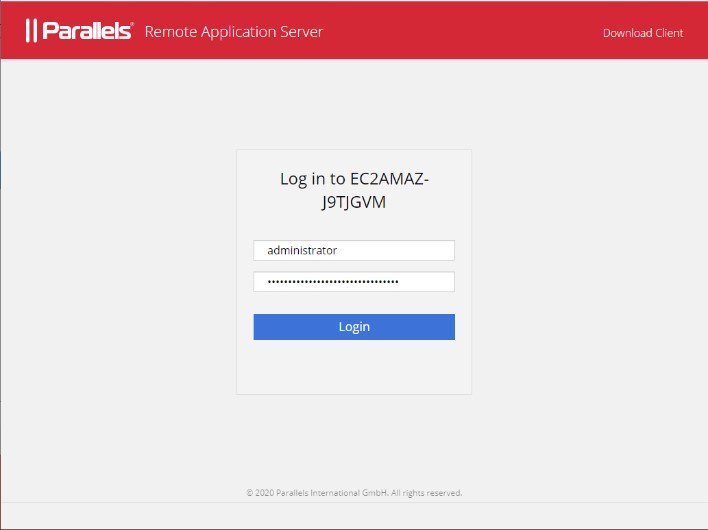 To open a published resource, simply double-click on the application or desktop icon.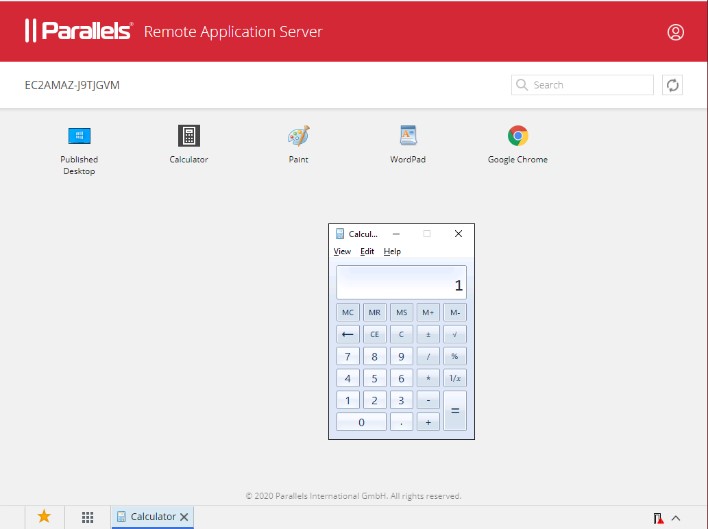 Parallels RAS on AWS Marketplace
Many companies decide to move their services to the cloud for daily use or certain disaster recovery scenarios. Parallels RAS can be deployed flexibly in hybrid and cloud scenarios, thus opening up many different possibilities when moving virtualization solutions to the cloud. The AWS Free Tier combined with the prebuilt Parallels RAS Virtual Machine template (30 days free) is a highly recommended trial option for administrators who test virtualization solutions.
As has been shown above, a completely operational Parallels RAS setup can be deployed over AWS marketplace or Alibaba Cloud within minutes. The compatibility of Parallels RAS with different Cloud Service Providers, along with its easy installation and configuration, provides companies a simple and secure way to deliver virtual applications and desktops efficiently to any device from any location.
The Parallels RAS PowerShell Software Development Kit (SDK) provides automation capabilities, increasing compatibility with the AWS cloud. Administrators can manage and configure the Parallels RAS farms from the command line, automating different tasks such as machine provisioning to best optimize resource usage.
Amazon AWS meets stringent security requirements, providing several built-in security benefits including data and infrastructure protection, identity and access management, threat detection and continuous monitoring. These features, when combined with Parallels RAS client management and restriction settings, granular permission capabilities, and multi-factor authentication, facilitate organizations to build compliant virtualization solutions. These virtualization solutions comply strictly with current security legislation such as the Health Insurance Portability and Accountability Act (HIPAA) and the Payment Card Industry Data Security Standard (PCI DSS).
Give Parallels RAS a shot with a 30-day free trial!