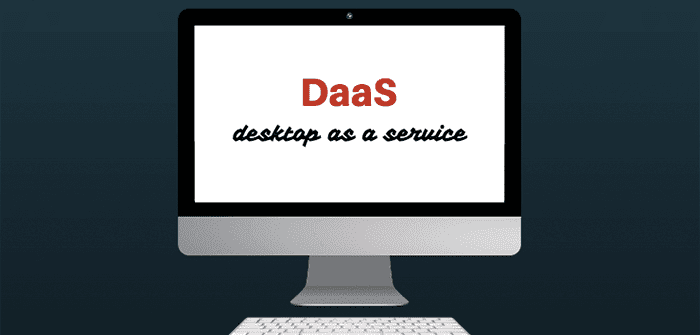 Desktop as a Service, what is it and why use it? | Parallels
What is Desktop as a Service?
Desktop-as-a-Service (DaaS) is a model of virtual desktop infrastructure (VDI) that is outsourced and managed by a third-party provider. Described also as hosted desktop services, DaaS is generally delivered as a cloud service along with the applications needed.
How does Desktop as a Service work?
A DaaS provider typically manages storage, security, and backups, as well as upgrades for the DaaS service and established applications. Some of the more well-known DaaS providers include Amazon Web Services (AWS), Desktone (a VMware company), and more.
Typically, the end user's data is copied to and from their virtual desktop during logon and logoff, and access to the desktop is possible from any device and any location.
Which types of organizations could use Desktop as a Service?
DaaS architecture is created for multi-tenancy—and organizations purchase the service through a subscription model—usually based on the number of virtual desktop instances required per month.
DaaS is typically suitable for small- and medium-sized businesses (SMEs). It makes sense for companies that require IT services but lack the funds for a full-time systems administrator.
Other types of organizations that can benefit from this technology include start-ups, businesses with seasonal employees, or companies with a large number of remote users. From the scalability prospect, as the number of users increases, so does the complexity of IT needs. Suddenly, you need newer hardware, more memory, more processors, various applications for various departments, and so on. DaaS enables these businesses to scale up or down on demand.
Another sector is companies running legacy operating systems like Windows XP. To avoid the direct upgrade capital expenditure of their PCs to run a current OS, they can serve Windows 7, 8, or 10 from the cloud on their XP machines and use them as thin clients.
Parallels RAS and DaaS
Parallels RAS fully supports on-premises and hybrid cloud, and organizations can leverage the several deployment models according to their needs and budget. Enable seamless access for users from any device and HTML5 browser, while keeping the security to a high standard, by choosing a DaaS provider.
For example, if an organization is on a medium scale, let's say, 100 ‒ 500 employees, then the budget to use a DaaS provider will be much less than buying or upgrading the workstations. In addition, DaaS will allow the users to work remotely which could benefit both the organization and the users.
On the other hand, if a service provider was to provide DaaS to its customers then Parallels RAS can be integrated to provide a seamless pay-as-you-go experience by automating the process through the REST API implemented in V17.
Download Parallels RAS today to provide or improve your DaaS experience for your users!
---
References
Webopedia | https://www.webopedia.com/TERM/D/desktop-as-a-service_daas.html
TechTarget | https://searchvirtualdesktop.techtarget.com/definition/desktop-as-a-service-DaaS
CMSwire | https://www.cmswire.com/information-management/what-is-daas-desktop-as-a-service/
Business.com | https://www.business.com/categories/best-desktop-as-a-service/
Cloudalize | https://www.cloudalize.com/desktop-as-a-service/