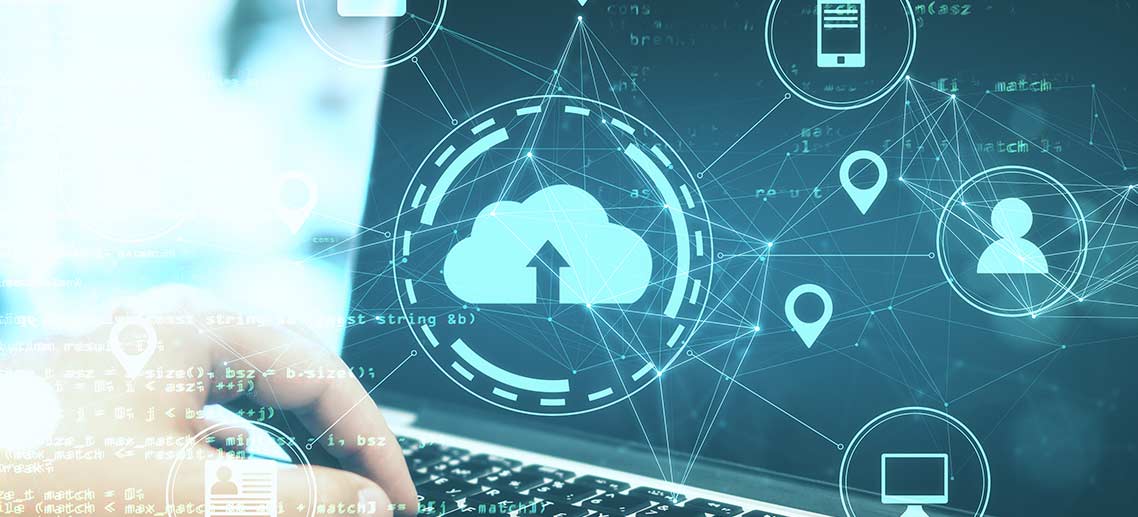 Understanding Desktop as a Service (DaaS)
Desktop as a Service, or DaaS, is a method of providing employees with a comprehensive virtual desktop solution via a hosted cloud environment. A third-party provider usually hosts and maintains it. DaaS is a model of virtual desktop infrastructure (VDI)  that is generally delivered as a cloud service along with the applications needed.
How Does Desktop as a Service Work?
DaaS is an approach where an organization operates its desktop computers entirely in the cloud. In this case, you pay a third-party cloud provider on an as-needed basis to host your organization's VDI, including virtual machines (VMs) that run desktop operating systems. The most common DaaS providers include Amazon WorkSpaces, VMware Horizon Cloud, and Citrix Managed Desktops.
Your employees, in turn, access their desktops through an internet connection using a browser. Some providers can, however, allow users to access DaaS services through secured apps downloaded on any endpoint device such as a desktop, laptop, thin client, or smartphone. From an operational perspective, DaaS provides the same benefits users get with VDI or any remote access technology.
However, you don't need to have a specialized team of IT admins to make DaaS work. The DaaS provider hosts and manages all the IT infrastructure, including the compute, storage, and network resources concerning deployment, maintenance, upgrades, security, and backups. While most DaaS services operate in the public cloud, you can also deploy Desktop as a Service in the private cloud.
In the private cloud arrangement, virtual desktops get housed in your data center where they are consumed. As with public cloud hosting, you'll still pay a subscription fee for the DaaS management to the private cloud vendor, even though virtual desktops and VMs are housed in your data center. Similarly, your employees will access their desktops from anywhere on any device via a web browser or any secured apps.
Why Use VDI Desktop as a Service?
Employees anticipate being able to access their work on any device, anyplace. Companies are also searching for a low-cost, straightforward solution to offer securely the desktops and apps users need to conduct their jobs. IT management issues affecting traditional PC systems range from straightforward employee password resets to intricate data security patches and updates. These can affect the user experience, reduce productivity, and eat up important time for IT managers.
Which Types of Organizations Use Desktop as a Service?
SMEs
DaaS is typically suitable for small-and-medium-sized businesses (SMEs). It makes sense for companies that require IT services but lack the funds for a full-time systems administrator. Organizations purchase the service through a subscription model—usually based on the number of virtual desktop instances required per month.
Start-Ups and Seasonal Workers
Other types of organizations that can benefit from this technology include start-ups, businesses with seasonal employees, or companies with a large number of remote users. From the scalability prospect, as the number of users increases, so does the complexity of IT needs. Suddenly, you need newer hardware, more memory, more processors, various applications for various departments, and so on. DaaS enables these businesses to scale up or down on demand.
Companies Running Legacy Operating Systems
Another sector is companies running legacy operating systems like Windows XP. To avoid the direct upgrade capital expenditure of their PCs to run a current OS, they can serve Windows 7, 8, or 10 from the cloud on their XP machines and use them as thin clients.
Limitations of DaaS
High-Speed Interaction Connection
DaaS has a number of drawbacks, one of which is that it necessitates a high-speed Internet connection. Most modern organizations have reliable access to high-performance Internet connections, so this isn't a significant impediment. However, if you run a unique type of business, such as one where staff are frequently stationed in remote locations without access to high-speed Internet, DaaS might not be right for you.
Staff Training
The second disadvantage of DaaS is that it necessitates training. Your staff will need to get acclimated to logging onto their PCs via the cloud, and they may need to learn a few new technologies to do so. Depending on whatever DaaS platform you use, determining how to deploy cloud desktops could be another downside of DaaS. You may not know how many vCPUs, memory, and other resources your staff need, making it difficult to choose the right cloud desktops.
Benefits of DaaS
Aside from the fact that data, applications, and other digital assets are managed by the DaaS provider, which already reduces administrative overhead, Desktop as a Service has several other business benefits.
Enables Anytime/Anywhere Access to Digital Assets
Because this benefit enables remote workers to accomplish tasks wherever they may be, it also increases productivity.
Improved Security
DaaS providers can leverage economies of scale to establish a more comprehensive cyber security program than most businesses. That's not all. Since digital assets are hosted by the DaaS provider, i.e. in a central location and not stored on end users' devices, those assets remain secure even if a device lands in the wrong hands.
Reduces CAPEX Considerably
DaaS desktops and applications have low system requirements that allow them to run on inexpensive thin clients or even old PCs/laptops. DaaS customers can even implement a bring-your-own-device (BYOD) program, enable employees to use their own devices, and, in turn, realize even greater savings on hardware.
Businesses Can Adopt Remote Work Practices
Eliminate costs for office space, electricity, air conditioning, and several other operational expenses.
Parallels RAS and DaaS
Parallels Remote Application Server (RAS) fully supports on-premises and hybrid cloud environments. Organizations can leverage several deployment models according to their needs and budget. Enable seamless access for users from any device and HTML5 browser, while keeping security to a high standard, by choosing a DaaS provider.
For example, if an organization is on a medium scale, let's say, 100 ‒ 500 employees, then the budget to use a DaaS provider will be much less than buying or upgrading the workstations. In addition, DaaS will allow the users to work remotely which could benefit both the organization and the users.
On the other hand, if a service provider was to provide DaaS to its customers then Parallels RAS can be integrated to provide a seamless pay-as-you-go experience by automating the process through REST API.
Parallels RAS also integrates with Microsoft's DaaS offering—Azure Virtual Desktop—whereby you can manage all workloads and resources from a centralized console. Parallels RAS deployments can be integrated with new or existing Azure Virtual Desktop deployments to provide end users with a single solution. Parallels RAS and Azure Virtual Desktop provide advanced management capabilities as well as access to applications and desktops hosted on VDI and RDSH, including Windows 10 Enterprise multi-session hosts.
Download Parallels RAS today to provide or improve your DaaS experience for your users!
Growth Opportunities for MSPs, ISVs, VARs and SIs in the Post-Pandemic Era
The Road from VAR to MSP: How to Successfully Transition from One-Off to Recurring Revenue