Device as a Service (DaaS): A Flexible Approach to Procure and Manage Your Hardware Infrastructure
Device as a Service (DaaS) eases the IT needs of an organization by bundling hardware with software and other services and offering it to the company as a service. But what exactly is Device as a Service? And what benefits does it provide for organizations that opt for it? Learn more in this post.
Definition of Device as a Service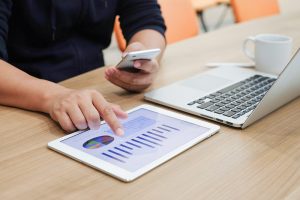 A device as a Service—also called PC as a Service (PCaaS)—is the offering of hardware devices such as PCs, smartphones and software as a paid service. In the same way you're used to buying software as a service on subscription-based pricing, you can now purchase bundled hardware and software as a subscription service instead of paying an upfront lump-sum fee.
But DaaS is more than just leasing of hardware and software as a paid subscription service. Based on the provider and the package you select, DaaS may also provide extra services. Some of these services include security and compliance reporting, inventory monitoring, network analytics, remote device management, and software updates, among others.
In other words, DaaS is not just the leasing of hardware and software—it's a complete IT management package. Although Device as a Service shares an acronym (DaaS) with Desktop as a Service, they are different. In Device as a Service, you lease the physical hardware and software as a paid subscription service. Desktop as a Service, in contrast, is a cloud-based offering where a third party hosts your Virtual Desktop Infrastructure (VDI) deployments as a paid service.
HP and Microsoft are two major DaaS vendors. HP's DaaS option (popularly called HP DaaS) offers many device options ranging from desktops to laptops and other mobile devices. HP has also expanded into devices that are outside of its niche such as Apple Macs, iPads and iPhones.
Microsoft, on the other hand, dubs its DaaS initiative Surface as a Service (SaaS). This service bundles Microsoft's proprietary software such as Windows 10, Office 365 and Teams on its Surface Book and offers it to organizations as a paid subscription service.
On top of its SaaS initiative, Microsoft has now introduced the new Device as a Service model that will be useful for making Microsoft Teams conference calls. Among the Teams devices (namely Team Displays, Affordable Phones, Teams Phones, and USB Phones), Team Phones has been on the market since 2018.  However, all of the new, as well as the existing devices, will have features like enterprise-grade security, sidecar support, and new devices. Teams USB Phone plugs to a PC or docking station for Teams meetings, Affordable Phones have dedicated Teams buttons, and there is a new payments portal called "Device as a Service" that you can use to buy these services.  
Benefits of Device as a Service
The DaaS model provides organizations with greater agility and lower costs. This can free an organization and allow it to focus on tasks that go far beyond the day-to-day management of devices. Below are some advantages of the DaaS model:
It reduces the total cost of ownership (TCO) of the hardware life cycle: By wrapping hardware, software and lifecycle services into a single package and offering it as paid service, DaaS shifts costs from capital expenditures (CAPEX) to operational expenditures (OPEX), potentially reducing TCO. Because of the subscription-based pricing for the entire hardware lifecycle, your CFO understands exactly what costs to expect. This results in greater efficiencies when it comes to budgeting and hardware refreshes.
It eliminates the end-of-life (EOL) challenges: When vendors announce EOL either for hardware or software, an organization must re-evaluate its IT infrastructure, especially for business-critical applications. In doing so, an organization can end up generating many points of failure that jeopardize its bottom line. With DaaS, the costs and responsibility of secure device disposal shift from the organization to the provider.
It increases device choice among employees: With DaaS, an organization can tailor the devices and accessories it deems fit for the unique needs of its employees. For example, some employees may prefer to use desktops for office work, while others may prefer tablets for mobility purposes.
It increases productivity: DaaS simplifies device management across all its lifecycle, including procuring, provisioning, managing, support and maintenance. This allows an organization to refocus from supporting devices to driving business productivity.
It simplifies the management of software updates and patches: Outdated software is a major attack vector in an organization. An organization may have competing priorities when it comes to patching or updating software, potentially compromising its assets. With DaaS, the provider takes up the responsibility of patching and updating software, freeing an organization to focus on its core business.
It increases flexibility: Unlike traditional IT infrastructures, the DaaS model allows organizations to ramp the number of devices up or down as the need arises. Besides, the DaaS model promotes multiple device models and configurations, potentially enriching employees' experience and productivity.
Use of Device as a Service
Organizations can leverage DaaS for many use cases, including mitigating cybersecurity vulnerabilities, working remotely, streamlining technology deployment and minimizing IT workforces.
Tackling cybersecurity vulnerabilities
Securing IT assets is almost untenable using current technologies. In most cases, IT administrators get overwhelmed with daily security routines, which makes it difficult to keep the latest cyberattacks and malware away. However, by changing device procurement and management to DaaS, organizations can ensure that their machines have the latest software patches and updates.
Also, DaaS providers continuously monitor the hardware. As such, organizations have access to one of the most efficient means available to enhance assets' security instances. Additionally, DaaS deploys a consistent set of protocols across all the endpoints. With DaaS providers managing all the IT infrastructure, security gets the attention that it deserves.
Working remotely
Providing devices to employees, including PCs, laptops and tablets, is usually the first step for organizations that opt for remote working. For organizations with tight budgets, DaaS is a compelling argument.
Organizations don't pay upfront fees for devices they need, as this is done flexibly in a pay-as-you-go model. In addition, the process of onboarding new employees is faster.
Streamlining the deployment and testing cycles
Employees are not in charge of the technology that gets built. However, they decide whether that technology ultimately gets accepted and deployed in an organization or not. In this regard, employees expect to get the same level of service and experience from the technology in their work as they do in their personal lives.
The pay-as-you-go model, which is a consumption-based model of pricing, is the best alternative for companies wishing to deploy new technologies because employees are willing (and encouraged to) to try the technology before they adopt it. By leveraging DaaS, organizations pay less up front to start testing the technology immediately.
Downsizing IT workforce
Companies that struggle with understaffed IT administration can benefit greatly from the Device as a Service model. With DaaS, organizations do not need the same level of IT expertise and experience they would with traditional IT infrastructures. Besides, organizations don't need a lot of time to set up DaaS, meaning there is less strain on the internal IT administrators.
Device as a Service and Parallels
Chromebooks got off to a slow start when they launched in the early 2010s. But now, they have gained ground as more businesses realize their benefits. Chromebooks are portable, easy to use and cloud-ready. This makes them a perfect choice for organizations that want classroom and work-from-home-ready devices.
With the Chromebook DaaS offering, businesses can unlock even more opportunities. IT administrators can gain access to Chromebook insights and support options to offload many daily routine tasks such as setting security policies. If you're a reseller or a DaaS provider, Parallels® can be your go-to partner.
Parallels has desktop virtualization delivery solutions including Parallels® Remote Application Server (RAS) and Parallels® Desktop for Chromebook Enterprise. By bundling Parallels RAS and Parallels Desktop for Chromebook Enterprise, you'll not only enhance customer experience with a better desktop virtualization option but also achieve your business bottom line.
Parallels RAS is a complete, cross-platform desktop virtualization solution that delivers Windows applications and desktops to multiple devices, including PCs, smartphones and any HTML5-compliant browser. Parallels Desktop for Chromebook Enterprise is a customized solution allowing full-featured Windows applications and desktops to run on Chrome devices running the Enterprise OS edition.
Parallels Desktop for Chromebook Enterprise takes remote work and remote learning to great new heights. Parallels RAS and Parallels Desktop for Chromebook Enterprise allow employees or students to access their applications and desktops from the device of their choice, regardless of location. This not only improves productivity but also enhances the customer experience.
Additionally, Parallels RAS and Parallels Desktop for Chromebook Enterprise streamline security administration tasks through centralization. As such, IT administrators can easily monitor and restrict access to data for employees or students, whether on-premises or off-premises. With Parallels RAS and Parallels Desktop for Chromebook Enterprise, DaaS providers can explore hitherto untapped markets.
Expand your DaaS portfolio by downloading a 30-day Parallels RAS trial today!
---
References