What is Software as a Service (SaaS)? | Parallels Answers
What is software as a service – Software as a Service (SaaS) is a popular type of cloud computing software available over the Internet with a subscription-based pricing model. It is also known as web-based software, hosted software, or on-demand software. The SaaS model eliminates the need for businesses to install or manage the software at an office location. While the application is hosted at a central location, businesses can easily access that software via the Internet using any device, anytime and from any location. Facebook, Gmail, Twitter, YouTube, and Yahoo are some popular examples of SaaS-based applications widely used by people today.
What is Software as a Service – The State of Art
The SaaS market is steadily on the rise. According to Gartner, the total public cloud market revenue for 2015 was $175 billion, while SaaS alone accounted for $31.4 billion. It is expected to grow at a rate of 20.3% to generate $37.7 billion in 2016. Another analyst firm, IDC, predicts that Software as a Service will surpass $112.8 billion by 2019, with SaaS accounting for $1 of every $4.59 spent on software. According to TMR, SaaS is expected to grow at a CAGR of 27.9% between 2015 and 2022.
Why SaaS?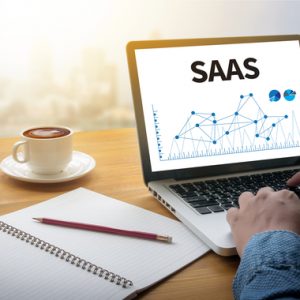 SaaS offers significant benefits for organizations. Firstly, organizations don't need an initial investment for hardware, as the processing power is supplied by the cloud provider. Likewise, there are no initial setup costs. The scalability features allow you to scale up resources on demand. You can provide privilege-based access by customizing settings. You don't have to worry about updates or patches, and maintenance is handled by the cloud provider. As the applications are centrally hosted and remotely delivered to devices, you can access resources from any location and at any time. Most importantly, you can use any device to access resources. In addition, SaaS applications are cross-device compatible. The right SaaS solution means you can publish Windows applications on Android or iOS devices.
What is Software as a Service – Architecture and Pricing
Most Software as a Service offerings are based on multi-tenant architecture. A single version of the application that is run on a single configuration is published to multiple remote devices. Upgrade and maintenance of the software is handled by the cloud provider. SaaS products fall into two categories. Vertical SaaS provides software to a specific vertical such as manufacturing, education, or healthcare, and horizontal SaaS caters to a specific department such as marketing or accounting regardless of the vertical. SaaS products are mostly subscription-based, monthly or annual. Upfront costs are minimal. Customers only pay for the usage per event, transaction, or number of users.
In a traditional software environment, organizations have to purchase the software with a perpetual license and install it on every machine. The upfront costs are substantial. Every time an update is released, IT administrators have to update every machine. When the network contains multiple devices with multiple OSes, it becomes a tough challenge to manage the network. Long-term planning and commitment of resources is needed for scaling. SaaS combined with application delivery provides an easy way to overcome all these challenges.
With SaaS, Independent Service Vendors (ISVs) have an opportunity to make applications available to multiple devices and platforms. However, this would normally mean coding the application natively for each device or developing responsive web apps. SaaS and application delivery simplify this by publishing Windows applications across multiple devices.  As there is only one instance, IT management is simplified while revenues are increased.
Moving from On-premises to SaaS
While SaaS is a good option for organizations and ISVs, there are certain challenges businesses face when transitioning to the cloud. For instance, when independent developers or ISVs want to transform their on-premises application into a Software as a Service offering, they have to refactor or rewrite it for mobile and cloud users. When millions of lines of code are involved, it becomes an expensive and time-consuming procedure. Moreover, the entire business approach has to be transformed. You have to make it a multi-tenant product and track and manage the usage as well. The complexity and costs involved in this process need to be considered..
Make a Smooth Transition to the Cloud with Parallels RAS
Parallels Remote Application Server (RAS) is a comprehensive application delivery solution that enables businesses to deliver line-of-business Windows applications to employees or customers as SaaS on any device. With this solution, you don't have to refactor or rewrite your software; any application can be virtualized and published to any device easily. Parallels RAS is easy to deploy and use while remaining significantly cost-effective. Any Windows application can be transformed into a web application with just a few clicks.
To help you make a smooth transition to the cloud, Parallels offers the Parallels Independent Software Vendor program that guides you through the process. Parallels team of experts works closely with you to help you build the best server and network architecture. From building and maintaining server infrastructure to working with various support and operations teams, the ISV program guides you in every aspect. You can instantly take any application mobile without interrupting the software development cycle.  By moving to a Software as a Service model that has low entry costs, ISVs can attract new customers and build recurring revenue streams. Because Parallels Remote Application Server (RAS) is significantly cost-effective, you can optimize resources to the core to increase margins.
So what are you waiting for???
Check out the Parallels ISV Partner program, or start a Parallels Remote Application Server free trial today!
---
References
What is Software as a Service: Software as a service | en.wikipedia.org
https://en.wikipedia.org/wiki/Software_as_a_service
What is Software as a Service: Software as a service (SaaS) | searchcloudcomputing.techtarget.com
http://searchcloudcomputing.techtarget.com/definition/Software-as-a-Service
What is Software as a Service: SaaS – Software As A Service | gartner.com
http://www.gartner.com/it-glossary/software-as-a-service-saas/
What is Software as a Service: SaaS Market Size Forecast | ironpaper.com
http://www.ironpaper.com/webintel/articles/saas-market-size-forecast/
What is Software as a Service: What is SaaS? | techopedia.com
https://www.techopedia.com/definition/155/software-as-a-service-saas