Windows on iPad | 3 Reasons Businesses Need This Capability
Windows on iPad? Parallels RAS can do it!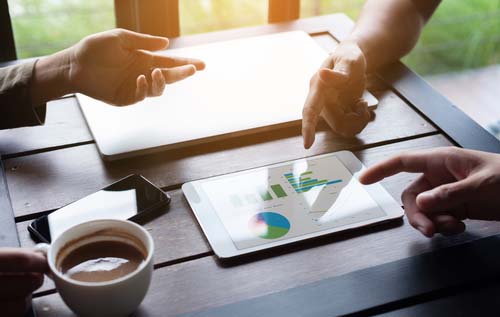 You can quickly run Windows applications and desktops on an iOS iPad through Parallels Remote Application Server (RAS). Not only does that capability sound cool from a consumer standpoint, but it's also something that's going to be useful in a business scenario. Here are 3 good reasons why you would want to have the ability to run Windows on your employees' iPads:
1. The iPad is the most widely used tablet in the enterprise arena
In 2018, the file-sharing company Egnyte released some interesting data regarding device usage in the enterprise arena. While Windows unsurprisingly still dominated desktops in the business environment, what came out as the undisputed leader in mobile devices was iOS. A whopping 79% of mobile devices used in businesses were found to be iPhones and iPads.
The iPad Air 2 was included in the top 5 most used hardware. The other devices that made it to the top 5 were the iPhone 7, iPhone 6S, iPhone 7 Plus, and iPhone 6. The growing presence of mobile devices in the enterprise arena is obviously due to the steady rise in BYOD (Bring Your Own Device) adoption. As more companies embrace the BYOD movement, more iPads are going to make it into the workplace.
2. Almost all employees use MS Office
In a survey conducted by Spiceworks, results showed that 83% of enterprises were using some version of MS Office in their businesses. The sheer popularity of Microsoft's suite of office applications is enough reason to want to run Windows on any device, including iPads.
When companies and employees adopt practices like BYOD, one of the reasons is to improve productivity. As most business documents, letters, reports, presentations, and spreadsheets are created on Microsoft Office applications, like Word, PowerPoint, and Excel, the desire to run these applications on mobile devices, especially those with a large screen like the iPad, is tremendous.
3. Most Line-of-Business applications run on Windows
Your employees' dependence on MS Office applications isn't the only reason why you would want to run Windows on their iPads. Being the most widely used operating system in desktop machines, Windows is also easily the platform most Line-of-Business (LOB) applications run on top of.
Employees who frequently interface with these business-critical applications will want these applications to be easily accessible wherever they go and on whichever device they were using. This would naturally include the most popular tablet for business use — the iPad.
iPads can replace laptops as your employees' go-to device
With performance exceeding most laptops, combined with its much more portable form factor, it won't be surprising if some workers — especially those who are usually on-the-go — would prefer iPads over a regular laptop as their go-to device. The enterprise capabilities of iPads are expected to improve even more with the arrival of its new operating system, iPadOS, which was explicitly architected for it.
Parallels RAS enables Windows on iPads
As mentioned earlier, Parallels RAS makes it easy to run Windows on an iPad. But what's even better is that Parallels RAS is ideal for business environments. Because it delivers Windows virtual desktops from a central server(s), it eliminates risk on your employees' iPads while simplifying device administration for your IT department.
If you'd like to try running Windows on an iPad using Parallels RAS, download a free trial today.
---
References
9To5Mac | https://9to5mac.com/2018/09/04/ios-dominating-business-use/
TechRepublic | https://www.techrepublic.com/article/83-of-enterprises-use-microsoft-office-but-there-is-danger-lurking-in-that-huge-number/
Tom's Guide | https://www.tomsguide.com/us/new-ipad-pro-benchmarks,news-28453.html
Apple | https://www.apple.com/ipad/
Apple | https://www.apple.com/ph/ipados/ipados-preview/features/