Three Tips for Reviewing Documents
---
I am often asked to review draft documents of various types: PowerPoint presentations, blog posts, web pages, and even entire books. The tools I use depend on the document type and its length. Here are some tips that may help you with similar tasks.
1. Short, or mainly text documents 
For short documents that are only a page or two in length, I tend to use the Reviewing tools built into Microsoft Office. Both Office for Windows and Office for Mac have these tools, and they are essentially the same in the two suites, and interchangeable. See Figure 1.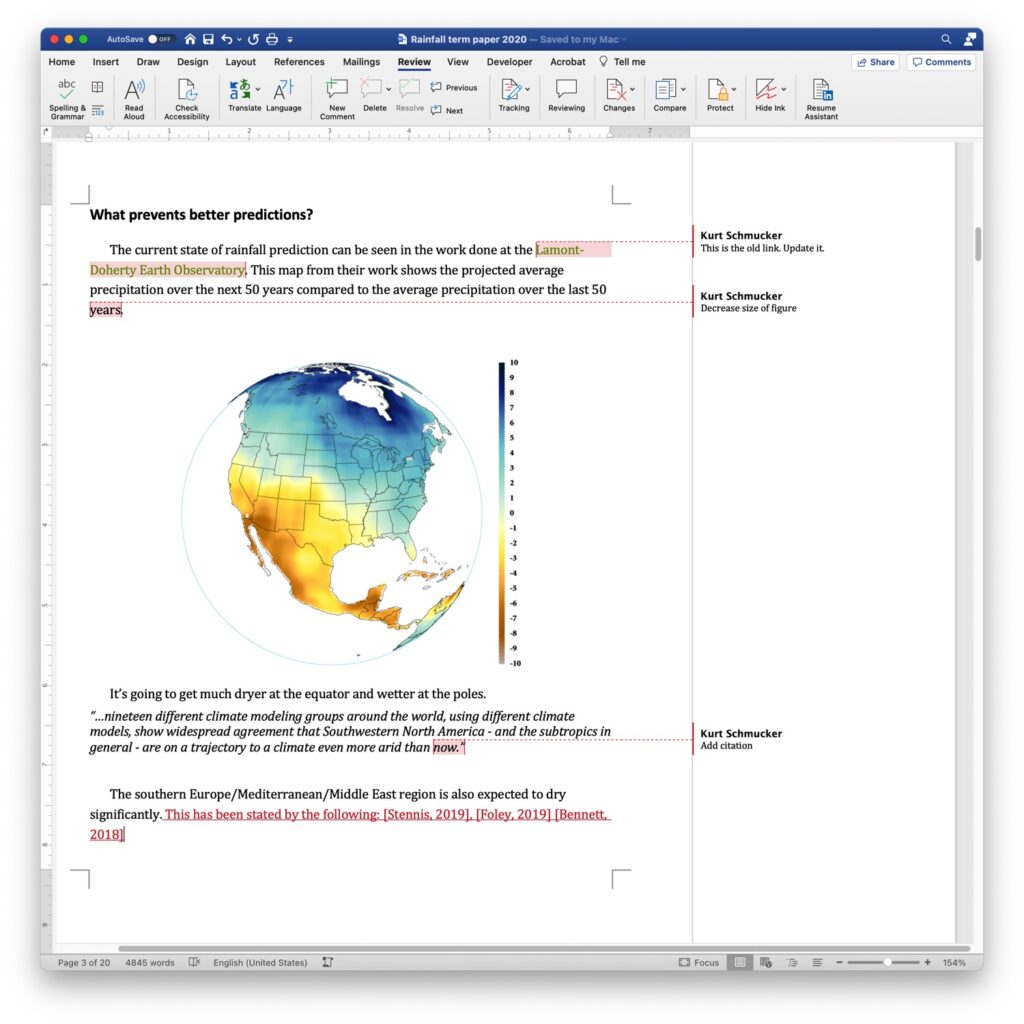 2. Web pages 
In my experience, the review of web pages is a more complex task, requiring review of text, the graphics used, the arrangement of the text and graphics, and the user interaction with the page.
For me, the best way to accomplish this is to mark up the pages. With everyone working at home nowadays, this has to be completely electronic, so I create a PDF of the page(s) and mark them up with a tool like PDF Expert on my iPad. Using an Apple Pencil on a large screen iPad makes this task very natural, and as you can see in Figure 2, the result is easy for the person reading my review to quickly understand my comments.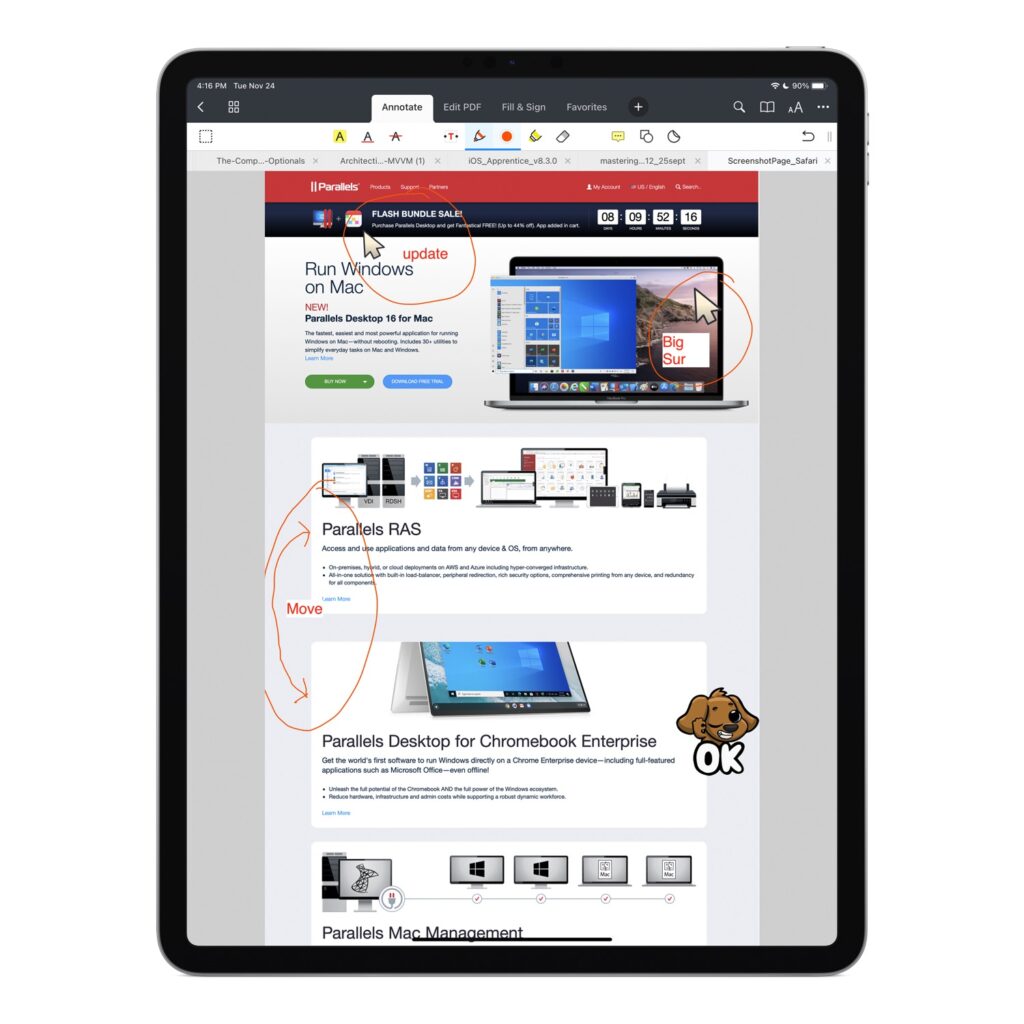 Of course, to even start this task, you have to convert the web page(s) to a PDF file. Luckily, there are some great tools with which to do this. 
If I want to review the web page as it is rendered in Safari, Parallels® Toolbox includes a tool, Screenshot Page, which converts even a really long web page into a single PDF. 
If I want to review the web page as it is rendered in Microsoft Edge, there are free Edge extensions that perform this PDF conversion either on the Mac or in Windows. (Parallels Toolbox for Windows does not have a Screenshot Page tool.)
Video 1 shows a web page conversion from Safari using the Screenshot Page tool, and a web page conversion from Microsoft Edge on Windows using the Full Page Screenshot Edge extension. 
Microsoft is reportedly adding a web page capture feature directly in Edge, but this feature is still in beta and not yet ready to use or review.
3. Presentations 
Presentations can consist of many pages, but almost always the individual pages are a size that displays comfortably on a Mac or an iPad – unlike web pages which can often be quite long. For presentations, I prefer to mark up the draft with a stylus and the ink feature built into PowerPoint (Figure 3).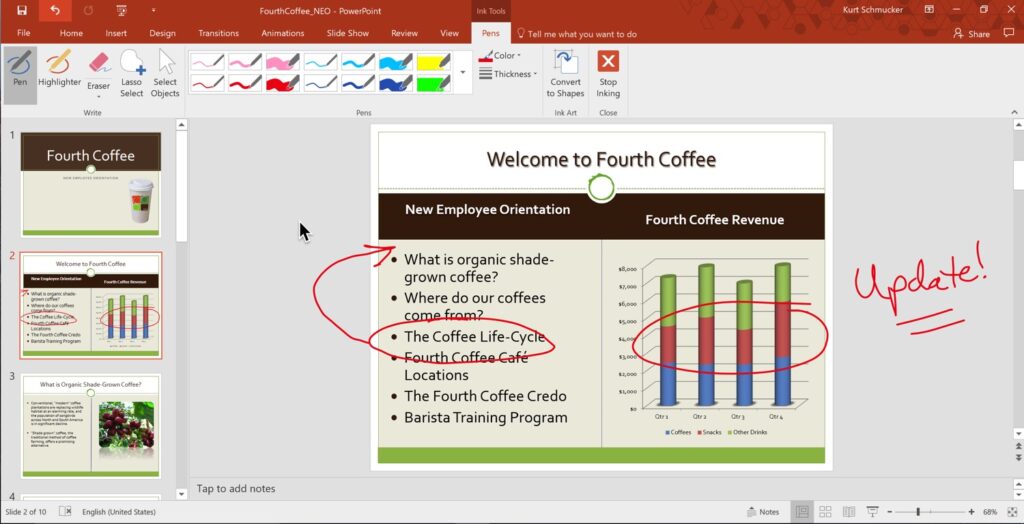 I hope you found some of these tips useful. Let us know in the comments if you have other tips that work especially well for you. 
Download a free trial of Parallels Toolbox for Mac or Windows.