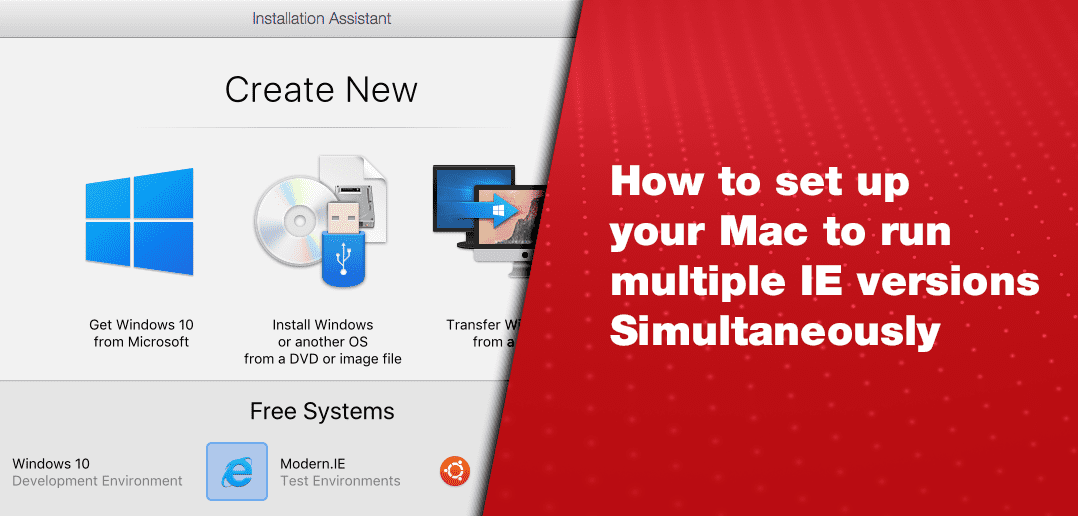 How to Set Up Your Mac to Run Multiple IE Versions Simultaneously
---
A blog reader asked me how I set everything to run multiple browsers simultaneously. Here's how I configured my Mac® to use five different versions of Internet Explorer at the same time.
Step 1: Your Mac
To store all the VMs, you will need about 60–90 GB of free space on your Mac. A Mac with an internal SSD is best, but a hard drive will also work. (If you download all the VMs listed in Step 2, you will need about 90 GB.) Alternatively, if you have a fast external SSD (like the SSD2GO drives), you can use it instead of your Mac main storage.
To run multiple VMs simultaneously, you will need a lot of RAM—probably a minimum of 10 GB. The Mac I used in my earlier blog post has 16 GB of RAM.
Step 2: Get the VMs
The best place to get VMs with different versions of IE is the Modern.IE site at Microsoft; you can download these VMs from directly within Parallels Desktop® for Mac. Just open the Installation Assistant with the "New…" menu item in the File menu, or click on the "+" sign at the top of the Control Center window. (See Figure 1.)
The six VMs that you can download are listed in Figure 2. These VMs are free and last for 90 days. After 90 days, you can download them again.
Parallels Desktop will automatically decompress the VMs and install them in the Parallels Desktop Control Center. You will need to install the current version of the Parallels Tools in the VMs, and you will probably need to install a security update or two. Make sure you don't inadvertently install a later version of IE in the VMs.
Step 3: Configure the VMs
You will need to configure several settings in each VM:
Memory: You should set the memory for the VM near the bottom of the recommended range ( see Figure 3). In addition, you may want to set the number of processors to one.
Retina: If you are on a Mac with a Retina® display, you should set the Retina setting of the VM to "Best for external displays," as shown in Figure 4. (The reason for this is explained later in this post.)
Don't Pause: Uncheck the setting "Pause Windows when possible" (see Figure 5).
IE Home Page: You might want to set IE to automatically point to your staging server (see Figure 6).
Step 4: Using the VMs
If you'll be using four or more IE versions simultaneously, you'll probably want a lot of screen space. On my MacBook Pro®, the largest screen resolution you can set with the Apple Displays System Preference is 1920 x 1200. For me, this was not enough. Luckily, you can get much larger resolutions with the Switch Resolution tool in Parallels® Toolbox. The one I chose is 3840 x 2400. (Remember, Parallels Toolbox is bundled with Parallels Desktop 13.)
However, if you switch to a non-Retina resolution and boot a VM that was last used on a Retina screen, the VM will look rather weird. This is why I suggest you set the resolution to "Best for external displays." The menu item shown in Figure 4 only appears when the screen is set to a Retina resolution.
If you regularly use multiple IE versions, you can use the Launch tool in Parallels Toolbox to launch them all while you go get a cup of coffee. Your Launch settings would look something like Figure 7, where you can see the many IE icons used over the years.
I hope this is useful for those who want to use many versions of IE simultaneously.