The Recognize Text tool works with many languages
I have been using the new Recognize Text tool in Parallels® Toolbox 5.0 for about a month now. For me, it neatly solves a common problem: having to re-type the static text in a screenshot or other image in order to have an editable version of the text. The Recognize Text tool is an OCR application (Optical Character Recognition), not unlike the new Live Text feature in macOS Monterey and iOS 15. (The Recognize Text tool has several advantages over Live Text, as I will highlight in this blog post.)
At first, I expected the Recognize Text tool to work only with English text, but I found out rather quickly that it supports 13 different languages. I was so impressed with the wide range of languages supported that I made a video showing the use of this tool in several languages. In Video 1, you can see the operation of the Recognize Text tool in English, and then in 4 additional languages as well.
The first time you use the tool to recognize text in any language other than English, you will be asked to download the language pack for that language (as shown in figure 1). This only takes a moment.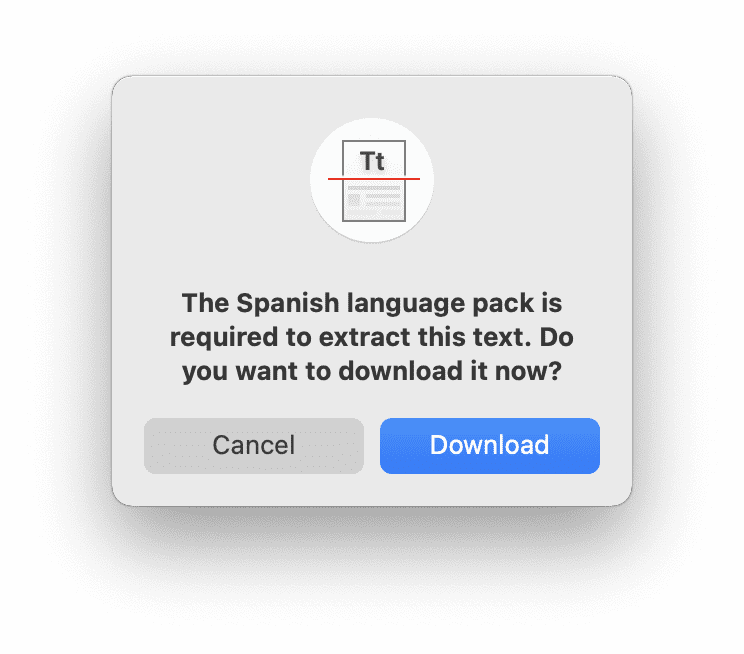 What are the advantages of the Recognize Text tool over Apple's Live Text? Here is my list:
The Recognize Text tool is here now, not in a future OS release. Bird in the hand!
The Recognize Text tool works in more macOS versions (Monterey, Big Sur, Catalina, Mojave, High Sierra, and Sierra) than Live Text, which is only in macOS Monterey.
The Recognize Text tool is available for both Mac and Windows.
The Recognize Text tool supports more languages than Live Text. (Live Text supports eight languages: English, French, simplified and traditional Chinese, Italian, German, Spanish, and Portuguese. As you saw in Video 1, Recognize Text works in 13 languages – all the languages that Live Text supports plus Japanese, Korean, Czech, Polish, and Russian.)
For me, extracting text from an image, in English, Japanese, and Chinese, is a frequent need, so I added the Recognize Text tool to the Dashboard in Parallels Toolbox. I hope you find it just as useful.
Remember that if you have a subscription to Parallels® Desktop, you can install Parallels Toolbox on your Mac, and in all your Windows VMs, at no additional cost. Hooray!
Go ahead, download a free trail of the latest version of Parallels Toolbox for Mac and Windows. Let us know your feedback on Facebook or Twitter.