Restrict Users to Change VM View Modes in Parallels Desktop for Mac Business Edition
Parallels Desktop TM for Mac Business Edition allows you to restrict users from changing view modes in a virtual machine (VM). You can set a custom password that users need to input to change the VM view mode.
What are the virtual machine view modes in Parallels Desktop?
Window mode: The VM screen displays as a separate window.
Full-screen mode: The VM screen expands to occupy the whole physical computer screen.
Coherence mode: The VM desktop is invisible, and the VM applications are seen side by side with macOS applications.
Modality mode: The VM and its programs are displayed in a transparent scaled window on top of all opened windows.
Why restrict VM view modes?
Whenever Mac laptops and physical desktops are shared by more than one person, a user might come in and switch to their preferred view mode (say Coherence mode). This can be a problem for the next user who might not know how to switch back to Window mode. Locking the display to one view mode avoids any confusion.
How to restrict VM view modes in Parallels Desktop Business Edition
You can use Parallels Desktop Business Edition to set up a custom password and require users to enter the password whenever they want to change the VM view modes.
To restrict virtual machine view modes:
Select Parallels Desktop > Preferences in the Parallels Desktop menu bar.
Choose Actions > Configure > Security.
Select the Custom password: Turn On button.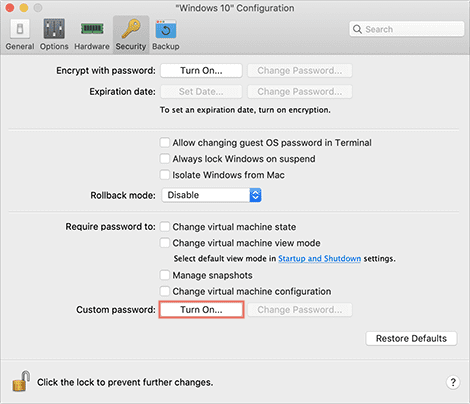 Type a password in the dialog box that opens.
This is the custom password required to change VM view modes. Select OK.
Note: To change the password later, select the Change Password button and follow the onscreen instructions.
Enable the Require password to: Change virtual machine view mode option to restrict users to change VM view modes.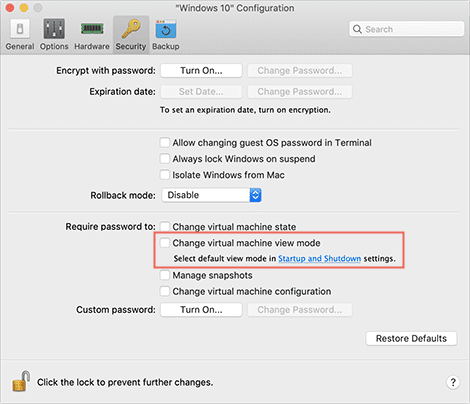 Sign up for Parallels Desktop Business Edition today
Parallels Desktop Business Edition offers features such as restriction of virtual machine view modes, license management, mass deployment of Parallels Desktop and virtual machines, corporate compliance capabilities and business-level support. Download the free trial and learn how it can benefit your organization.
References: