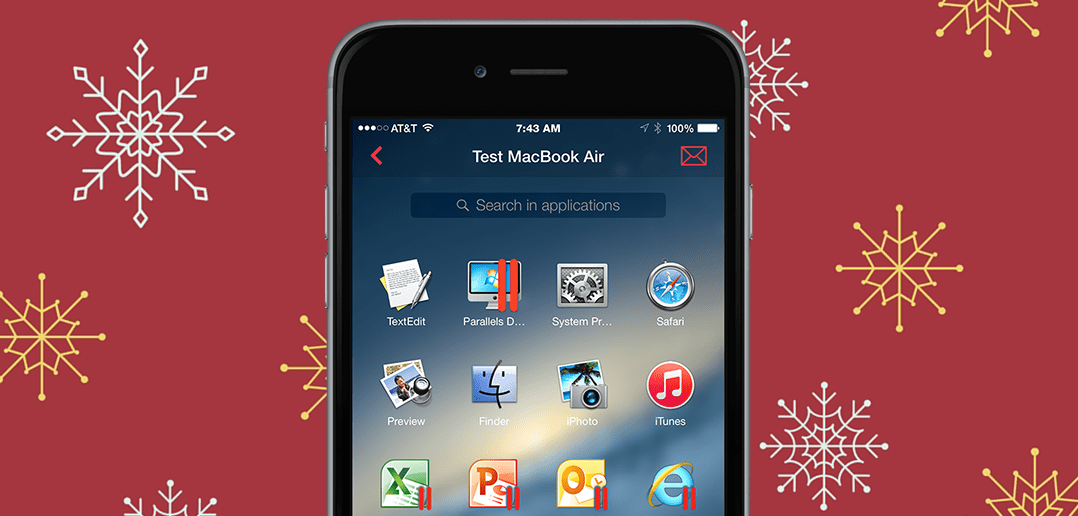 Working Remotely this Holiday Season? Don't Forget to Download Parallels Access
---
Do you have senioritis at the end of the year, getting antsy to get out of the office for a few days to disconnect from work and connect with family and friends? I know I do. I also know that the second I check my phone when I'm home for the holidays, there will be an urgent task that needs updating RIGHT NOW.
Sigh.
Fear not, weary traveler! You don't need to lug your iMac with you to Aunt Brenda's New Year's party, and you don't need to get back in your car and trudge through the snow to get to your office. If you're working remotely this holiday, just remote in and make the updates from wherever you are! This is where Parallels Access will be your lifesaver.
As long as the computer that you need to remote into is turned on, you can remote in using your phone, laptop, Aunt Brenda's old eMachine PC—anything online to log into your Parallels Account and access your programs and files. Log into your computer, access that oh-so-important file that couldn't wait until Monday and send it on its merry way while you get back to your family.
We all know how it goes—no matter how prepared you are, there's always going to be that unexpected ask. Make sure you CYA before you check out for a long weekend this holiday season! Parallels Access has you covered—much like Aunt Brenda's itchy wool sweater you're sure is waiting for you under the tree in that box with your name on it.
Happy Holidays from Parallels!