Just Released!
VMware Fusion vs.
Parallels Desktop
#1 choice of Mac users for over 14 years
Industry-leading graphics performance
10x faster working with Mac files in Windows
Supports more computers and macOS versions
Much easier to set up and use
Includes Parallels Toolbox to boost productivity
Optimized for the latest Windows 10 updates, macOS Catalina and macOS Big Sur 11
VMware Fusion
Run multiple OSes at the same time without rebooting
Intel only
Copy and paste between OSes
Share files between Windows and Mac
Mass deployment package
Virtual TPM*
Parallels Desktop
All the VMware Fusion benefits PLUS:
Download and install Windows 10 with a single click
*
One-click download of Ubuntu, Fedora, CentOS*, Mint* and Debian
Touch Bar controls for Windows applications
No distractions from Windows in Do Not Disturb mode
Trackpad Zoom and Rotate gesture support for Windows 10 apps
Open files from Finder with Windows applications
Picture-in-Picture view mode when running your virtual machines
Choose to have Windows invisible while still using its applications in Coherence Mode
Extend battery life with Travel Mode
macOS Quick Look support in Windows
Automatic disk space optimization
Select productivity, games, design, software testing or development VM profiles
FREE Vagrant Provider support
Rollback Mode
Microsoft Visual Studio plug-in*
Compress VM to a single file for a convenient upload and sharing
Premium 24/7 phone and email support
Remote access to your Mac from any iOS/Android device or browser
Over 30 one-click tools—clean your drive, take screenshots, download a video and more
Download corporate VM from the cloud
Deploy in a Single App Mode
Add Windows apps to the Dock during deployment
Advanced security settings
1Available in Parallels Desktop for Business & Pro Editions
Over 7 Million Users and Praised by Experts






"Of all the ways to run Windows on a Mac, Parallels Desktop is my favorite because it just works. It's fast, it's reliable, and there's no need to futz about with confusing setting or convoluted setup processes."
– Adrian Kingsley-Hughes, ZDNet
"Unlike Apple's Boot Camp, Parallels lets you run both operating systems at the same time."
– Larry Magid, Forbes
"Parallels Desktop is the easiest, fastest, and most tightly integrated app for running Windows apps or the Windows desktop in Apple OS X."
–Edward Mendelson, PCMag.com
"It's always been astonishing that it's faster to start up a Parallels PC than a real one. On my MacBook Air, I'm up and running in Windows six seconds after I double-click the Parallels icon."
– David Pogue, The New York Times
"The latest version of Parallels, the popular Windows virtualization tool for Mac OS X, almost feels like its trolling Apple."
– Engadget
"The software has been iterating over a decade and now makes Windows feel like part of the macOS. You can also virtualize Linux, Android, and just about anything that runs on Intel chips including another instance of macOS—great for testing macOS Betas!"
–9to5Mac
BONUS!
Included with your Parallels Desktop subscription:
Parallels Toolbox + Parallels Access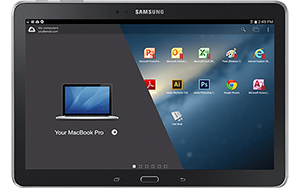 Bonus with
Subscription!
Remote Access
Remote access to your Mac from any iOS device, Android device, or browser with Parallels Access.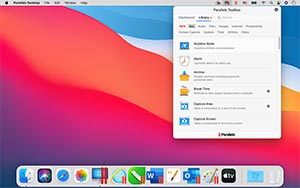 Bonus with
Subscription!
Parallels Toolbox
Over 30 one-touch tools—clean your drive, screenshots, download a video and more—with just a single click.
Compare Parallels Desktop Editions
Standard Edition
Download and install Windows 10 in one click*
Optimized for macOS Big Sur 11
Disk Space Optimization
Auto Video Memory
Free upgrade to the latest version
1
Customize Touch Bar for Windows applications

1 with Subscription

Buy NowUpgrade
Upgrade

$49.99
Most Popular
Pro Edition
All the Standard Edition features PLUS:
Advanced networking tools
Free upgrades to newer versions
Integration With Chef/Ohai/Docker/Vagrant
Convert VM bundles to a single file for transfer or deployment
Convert VM bundles to a single file for deployment
Convert VM bundles to a single file for transfer
Rename custom networks
Microsoft Visual Studio plug-In*
Debug, dump VM or start an SSH session from menu
Support for business cloud services
Premium 24/7 phone and email support
Buy NowUpgrade
Upgrade

$49.99

/yr
Business Edition
All the Standard and Pro Edition features PLUS:
Centralized administration and management
Unified Volume License Key for mass deployment
Buy Now
Are you a student? Save with
Student Edition
(Valid student verification required)
#1 choice of Mac Users to Run Windows On Mac
Garage Band and Logic Pro didn't cut it for me. Time to set up a Windows 10 virtual machine so I could use my favorite MIDI sequencer. I'm surprised how well MIDI works with @ParallelsMac. My Mac mini is not missing a beat, literally! pic.twitter.com/Z3VKw0Mjal

— Roberto Cordero (@RobertoC_73) March 13, 2020
Operating System
macOS Big Sur 11, macOS Catalina 10.15, macOS Mojave 10.14, or macOS High Sierra 10.13
Processor
Apple M1 chip, Intel Core 2 Duo, Core i3, Core i5, Core i7, Core i9, Intel Core M or Xeon processor
Storage
600 MB for Parallels Desktop application installation
Graphics
Apple M1 chip, Intel, AMD Radeon, or NVIDIA
Memory
4GB of RAM
Frequently Asked Questions
Run Windows On Mac
Fast, powerful, and easy. The most trusted desktop virtualization software for over 14 years!
The Parallels Desktop 30-day money-back guarantee ensures your satisfaction.
*Features that are only available on Mac computers with Intel processors are marked with an asterisk (*).